Datsyuk doing it all for Red Wings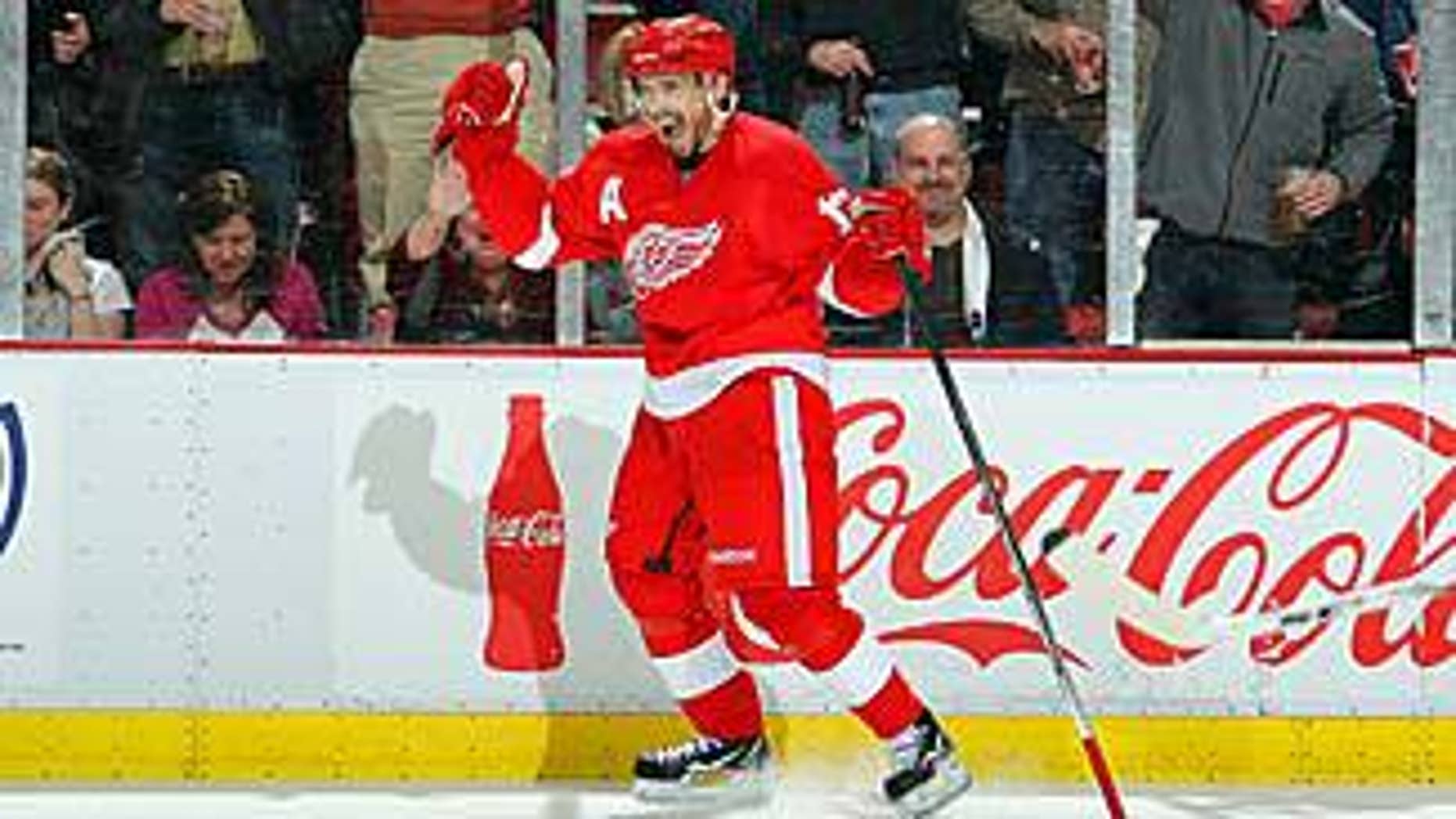 The Stanley Cup Playoffs are a time for every player to step up. Thus far, no one has stepped up more than Detroit's Pavel Datsyuk.
Datsyuk has been the star of the first week of the playoffs. He put on a show for a national television audience on Saturday by scoring a goal and setting up the other three in Detroit's 4-3 win against Phoenix in Game 2 of their first-round series. In addition to making the most spectacular offensive move of the playoffs so far (a between-the-legs shot that wound up as an assist when Darren Helm converted the rebound), Datsyuk also won 16 of 20 faceoffs and did about all that one man can do to win a game.
Through two games, Datsyuk has 2 goals and 5 points, with 12 shots on goal and a plus-4 rating. Not coincidentally, the Wings have a pair of wins and are halfway to the next round.
Five up -- Five players who've been hot in the first week of the postseason:
Mike Fisher -- Nashville acquired Fisher from Ottawa with this kind of performance in mind: He has 3 goals, including both game-winners, and 5 points overall to help the Predators grab a 2-1 series lead against Anaheim.
Carey Price -- As good as Datsyuk has been up front, that's how good Price has been in goal for the Montreal Canadiens. Price stopped 65 of 66 shots while leading the Canadiens to victories in the first two games of their series against Boston.
Daniel Sedin -- The NHL's leading regular-season scorer isn't letting up in the playoffs. Daniel had a pair of goals in Vancouver's Game 2 win against Chicago and has 3 goals and 5 points in three games.
Drew Doughty -- Doughty didn't have a great regular season, but he's off to a fast start in the playoffs for the Los Angeles Kings. Doughty had a hand in all four of the Kings' goals in Saturday's 4-0 Game 2 in San Jose, scoring twice and assisting on the other two goals.
Corey Perry -- The regular-season leader in goals has just one in Anaheim's first three playoff games against Nashville, but he has 4 assists and shares the scoring lead with 5 points.
Five down -- Five players who are struggling:
Marian Hossa -- Chicago is one game away from being a dethroned Stanley Cup champion, and Hossa's lack of production is one reason why. Hossa has gone without a point in three games while going minus-3.
Ilya Bryzgalov -- Through two games, Bryzgalov has shown only flashes of the skill that helped him lead the Phoenix Coyotes to the playoffs again. Bryzgalov has allowed eight goals on 67 shots in back-to-back losses to Detroit.
Tim Thomas -- Thomas may be the front-runner for the Vezina Trophy, but he's been outplayed by Price in Boston's first two playoff games. He's allowed five goals on just 46 shots
Marian Gaborik -- It's not that Gaborik isn't shooting -- he has 11 shots on goal in the New York Rangers' first three games against Washington. But has no points in the three games and was in the penalty box Sunday for the game-tying goal in the third period.
Pekka Rinne -- Nashville is 2-1 in its series against Anaheim with Rinne in net, but the Predators have been winning with offense rather than their usual combination of defense and goaltending. Rinne has allowed eight goals on just 71 shots in the three games, including three on only 16 shots in Sunday's 4-3 win.
Injuries, news and notes -- The Pittsburgh Penguins continue to wait for Sidney Crosby to return. Crosby has been taking part in the morning skate but has yet to get the OK to have contact in practice. Until that happens, there's no telling if or when he'll be back.
Out -- Boston played Game 2 without captain Zdeno Chara, who was a late scratch Saturday after being hospitalized for dehydration on Friday night. … Phoenix defenseman Ed Jovanovski left Saturday's game with an upper-body injury. Another defenseman, Derek Morris, missed Games 1 and 2 with an upper-body injury. … San Jose defenseman Ian White sat out Saturday's game due to an upper-body injury after being driven into the glass in Game 1. … Montreal forward Andrei Kostitsyn sat out Saturday's game against Boston with an undisclosed injury. … Chicago's Tomas Kopecky missed Games 2 and 3 after sustaining an upper-body injury in Game 1 against Vancouver, and forward Bryan Bickell injured his wrist on Friday and sat out Sunday. … Buffalo defenseman Shaone Morrisonn sat out Saturday with an undisclosed injury.
Returning -- Los Angeles got a big lift when forward Justin Williams was able to return for the series-opener against San Jose. Williams had missed nine games with a dislocated shoulder.
Still out -- Philadelphia defenseman Chris Pronger, sidelined with a broken right hand that required surgery in mid-March, has yet to play in the postseason. … Rangers goaltender Martin Biron is still not ready to return from a broken collarbone sustained in late February. … Detroit forward Henrik Zetterberg missed the Wings' first two playoff games with the same lower-body injury that kept him out for the final weekend of the regular season; he won't play in Game 3 on Monday. … Buffalo defenseman Jordan Leopold is still a few days to a week away from being able to return from a broken hand. … Washington defensemen Dennis Wideman (leg) and Tom Poti (groin) still haven't played in the playoffs. …Chicago's Dave Bolland (concussion) has missed all three of the Hawks' games against Vancouver but may be ready for Game 4. … Montreal center Jeff Halpern (upper-body) missed the first two games against Boston.
The week ahead -- The eight first-round series continue, with some of the 16 teams that qualified for the playoffs likely to be heading for the golf course by the end of the week.
Games to watch: (April 18-24):
Pittsburgh at Tampa Bay (April 18) -- Playoff hockey returns to the St. Pete Times Forum for the first time since 2007 as the Lightning try to move ahead of the Penguins in their series.
Boston at Montreal (April 18) -- The Canadiens figure to get a raucous reception when they step onto the ice at the Bell Centre for Game 3 after winning the first two in Boston.
Vancouver at Chicago (April 19) -- The defending champion Blackhawks need to beat the Canucks in order to avoid being swept.
San Jose at Los Angeles (April 19) -- The Staples Center will be rocking as the Kings return home after splitting the first two games of their series in San Jose.
Anaheim at Nashville (April 20) -- The Predators have a chance to do something they've never done before -- win three games in a playoff series -- if they can beat the Ducks before what's sure to be a loud crowd at Bridgestone Arena.