Dana White will be doing more, not less under new UFC ownership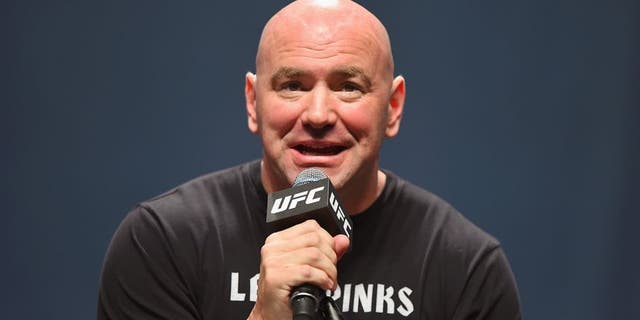 NEWYou can now listen to Fox News articles!
UFC president Dana White will no longer work alongside Lorenzo Fertitta on a daily basis, but he's not going anywhere when it comes to the day-to-day operations of the business.
In fact, White says he'll actually be even busier now that Fertitta is gone and he's working alongside the new owners at WME-IMG, who purchased the UFC for $4 billion in a deal that was announced on Monday.
"I'm stepping forward, I'm not stepping back," White told KLAS in Las Vegas on Monday. "With Lorenzo leaving, it's a lot more work for me.
"Lorenzo and I used to divide and conquer. With him gone, I'm going to have to pick up a lot of the stuff he used to do."
White will keep his same role as president at the UFC as well as an ownership stake in the company valued at less than nine percent of the overall valuation of the promotion.
The new owners at WME-IMG have been focused on sports properties very heavily over the last few years, especially following a deal that saw William Morris Endeavor merge with sports agency International Marketing Group in 2013.
The UFC is by far the biggest purchase WME-IMG has made in the sports world and while no formal announcement has been made, co-CEO's Ari Emanuel and Patrick Whitesell have stated that mixed martial arts will only grow bigger from here.
"We've been fortunate over the years to represent UFC and a number of its remarkable athletes," said WME-IMG Co-CEOs Ariel Emanuel and Patrick Whitesell in a statement released on Monday.
"It's been exciting to watch the organization's incredible growth over the last decade under the leadership of the Fertitta brothers, Dana White and their dedicated team. We're now committed to pursuing new opportunities for UFC and its talented athletes to ensure the sport's continued growth and success on a global scale."
White promises that the new ownership team in charge of the UFC will only make things bigger and better for the fans, as well as for the athletes on the roster.
An email was already sent out to the fighters who compete in the UFC to let them know about the sale to WME-IMG.
White expects the reception for the new owners will be huge over the coming days, months and years as the UFC enters a brand new era.
"The biggest deal in the history of sports and the most valuable sports franchise on Earth. They're handing it over to a company that we all believe will take this thing to the next level," White said about the $4 billion sale.
"As far as the sport, the brand and the athletes -- it's gonna be big. It's gonna be big for everybody."