Daily Fantasy Baseball Advice for June 9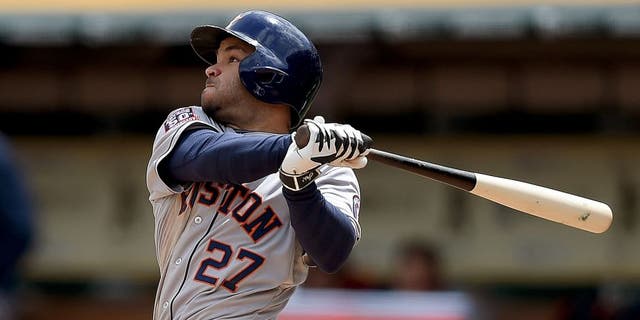 NEWYou can now listen to Fox News articles!
Welcome to today's daily fantasy post! Remember that you can find our posts on the new DFS home page, as well as the fantasy page. Bookmark those sites now!
Also, please scroll to the bottom of this article to see the latest tweets from Ryan Fowler (@FOXSportsFowler), D.J. Foster (@FOXSportsFoster), Adam Meyer (@FOXSportsMeyer) and me (@jhalpin37). That way, if information surfaces for any last minute changes, you can see our thoughts instantly.
Let's get to Thursday's interesting facts, using DraftKings prices. We'll use the entire nine-game schedule, which includes the two afternoon contests (Astros-Rangers at 2:05 p.m. ET, Pirates-Rockies at 5:10). Please note that much of the information in this post is being published several hours prior to game times, so check MLB lineups later to confirm that any recommended players are included.
5 Things to Watch:
1. There aren't really any chalk SPs today, as Gio Gonzalez ($8,900) is the most expensive option. Eight of the nine games have projected run totals of nine or higher, with only Indians-Mariners lower at eight. The biggest favorites are Marcus Stroman ($5,700) and Adam Wainwright ($5,600) at minus-150.
2. Pirates-Rockies is a makeup from an April 28 rainout. The Pirates scored 24 runs in three games during their April series at Coors Field, and the last Jeff Locke-Chad Bettis matchup on April 25 resulted in a 6-1 Bucs' victory. Andrew McCutchen hit three homers in the April 26 contest.
3. Yo, BvPers: Prince Fielder ($3,300) is eight-for-11 vs. Collin McHugh ... Albert Pujols ($4,700) has a couple of homers in 12 at bats vs. Collin McHugh ... Nolan Arenado ($5,300) is six-for-14 with a homer vs. Jeff Locke ... How small of a sample would you like? Kyle Seager ($4,200) is five-for-nine with four extra-base hits vs. Josh Tomlin.
4. Just as we all predicted in the preseason, today's $5K-plus shortstops are Eduardo Nunez, Trevor Story and Jonathan Villar. Before a hitless game on Wednesday, Nunez had posted games of 17-3-22-24-28 DK points.
5. Speaking of shortstops, Jhonny Peralta ($3,700) has had games of 14 and 25 DK points since coming off the DL on Tuesday. Peralta has always hit southpaws well (.343 career wOBA), and faces Cincinnati's Brandon Finnegan tonight.
Yesterday's recap: D.J. Foster's suggestion of a Cardinals stack worked well, as they scored 12 runs against Alfredo Simon and the Reds. You should stack against Simon every time, though.
Must Start of the day: Jose Altuve, HOU
Yes, he's the chalk play at $5,400. With the inexpensive pitching today, you can afford him. Altuve is basically Babe Ruth versus lefthanded pitching, with a .477 wOBA this season and a .393 career mark. On an inch-for-inch basis, he's arguably the greatest player in history, right?
Deal of the day: Robbie Grossman, MIN
Grossman is priced at the minimum $2,000, has posted 18, 23 and five DK points over his last three games, and batted second on Tuesday and Wednesday. If Grossman bats near the top of the Twins' lineup, he can offer a lot of payroll flexibility. Peralta qualifies here as well, even at his $3,700 salary.
Avoid of the day: Joey Votto, CIN
Joey Votto has struggled vs. Adam Wainwright in his career, going seven-for-37 with just one homer. Votto has been heating up lately, but there are enough solid, cheaper alternatives at first base.
Stack of the day: Houston Astros
Pirates and Rockies? Join the crowded club if you go in the Coors direction. Let's pivot to the Astros against the smoke-and-mirrors Martin Perez, whose 3.24 ERA is accompanied by a 4.47 FIP. Altuve/Springer/Correa can get you started, and Evan Gattis ($4,200) isn't a crazy-expensive catcher. As mentioned earlier, you'll be able to spend on hitting today due to the lack of big-ticket pitchers. I wouldn't blame you for using some Yankees against Jhoulys Chacin, either.
Starting Pitchers:
Collin McHugh, HOU: Seems to be righting the ship, averaging 21.8 DK points over his last four starts. That's not bad for $6,900.
Nathan Karns, SEA: The Indians rank 28th in the majors with a road wOBA of .286. They've scored four runs in three games against the Mariners this week.
Jimmy Nelson, MIL: Nelson will cost more than most at $8,700, but the Mets' lineup isn't terribly imposing without Lucas Duda and David Wright. Nelson's strikeout potential is as high as anyone's today.
Catchers:
Evan Gattis, HOU: See "Stack of the day."
Nick Hundley, COL: Hasn't hit much since coming off the DL last Friday, but maybe Locke can be a slumpbuster. Hundley is $3,300.
First Basemen:
Jose Abreu, CHW: Still not hitting for power, but has multi-hit games in four of his last five, and costs just $3,600.
Mark Reynolds, COL: At $3,900, one of the cheaper, potentially productive Coors options you'll find.
Second Basemen:
Jose Altuve, HOU: "Must Start of the day."
Starlin Castro, NYY: $3,500, with three double-digit DK games in his last five.
Third Basemen:
Nolan Arenado, COL: Even at a big price, a strong option vs. Locke.
Todd Frazier, CHW: Has been wrecking LHP this season (.380 wOBA).
Kyle Seager, SEA: See BvP note above.
Marwin Gonzalez, HOU: For $3,200, also eligible at 1B, and plays plenty vs. LHP because he hits them well.
Shortstops:
Carlos Correa, HOU: See "Stack of the day."
Jhonny Peralta, STL: See "5 Things" note above. If you don't pay for one of the big guys, grab Peralta.
Outfielders:
George Springer, HOU: See "Stack of the day."
Carlos Beltran, NYY: Has homered in his last three games, but price ($4,400) is rising.
Chris Parmelee, NYY: Only because he homered twice on Wednesday. He's $3,100, and batted third on Monday and Tuesday.
Robbie Grossman, MIN: "Deal of the day."
Tweets from https://twitter.com/FantasyOnFOX/lists/fox-sports-fantasy