D-backs pound Padres behind another stellar start from Robbie Ray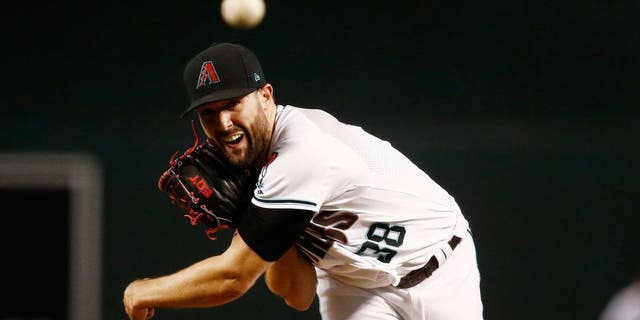 NEWYou can now listen to Fox News articles!
PHOENIX -- Robbie Ray is on a roll, and the surprising Arizona Diamondbacks continue to take advantage of home field -- even when the ball ventures into fowl territory.
Ray won his fourth straight game and recorded his fourth double-digit strikeout performance of the season, leading the Diamondbacks to a 10-2 rout of the San Diego Padres on Tuesday night.
Ray allowed the only earned run he's given up in his last four starts, and opponents have a combined nine hits off him in those four games. His 11 strikeouts in 6 2/3 innings backed by some major run support gave Arizona the best home record in the majors at 22-8.
Even some unwelcome wildlife can throw off the Diamondbacks at home right now. Arizona star Paul Goldschmidt nearly scooped up a bird along with the baseball while fielding a bunt in the third inning. The small bird was sitting in the grass near the first-base line, and Goldschmidt momentarily covered it with his glove while scooping up Dinelson Lamet's bunt. The bird flapped its wings, wriggled free and flew away while Goldschmidt threw to second for a fielder's choice.
"I didn't see it. I don't know," Goldschmidt said when asked about the play.
Chris Owings hit a three-run homer, Jake Lamb drove in four runs with a double and single, Gregor Blanco doubled twice and scored three runs and the Diamondbacks won their seventh straight home game, tying a season high.
Ray said he's improved his fastball command by working quicker and delivering faster.
"I'm feeling pretty good. Got a good game plan with my catchers," he said. "Just get the ball back and whatever they throw down, I feel comfortable with it."
Owings' second-inning home run, his career-high seventh of the season, gave the Diamondbacks a homer in 10 straight home games for the first time since 2011. Arizona scored five runs in the second inning, and has scored five or more in an inning for the seventh time at Chase Field this season.
Lamb became the first player in the majors to reach 50 RBIs.
"If he went out and gave up three runs in the first inning, it wouldn't matter," Lamb said of Ray. "As an offense we're going to go out attack early and try to get some runs on the board. It obviously helps he's throwing up zeroes every single inning, but we're focused on what we're doing at the plate."
The Diamondbacks pounced all over Lamet quickly, scoring their first nine runs off him in the game's first three innings. Lamet (2-1) lasted just three innings and gave up seven earned runs and nine hits with five walks.
Ray (6-3) had his scoreless innings streak stopped at 27 2/3 innings, the third-longest in club history. Hunter Renfroe's solo shot in the fourth was the only run Ray allowed.
"To me there is more angles on righties now than there used to be. He used to work away to righties. Everything is coming in with aggression," Padres manager Andy Green said of Ray.
MANFRED VISITS
MLB Commissioner Rob Manfred paid a visit to Chase Field and the Diamondbacks on Tuesday, meeting with team employees, corporate partners and season ticket-holders. He said he wanted to make sure he got to Phoenix during the regular season, as he was not able to do so in 2016. "It's particularly appealing to be here in Arizona when they've gotten off to such a great start," Manfred said. "It's important for those of us in New York to be out visiting the clubs. The heart of our game is in our local markets. That's really where our business gets done. You come on a visit like this, you always get an opportunity to learn something."
STARTING ROTATION SITUATION
Padres manager Andy Green said he's leaning toward RHP Miguel Diaz to start Saturday in place of the injured Jarred Cosart. Diaz got some brief work in Tuesday's game.
Diamondbacks manager Torey Lovullo said RHP Zack Godley, called up from Triple-A Reno on Tuesday, will be Saturday's starting pitcher against Milwaukee. Starter Taijuan Walker took fielding and batting practice Tuesday and will throw no more than 60 pitches on Wednesday. Walker is coming back from a blister on his right hand.
Lovullo added that Randall Delgado will remain in the starting rotation because of his recent success.
TRAINER'S ROOM
Padres: RHP Cosart was placed on the 10-day DL with a strained right elbow, retroactive to June 5. Cosart, after completing his most recent start on Sunday, felt soreness and won't pick up a ball for a week, Green said. There is no timetable for his return. "He's got some swelling, and I don't think there's anything that jumps off the page, but there's just a lot of little things that he's dealing with in there," Green said. … OF Travis Jankowski (broken right foot) was transferred to the 60-day DL, with Jose Pirela called up from Triple-A El Paso and starting Tuesday in left field. … LHP Christian Friedrich (elbow) is going to Double-A San Antonio for a rehab start this week.
Diamondbacks: OF Yasmany Tomas was placed on the 10-day DL with right groin tendinitis, and RHP Braden Shipley was optioned to Reno. Arizona called up OF Jeremy Hazelbaker and Godley. "It's just going to require him to get off his feet and rest and relax and get back to full strength as soon as possible," Lovullo said of Tomas. … OF A.J. Pollock is running and doing baseball activities as he eyes a return from a groin injury.
UP NEXT
Padres: RHP Luis Perdomo (0-2) is set to face Arizona on Wednesday. He has a 3.50 ERA away from home this season.
Diamondbacks: RHP Zack Greinke (7-3) is 9-2 with a 1.93 ERA in his career against the Padres.