D-backs know what critics think of Miller deal, but they don't care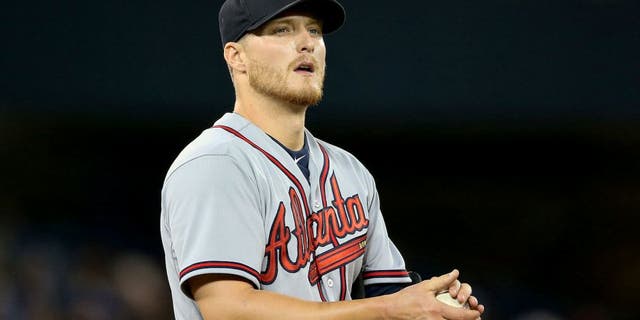 NEWYou can now listen to Fox News articles!
NASHVILLE, Tenn.
The early reviews are in, and they are not good for the Diamondbacks.
"Worst trade I've ever seen," one executive said of the D-backs' acquisition of right-hander Shelby Miller on Tuesday.
"Holy crap for Atlanta," said another.
"Grand slam for the Braves," said a third.
The D-backs won't care. They never care. Dave Stewart, Tony La Russa and Co. march to a beat no one else in baseball hears, and chances are they will be marching into contention in 2016.
Zack Greinke, Patrick Corbin and Miller at the top of the rotation. Paul Goldschmidt at first base. A.J. Pollock in center field. One of the highest-scoring offenses in the NL. One of the more efficient defenses. Young position players who should only improve.
No, the Diamondbacks will not be this year's Padres, a collection of ill-fitting parts. But for Miller -- who relies too much on his cutter for some, beats up on too many lesser opponents for others -- the D-backs are giving up a quality outfielder, Ender Inciarte' a possible middle-of-the-rotation workhorse, Aaron Blair; and ahem, the No. 1 pick in the 2015 draft, Dansby Swanson.
The deal, which is pending a review of medical records, was driven partly by the soaring free-agent prices for starting pitchers, a market that the D-backs had helped inflate with their $206 million free-agent signing of Greinke. Still, in the view of some rival execs, the D-backs paid an acquisition cost that, in its own way, was just as insanely steep.
One executive said he likes the Indians' Danny Salazar better than Miller, and that the D-backs surely could have acquired Salazar for a similar package -- and controlled him for five years instead of the three they will get with Miller.
Indeed, if this was the price for Miller, heaven only knows what the Marlins will want for an actual ace, Jose Fernandez. Corey Seager, Julio Urias and Joc Pederson from the Dodgers? Plus the sun, the moon and the stars?
The D-backs, as they negotiated for Miller, were working concurrently on a trade for Fernandez, sources said. Corbin and Swanson would have been part of the return for the Marlins along with three others, according to Clark Spencer of the Miami Herald.
Didn't happen, not after Braves GM John Coppolella and Stewart, the D-backs' GM, sat down for lunch Tuesday at the Opryland Hotel and finalized the Miller deal.
Ah, you know, just two friends talking, sharing a casual meal and hammering out a trade that was jaw-dropping even by the wacky standards of the winter meetings.
Miller, 25, has yet to prove that he could be a top-of-the-rotation starter for a contender, but the Diamondbacks entered win-now mode once they signed Greinke and are now following it with a win-now trade.
If nothing else, you have to admire their moxie -- and remember, for all the criticism the D-backs received last June for the Touki Toussaint trade (to the Braves, natch), Toussaint had a 4.83 ERA and high walk rate last season in A-ball.
The kids don't always turn out the way so many of us expect, do they?
Indeed, some execs view Blair as only a No. 3 or 4 starter, and some are even uncertain about Swanson, fearing he might be no more than a Gordon Beckham. That view, however, is the minority opinion on the former Vanderbilt shortstop. Most view him as at least a big-league regular, and maybe even an All-Star and future cornerstone whom the Braves can pair up the middle with another top shortstop prospect, Ozzie Albies.
And now, to review the Dansby Swanson Era in Arizona. Don't worry, it will barely take a paragraph.
Swanson signed a $6.5 million bonus last July. He played only 22 games for the organization after getting hit in the face with a pitch. And while the D-backs are deep in middle infielders at the major-league level, who would have imagined that within five months, they would make Swanson disappear?
Coppolella has been a frequent target of criticism for tearing down the Braves, not just from media (moi?), but also from Braves fans. Well, not this time. Fans will love that Swanson is from Kennesaw, Ga., love his bat, love his speed. Blair adds to the endless stable of arms that that Coppolella collects like rare baseball cards. And Inciarte will help the Braves better compete in 2016.
Think about it: The Braves traded one season of Jason Heyward for four of Miller, plus pitching prospect Tyrell Jenkins. They have turned that into Swanson, Blair, Inciarte and Jenkins -- an undeniably strong haul for an outfielder who was entering his free-agent year.
The early reviews are in. The early reviews mean nothing. But once again, baseball people are looking at the D-backs and saying, "Huh?"