CUP: Wood Family Celebrates Big Night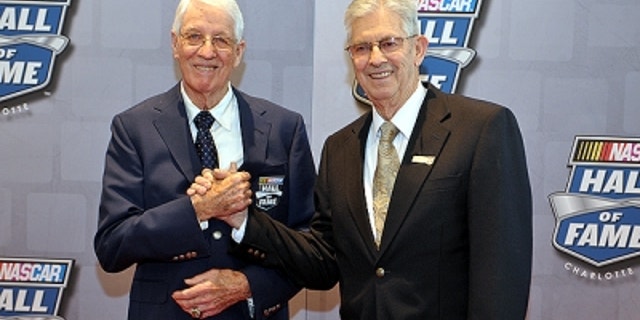 Now the circle is unbroken.
Leonard Wood joined his older brother, Glen, in the NASCAR Hall of Fame Friday night, bringing the story of the legendary Wood Brothers Racing team to a peak at the sport's highest level of honor.
Glen, the team's founder, was inducted into the hall last year, and Leonard, crew chief/mechanic/wizard, followed him Friday night. The two were so close over the years that many thought they should have gone into the hall as a pair, but, as Leonard pointed out Friday night, their separate inductions doubled the fun.
"I'm sure glad we did because we've just sort of done double coverage," Leonard said. "I celebrated with him, and he celebrated with me, so we both got to celebrate."
Four years into the existence of the hall, the Woods make up 10 percent of the membership.
Generations of the Wood family looked on Friday night as Eddie Wood, Glen's son and Leonard's nephew, presented Leonard with the Hall of Fame ring in one of the evening's most emotional moments.
Among those in attendance was Hall of Fame member Dale Inman, former crew chief for Richard Petty and Leonard Wood's main competitor over the years that Petty and the Woods' drivers, primarily David Pearson, wrestled for the sport's high ground.
Inman was known as a grand race tactician and team organizer. Wood was an expert at getting every ounce of speed from a car and designing parts, pieces and strategies that gave his drivers an extra advantage.
"I was into cars, and I built engines, and I built race cars – any part about it for that matter," Wood said. "But he (Inman) was a great team leader, organizer and called the races. He was one of the best there was in calling races. He kept up with everything that was going on. He just had a knack for going around and finding out what gear everybody was at. I know he'd come to me and say, 'What gear you got?' I'd tell him and then someone would go ask him. Well, he's gone.
"I just enjoyed competing with him, and I think it proves that this day and time you've got these guys that they think they're the worst enemy, the other driver is their worst enemy, but when it's all said and done, they're the best friend you've got. Even though we were really rivals, Dale and I and the Pettys and the Wood Brothers, but at the end of the day they're the best friends we've got."
Wood, still working with the team at the age of 78, remains one of the most respected people in the NASCAR garage.
In his acceptance speech Friday night, Rusty Wallace remembered that Wood was the first person to congratulate him – while he was still in his car – after he scored his first Cup win in 1986 at Bristol Motor Speedway.
"It's really cool that we're going into the Hall of Fame together," Wallace said.
Mike Hembree is NASCAR Editor for SPEED.com and has been covering motorsports for 31 years. He is a six-time winner of the National Motorsports Press Association Writer of the Year Award.