CUP: Testing This Week At Charlotte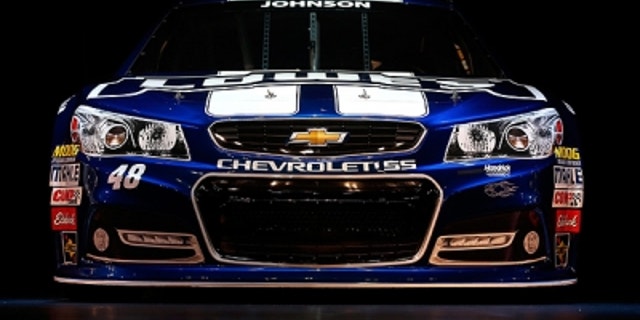 The NASCAR Sprint Cup Series returns to the track tomorrow and Wednesday for two days of testing of the 2013 Sprint Cup cars at Charlotte Motor Speedway.
During both days of testing, CMS's Ford Grandstand will be open free of charge and fans can attend by entering through Gate 5B, located next to the main ticket office. The gate will open at 8:30 a.m.
The new 2013 cars — Chevrolet SS, Ford Fusion and Toyota Camry — are known as the G6 cars, short for sixth generation. Compared with the cars raced from 2007-12, the G6 cars have a significantly different aerodynamic profile, with NASCAR going to great lengths to improve how well the cars race at the high-speed intermediate tracks. They will also be lighter.
From a manufacturer standpoint, the new cars are much closer to their production counterparts than the current crop of cars, which will make them more distinct on track and help marketing efforts.
NASCAR also has mandated a number of cosmetic changes.
Included on the list are:
• Each driver's last name will be on the windshield.
• No more sponsor decals on headlights or taillights.
• Car numbers will be moved from the lights to the front and rear bumpers.
• One sponsor logo will be permitted on the rear edge of the roof.
• Sponsor decals can now extend past the front edge of the b-post.
• Car numbers will be smaller.
So far, the new cars have been very well received by the drivers and the manufacturers.
"Obviously the body characteristics of our Camry are very similar to what we're going to be racing," said Denny Hamlin of Joe Gibbs Racing. "We're excited to get all of the Toyota owners excited about our Camry that is going to be on the track in 2013 and beyond."
"The new SS looks awesome. That's the great thing – it's back to looking like a production car again," said Tony Stewart of the new Chevrolet SS. "It's a design that I really like. It's got the perfect blend of having a race-car look, but a street car look at the same time. And that's hard to do. No matter what you're a fan of, you're going to be able to pick out your favorite brand of car and see it from the stands."
For the teams, the new cars mean adjusting to an entire new set of variables.
"It's changing the whole game," said Hamlin. "It's not just the cars. It's going to be the aerodynamics that are changing. NASCAR is talking about changing the weight of the car and things like that. We're taking big steps and moving our sport in really a direction that I think is a positive."
And it will be especially positive if it results in better racing on the track.
"From a competition stand point NASCAR is really working hard to not just make this about aesthetics, but to make 2013 about better racing, closer racing, more fun to watch, more fun to do by the way," said Jeff Burton, driver of the No. 31 Richard Childress Racing Chevrolet. "I'm real excited about that."
Burton is bullish on the new G6 cars.
"In the testing that I have done with them we have done things that didn't work and we've done things that did work," he said. "They (NASCAR) have a lot of information to go on now and really that is what I'm most excited about. I think our fans want us racing closer. They want better action. We have to work really hard at it because we run a lot of 1.5-mile race tracks and it's hard to have good close racing on 1.5-mile tracks. The concept of making the car so that we can race better together I'm a big proponent of, and I think that is going to be hugely positive."
Tom Jensen is the Editor in Chief of SPEED.com, Senior NASCAR Editor at RACER and a contributing Editor for TruckSeries.com. You can follow him online at twitter.com/tomjensen100.