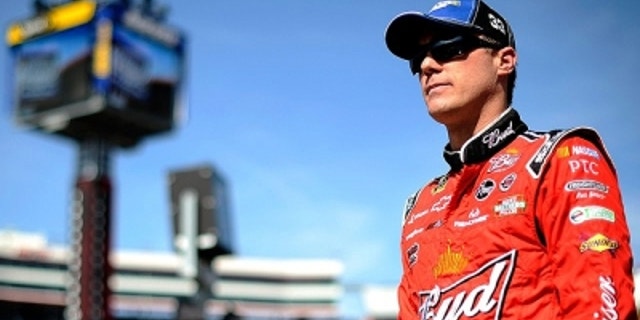 In more than half of the Sprint Cup races Kevin Harvick has run at Bristol Motor Speedway, he has rolled home in the top 10 – no small feat at a track that is tough on driver and tougher on car.
Before its 2007 reconfiguration, BMS was notorious for mangling equipment in huge pileups. Since 2007, with the racing surface widened, wrecks generally have collected fewer cars, but finishing 500 laps here – and remaining in the top 10 – remains a substantial accomplishment.
"It's obviously been a race track where we've had a lot of good results," Harvick said. "We didn't run great the last race here (finished 22nd, a lap down). We ran great at the first race here last year (finished sixth, led 37 laps). … It's just a fun place to come to. Close to home and has a lot of history. We enjoy racing here."
The season has started much as the Harvick template might have patterned it. He's second in points, 10 behind Greg Biffle, after a seventh at Daytona, a second at Phoenix and an 11th at Las Vegas. Nothing spectacular but everything solid – it's the Harvick way.
He was somewhat disappointed with the 11th last week at Vegas but was pleased with the speed his car produced.
"We ran really well last week," he said. "We just made a ton of mistakes. We got up and qualified well and the speed in the car was really good. We got ourselves buried in track position.
"I had terrible restarts last week. Nothing really went right, but the speed of the car was there. That's notoriously not a place that we run well."
The team doesn't need a lot of work on its mile-and-one-half track program, Harvick said.
"We weren't scrambling all week," he said. "We knew what we had in our car, and we know we always have to keep working to get better. Some years we've come out of there and just been in a total panic trying to figure out how we were going to gain a half-second. That's not the case."
Harvick is well into his "I'm just a driver now" season after he and his wife, DeLana, shuttered their Nationwide and Truck operation after last year. And it's been a pleasant change, he said.
"It's a lot less stressful, for sure," Harvick said. "There's a lot of things that I don't even think I realized that came with it until you're out from underneath it. It's been a good year. It's been very relaxing.
"You get to spend a lot more time concentrating on the little things that it takes to make the car go around and help your team. That part has been really good for me."
Harvick qualified 14th Friday for Sunday's Food City 500.
Mike Hembree is NASCAR Editor for SPEED.com and has been covering motorsports for 30 years. He is a six-time winner of the National Motorsports Press Association Writer of the Year Award.