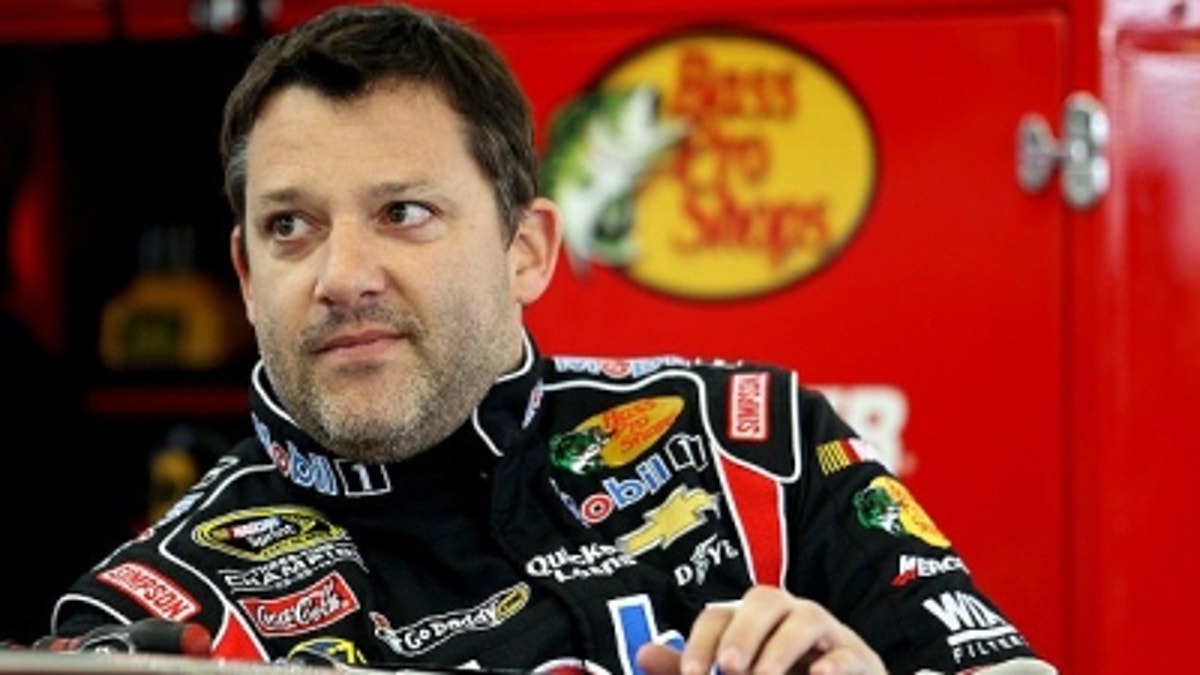 Tony Stewart has thrown more helmets – one – in the past decade at Bristol than he has scored race wins.
Remarkably, Stewart hasn't won a Sprint Cup race at the tough half-mile since he scored in the late-summer race in 2001. He has had ups and downs at the track since then, the down cycle perhaps most notable in his helmet-tossing incident with Matt Kenseth last year.
Perhaps Sunday's Food City 500 will be one of Stewart's "up" moments at BMS. He needs a strong run after a lackluster seasonal start – he's tied for 17th in points after only one top-10 finish in the first three races.
"One of my favorite trophies is my Bristol trophy from the win in 2001," Stewart said. "I keep asking myself why I only have one of them. It's just a hard race to win. When guys win there, they don't just stand on the car and go, 'Whoo.' They usually scream when they get out of the car because it's such a hard place to win.
"Bristol is one of those places where you've got to have everything kind of go your way. If you have one hiccup, it's hard to recover from it. We've only won one race there and we've kind of been all over the board. It's been feast or famine for us.
"It's like if you have one problem in the first half of the race, it's hard to recover from it. It makes for a very long day. We've had more long days than good days."
And a bad day at Bristol can be very bad, indeed. Although drivers have recovered from laps-down status to win there, bouncing back from trouble is tough.
"There are so many variables that can go wrong at Bristol versus other tracks," Stewart said. "If you have that one bad incident that gets you in the back, it's hard to recover from that. There are guys who have done it and do a good job at it, but you have to have a great race car to be able to recover from something bad, especially if you get laps down.
"It's like going from the bottom of the mountain and climbing and climbing and not getting anywhere. You fight and fight and fight and, at the end of the day, you're right where you were when you had your problem."
Still, Stewart said, Bristol remains a special place.
"I've always liked that the crowd is right there at the edge of the track – all the way around it," he said. "You can just feel the excitement from the fans. The fans that go to Bristol are passionate about racing. And whether they like you or hate you, they love their racing at Bristol.
"I'd say the fans are the best part of Bristol. It's just a cool place and a cool atmosphere, and it's because of the fans."
Mike Hembree is NASCAR Editor for SPEED.com and has been covering motorsports for 31 years. He is a six-time winner of the National Motorsports Press Association Writer of the Year Award.