CUP: Stewart Dominates Showdown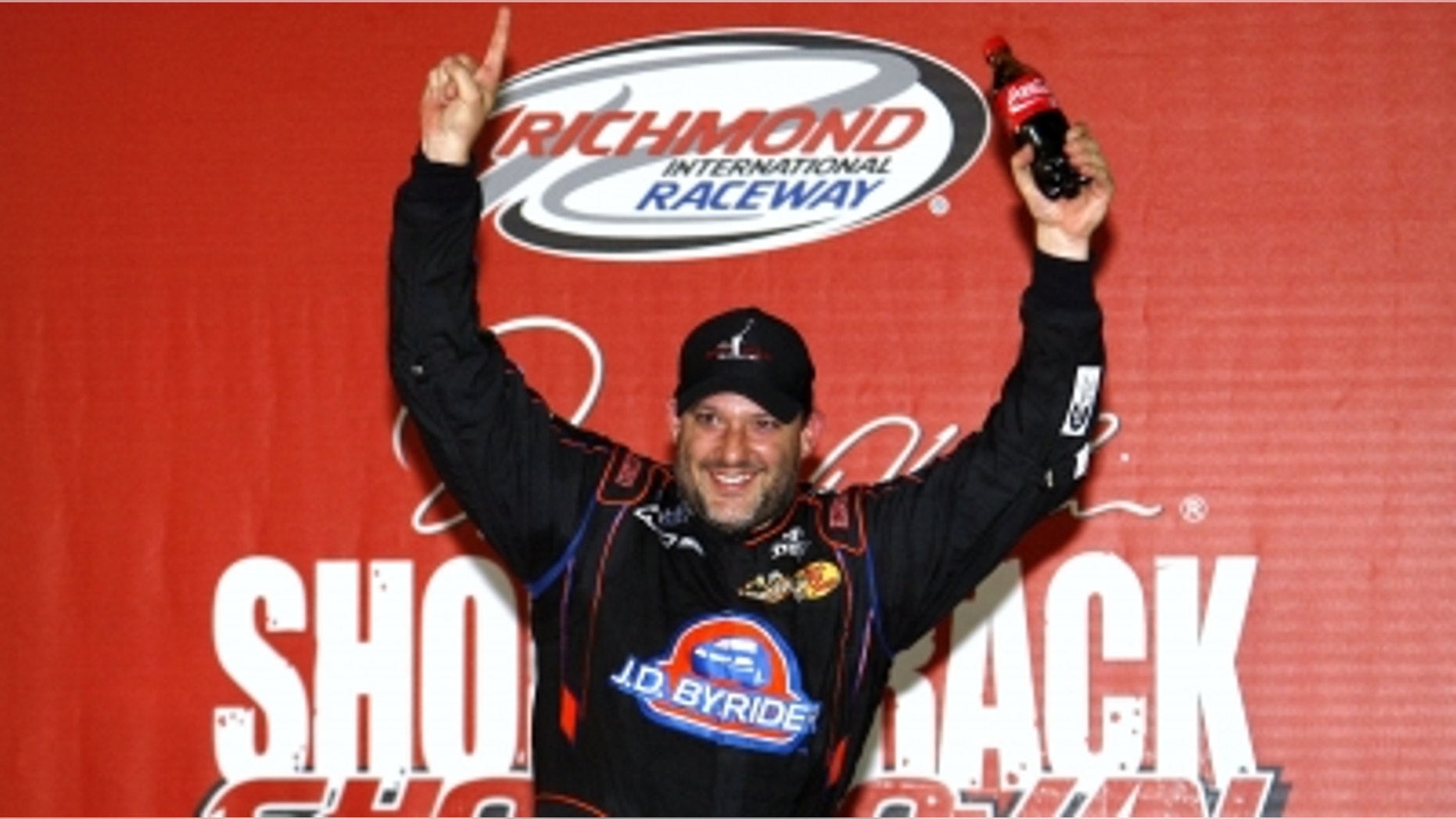 Tony Stewart put on a clinic in the Denny Hamlin Short Track Showdown at Richmond International Raceway on Thursday.
Stewart qualified fourth and first took the lead from pole-sitter Greg Edwards for the first time on Lap 31. Smoke led 21 of 52 laps when the competition caution was called with 25 circuits remaining in the event.
When the race restarted, Stewart remained at the point to the finish with a 1.765-second lead over Edwards at the line. Brandon Butler, Burton and Joey Logano rounded out the top five.
"I was a little bit free in that first segment, and (car owner/crew chief) Lee McCall made a great adjustment that really made this thing come to life in the second session," Stewart said. "Jeff Burton was definitely keeping us honest there. We got to second there pretty quick, and then it took us 10 or 12 laps to run the leader down.
"It wasn't like we were much faster. We just kind of clicked off a little bit at a time, kind of got him there in traffic a little bit, and once we got up front, it was just a matter of tire management."
Burton attempted to mount a challenge after he moved up to second on Lap 49 just prior to the mandatory yellow. But a three-car wreck triggered the fourth caution six laps later, setting up a restart between the two Sprint Cup stars. Burton admittedly missed a shift when the race went green on Lap 64 and never recovered his ground. While Logano and Edwards battled for second place, Stewart drove away.
"This is Denny's home track, and what better place to host this event," said Stewart, who won his first Sprint Cup race here in 1999. "Denny puts his heart and soul into this event, whether it's been at Southside Speedway or here at Richmond, he does a great job with it. It's fun for us as drivers. I was parked next to a 15-year-old today, so it's neat to be seeing some of this young talent that we're going to be seeing in the future and get a chance to race with them at a Cup track."
Edwards, the 40-year-old Late Model veteran from Poquoson, Va., said the experience he gained from watching Stewart and Burton throughout the race enabled him to hold off Logano and regain second-place in the closing laps.
"(Stewart) showed me some things, getting in (to the corner) a little higher, getting a little later into the apex, getting off (Turn) 2 real strong," Edwards. "Man, this was fun. I have to thank Denny Hamlin for putting this on."
For Hamlin, the event's host, his evening was over before the first lap was complete. Hamlin made contact with Chase Elliott in Turn 2 during a multi-car wreck which damaged the front end of the No. 11 Toyota. Hamlin retired on Lap 36, finishing 34th in the 36-car field.
"The car was already torn up," Hamlin said. "We were a lap down, so for us, it makes sense to make sure everyone's safe. We don't (want to) cause a caution or anything like that. We hung it up for the night, and hopefully I'm going to come out here and enjoy a good finish at the end.
"(The crash) It got the nose pretty good, and whoever swiped me on the way by got the left front tire as well. I'm not sure what it was with the steering, but either way, it was just a bad day. It's a shame it had to go that way, but that's just one of those things that happens in racing.
Still, for Hamlin the Short Track Showdown is personal. Watching his cousin Kevin Jones deal with the daily challenges of cystic fibrosis inspired the race car driver to establish the 75-lap dash for charity under the Denny Hamlin Foundation banner.
While Hamlin acknowledges that racing Late Models "is fun," the ultimate goal is "giving back."
"Everyone knows with that disease they're so close to a cure that hopefully any money that we raise this weekend will help," Hamlin said. "The research – I know that we contributed a 150 grand over these next three years to the VCU (Virginia Commonwealth University) Research Lab of the cystic fibrosis. Every little bit of money helps.
"Obviously, it's the people that turn out and watch us on TV and things like that today that's going to help get us closer to a cure because they're so close.
"When we have a successful event like we've had these first four years that's what kind of makes it worthwhile for us to keep bringing it back and keep giving all those Late Model guys opportunities to be a part of it. As long as we continue to put people in the stands and race cars on the race track, we're going to keep doing it because obviously we see the difference it is making."
For more information, go to www.dennyhamlinfoundation.org