CUP: Race Day - A Different Morning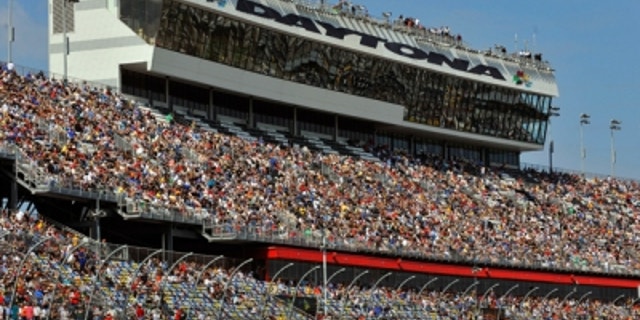 At first light Sunday, the parade was in full flower. All along International Speedway Boulevard, as the sun tried to break through cloud cover on stock car racing's biggest day, fans marched toward Daytona International Speedway, tickets and drinks in hand, anticipation building.
But this morning was different.
On Saturday afternoon, at least 28 fans – probably more – were injured in the wild conclusion to a Nationwide Series race at DIS as pieces of race cars flew into the main grandstand, creating a hellish scene out of a disaster movie.
Firefighters ran to the spot to douse an engine – yes, a race car engine – that had pushed through the grandstand fence and caught fire. The excitement of the pulse-pounding finish to a remarkable race quickly dissolved as fans near the crash site realized that dozens around them had been hurt. A male fan ripped off his T-shirt and used it to apply pressure to the wound of an injured man who sitting in the same row. Other fans motioned frantically toward rescue personnel.
That was the background Sunday morning as NASCAR prepared to celebrate its biggest race less than 24 hours after dealing with near-catastrophe.
And the fans came.
Zack Sessoms, a fan from Savannah, GA, was in the first-turn grandstand Saturday and said Sunday morning he and several friends will be there again today.
"It's the Daytona 500," he said. "We've looked forward to and planned for this for months. It's everybody's vacation. You think about what happened yesterday and be concerned about the people who were involved, but you move on, too."
And that's the way it always has been. The racing goes on. The shadow of tragedy follows, but the racing goes on.
Across the street from the speedway Sunday morning, fans gathered in small groups outside the lineup of chain restaurants that line the boulevard. Saturday's accident dominated conversations.
Steve Cope, a Dale Earnhardt Jr. fan from Birmingham, AL, held two Oldfield Tower tickets in his right hand and said he was looking forward to his first Daytona 500.
"We heard all about the accident last night," Cope said. "You don't like to think about that kind of stuff happening. I guess you don't think about the risks because stuff like that is so rare."
Any thoughts of not attending today?
"No," he said. "We'll be there in the stands. You hope it never happens again. We want to be there for the race. I'm sure the track has done everything it can to make things as safe as possible for everybody."
Track crews worked late into the night Saturday to replace grandstand fencing that was ripped out when Kyle Larson's car flew into the air and burst apart. The crash scene Sunday morning showed little leftover from Saturday's mayhem.
The racing goes on.
Mike Hembree is NASCAR Editor for SPEED.com and has been covering motorsports for 31 years. He is a six-time winner of the National Motorsports Press Association Writer of the Year Award.