CUP: Martin's New Facility Offers Edge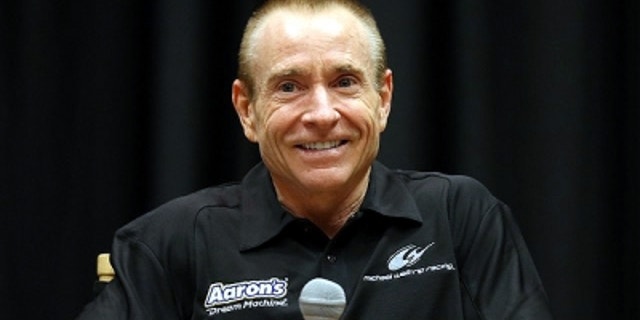 With the expectation that the new Generation 6 car will make competition even closer in the NASCAR Sprint Cup Series this season, teams will be more dependent on pit crews to gain an advantage.
Imagine Mark Martin's satisfaction when he received the green light on a state-of-the-art training facility for Michael Waltrip Racing.
The long-time fitness guru, who set the standard for the next generation of NASCAR racers, acknowledged he's been on a "seven-to-eight-month crusade" with the owners of MWR to develop a center which would rival any in the sport. While the program remains in the planning stages, now that MWR has signed off on the project, Martin will devote his time to bringing it to fruition.
"We needed a building, we needed a room," Martin said. "I didn't want to take it too much further, I didn't want to put more time and effort and planning into it until we got that. But the coaching staff, having an equipment list that I received (on Tuesday), so now we have a layout of the equipment and where it goes. But it takes a long, long time if you want to build a state-of-the-art training facility and if you want to have the premier program in NASCAR, it doesn't happen in six months and it won't be in place six months from now, it will be a work in progress. It is a long-term thing.
"Based on the commitment levels that MWR are willing to make on it will determine if we achieve that goal and how quickly we get there. But it's going to take a long time. We may have a gym in six or seven months with the equipment in it, but we'll still be in a building process of making the program bigger, better and stronger."
Martin says MWR will use the existing space in the former movie theatre turned race shop -- just outside of the reception area where the souvenir shop currently stands -- and "put a second level on it as well." There are also plans for an outside training facility for sled pushing.
Martin has firsthand experience in what it takes to build a championship organization in NASCAR, having worked with Roush Fenway Racing and Hendrick Motorsports prior to joining Michael Waltrip Racing in 2012. This season, pit crews could have an even greater impact.
"It's just become insane," Martin said. "I remember when a 21-second pit stop was the norm. Now a 12-second (stop) is the norm. Hopefully, 11- or 10-second stops are out there in our future. If we get this thing going and keep working, the sky is the limit."
Team owner Michael Waltrip understands the necessity of a strong pit crew. In the last seven seasons since MWR expanded to a multicar Cup operation, the first priority was getting the cars up to speed. After last season, when both Clint Bowyer and Martin Truex Jr. qualified for the Chase for the Sprint Cup, ownership realized it was time to fine-tune the pit crew element as well.
"To win the championship, you have to be the best team all the way around," Waltrip said. "In order to have the athletes that it takes, to be the best, you have to have the best training facility. We don't have the best training facility in NASCAR today. We have a gym. The guys that train our athletes do the best with what they have to work with. The same individuals that change the tires and jack the cars up today can perform better if we give them a better facility to train in.
"It's always been a vision of mine to have the athletes that can do amazing things when they jump over the wall with an air wrench – for the fans to be able to see them work out. That's what my shop is sort of all about, the fan experience. It's very interactive. They can see the guys work on the car. When the new gym is done, it will be a place where fans can see what all the athletes do, how they work out, how they train to prepare to go over the wall and change tires – and hopefully, as Mark says, 'in 10 or 11 seconds one day.'
"I think it will be a great addition to our shop, to the experience that you get when you visit Michael Waltrip Racing. That's what I love about our sport. It's parallel tracks – one is entertainment and one is competition. We can do both at the same time. You don't have to focus on one to do the other, they're exactly coexisting. Our fans will be entertained when they come see the guys work out and our guys will perform better pit stops because they have a better gym to work in."
Martin, 54, says he's feeling "better than he ever has" and it's clear that his fitness regimen has extended his career considerably while most of the drivers his age have retired. Last year, while running just 24 of 36 races, Martin still finished 26th in the points standings, which is astonishing considering that he outraced four drivers that completed the entire season.
Considering that Martin has worked out diligently for the past 25 years, he's familiar with what it takes for an athlete to be his physical best. He also feels the existing training staff at MWR is stout. But once Martin becomes committed to designing the ideal physical fitness program for the race teams, he's not going to stop until the system is perfected.
"It's fun," Martin said. "You know it's my second passion."
Martin said during the Charlotte Motor Speedway media tour on Jan. 23 that the 2013 season would be his last in NASCAR. He spent time with his Waltrip teammates at the Rolex 24 at Daytona this weekend.
When team owner Rob Kauffman was asked whether Martin would remain with MWR as an advisor following retirement from the cockpit, he replied, "He's going to help. Mark's an inspiration for all the guys. His dedication gets everyone to stand up straight.
"We knew (retirement) was basically the plan. He's going to continue to work with us and help and advise the team. We're just happy to have him with us. He has so much experience. His attitude is awesome. Who wouldn't want Mark Martin helping out?"