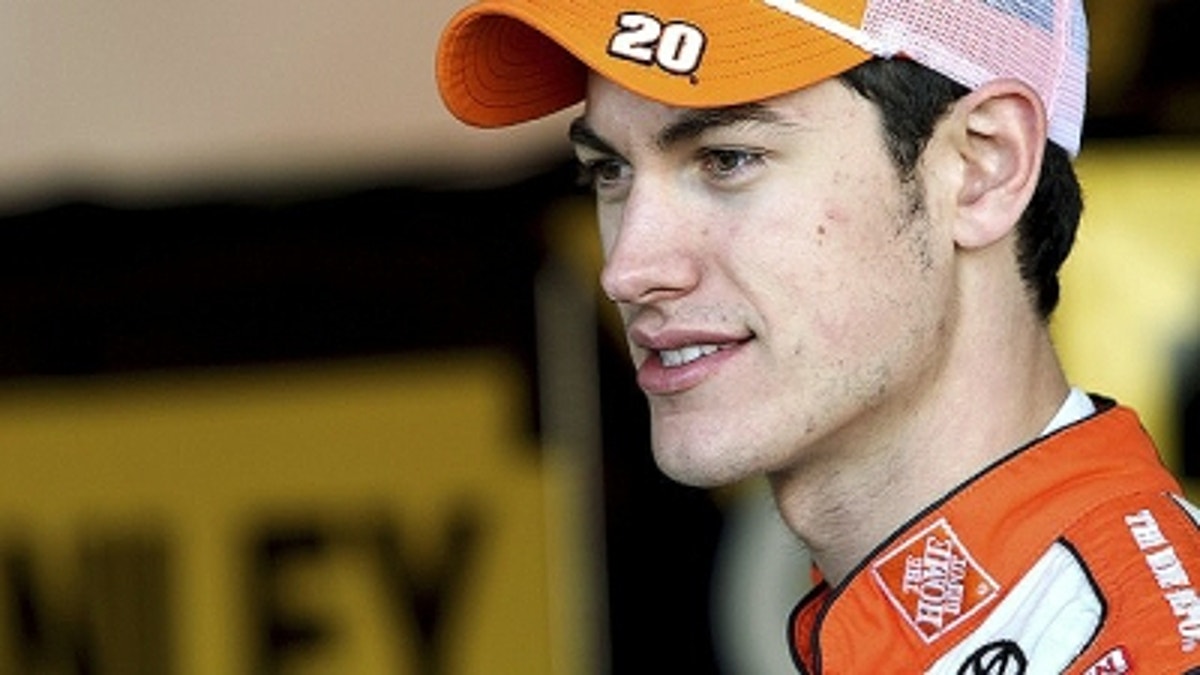 Talk with Joey Logano, driver of the No. 20 Joe Gibbs Racing NASCAR Sprint Cup Toyota, and you'll see and hear some familiar expressions and mannerisms.
The great big grin.
The wide eyes.
The infectious laughter.
The relentless optimism that only youth possesses.
This is a guy driving for his job after a hugely disappointing 2011 season? It sure doesn't seem like it when you speak with Logano in person.
Face to face, Logano is relaxed, engaged and enthusiastic. Still just 21 years old, the Connecticut native insists 2012 will be wholly different and better than last year, when he slid from 16th in points in 2010 all the way back to 24th.
In fact, he seems anything but a driver some regard as facing a major make-it-or-break-it point in his career.
"I'm more confident going into this year than I have been any other year," Logano said in an exclusive interview with SPEED.com on Wednesday. "I don't feel any pressure right now."
The reason for Logano's optimism largely is his new crew chief, Jason Ratcliff, who this year moved up from JGR's hugely successful NASCAR Nationwide program to serve as crew chief on the No. 20 Sprint Cup car.
"I've got new life here," Logano said. "I'm very confident in myself. I feel like I've done a lot of really good things to make myself a better race-car driver. I feel like I've got the guys behind me this year. We've got a new crew chief. That changes a lot of things. That'll bring new life to you."
It's no secret that the relationship between Logano and Greg Zipadelli, his crew chief for the first three years of Logano's Cup career, deteriorated rapidly last season. The end result was a 2011 campaign that left all involved frustrated, with "Zippy" leaving the team to become competition director at Stewart-Haas Racing.
Add in an unusually poor year for JGR as a team, and it's clear there was ample frustration to go around last season. Logano said that's not the case now.
"My head's in a better spot this year than it was last year, and going into last year," said Logano. "Arguably, I should have been in a better mental state going into last year after the way we finished (in 2010). But after last year being so tough, it humbles you and it makes you work a lot harder and it makes you figure a lot of things out."
Of course, this time of year, it's easy to be optimistic.
Talk to any NASCAR driver, team owner or crew chief right now and he'll tell you his team is on the way up and poised for big things to happen. A month or so into the season and some of them already will have crashed back to the ground.
In that regard, Logano is no different. But it's clear that the combination of getting Ratcliff on board and the team-wide changes at JGR have him believing big things can happen this season.
"I'm set to go out there and win some races this year, and that's throughout the whole team," Logano said. "Coming in with Jason, he brings all-new life, all-new energy and that carries throughout the team, carries through me a lot, for sure."
Logano leaves little doubt about his energy level at the moment.
"I'm pumped, I'm ready to go," he said. "... When seasons like (2011) happen, I think typically your next season is one of your best seasons. Because you understand just how much it was not any fun, and you'll do whatever it takes to get back to where you were and then some."
Tom Jensen is the Editor in Chief of SPEED.com, Senior NASCAR Editor at RACER and a contributing Editor for TruckSeries.com. You can follow him online at twitter.com/tomjensen100.