CUP: Kenseth Has Unnamed Ride In Place For 2013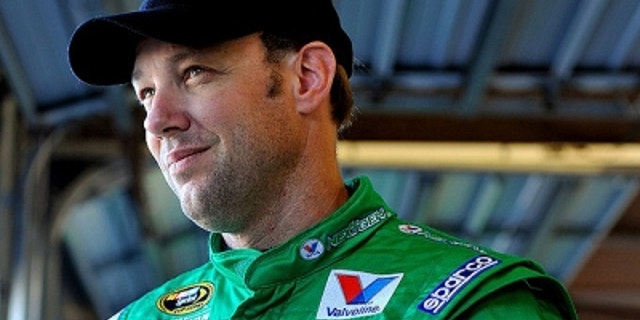 Matt Kenseth has kept his name out of the rumor mill for most of his NASCAR career.
When it finally popped up, it was a bombshell: The Sprint Cup Series points leader was planning his departure from Roush Fenway Racing.
Kenseth said Wednesday that he has a new deal already in place for 2013, and although he said he's not ready to announce it, all signs point to a move to Joe Gibbs Racing. He laughed when asked how he went from begin a guy nobody even mentioned in free-agent discussions to one of the biggest movers in many years.
"Everybody's personality is different, and I've always preferred to do as much of my business as possible behind closed doors because it's my business and my career," Kenseth said in a telephone interview with The Associated Press.
"You don't want outside forces trying to play a role in what you do, or influencing you. So you just keep it quiet. This happened fairly quickly, but this season has been a very stressful two or three months, and what's been put together was done in a matter of weeks."
Kenseth has spent his entire career at Roush, where he won two Daytona 500s and the 2003 Cup championship. He has never earnestly tested the free-agent market before, and each of his contracts at Roush had been extended before the final year arrived.
So even though he has been unsigned all season, nobody figured he'd ever leave Roush, where he's driven the No. 17 Ford in all but one of his 452 Cup starts dating to 1998. He said telling team co-owner Jack Roush he was leaving last week was one of the toughest conversations he's ever had.
"I don't think either one of us expected it, I think both of us expected I would retire driving for him and driving the 17 car," Kenseth said. "It was difficult, one of the top-10 hardest conversations I've ever had, and it made for an uncomfortable last weekend for both of us. It felt kind of weird (at Sonoma) and now that it's out there, I think it will be fine.
"I've got a tremendous amount of respect for him, and I think in the long run, everyone is going to be fine."
Roush moved quickly to fill Kenseth's seat, promoting Nationwide Series champion Ricky Stenhouse Jr. to the Cup level. Kenseth won't say where he's headed, just that he believes it will be a good fit and was the first offer he'd ever seriously considered.
J.D. Gibbs, president of Joe Gibbs Racing, declined Wednesday during an appearance in Kentucky to discuss any potential deal with Kenseth. But JGR driver Denny Hamlin was on board, and said his driving style probably matched Kenseth more than anyone else in NASCAR.
"He just brings so many assets to a race team," Hamlin said. "He's going to be a valuable asset wherever he goes and anybody would be lucky to have him."
The 40-year-old Kenseth would automatically become the senior driver at Gibbs, which currently fields cars for Hamlin, Kyle Busch and Joey Logano. Hamlin has been the de facto veteran since Tony Stewart left after the 2008 season, and Logano stepped into the No. 20 Toyota.
It's not clear if Kenseth is headed to the No. 20 car to replace Logano, or if a fourth team is being created for one of the drivers.
Hamlin said he's done no recruiting.
"My talks with Matt have been pretty brief," Hamlin said. "You always want someone like that on your team, but drivers aren't going to convince a guy where it's best for them, or where they feel they can win races. So my role is limited. But you know someone like that has the potential to bring a whole lot of talent to your race team."
Kenseth, like Roush officials a day before, did not reveal many details about the decision to leave the team.
He said it wasn't about money -- and joked if it had been, he would have negotiated publicly for the first time in his career for leverage -- and said despite up-and-down moments with teammate Carl Edwards, the two presently get along fine and there's no animosity over the deal Edwards got last year to stay at Roush.
"People won't totally understand it, and I get that, but there isn't one reason, or an argument that is easy to figure out for me or for Jack," Kenseth said. "There were a number of things that got us here, and at the end of the day I am excited about what I've got for 2013 and I think Roush is excited about promoting Ricky.
"I'd never been in this situation before and that has been stressful for me. I've just never been in a contract year before, especially this deep into the year. So I'm just excited to be done with this and to move on with the rest of our season."