CUP: Kahne Set To Step Up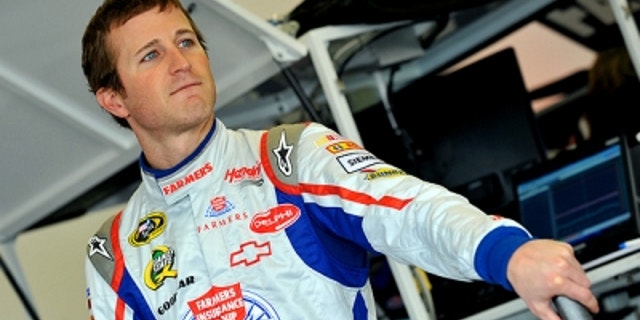 Despite undergoing yet another round of outpatient surgery on his aching left knee Thursday, Kasey Kahne is ready to run full throttle this season.
Gone is the uncertainty and insanity of working for George Gillett when he owned — and nearly destroyed — Richard Petty Motorsports. Gone, too, is the interim tag Kahne wore in his one-year-only deal with the now-defunct Red Bull Racing operation in 2011.
Now that he's firmly ensconced at Hendrick Motorsports, there's nothing holding Kahne back from contending for the 2012 NASCAR Sprint Cup championship. Kahne got a clean bill of health after getting his left knee scoped on Thursday and is set for Speedweeks at Daytona International Speedway.
Asked during this week's NASCAR teleconference if he was excited about going to Daytona, Kahne allowed as how he already was fired up about the entire season.
"I think everywhere I go I'm going to be pretty darned excited," he said. "But definitely Daytona, as big of a race as the 500 is, and all of us want to win that race so bad. ... It's definitely something to be excited about and look forward to, and I can't wait to get down there and practice a little bit, and then qualifying on Sunday is going to be exciting."
With Hendrick Motorsports sitting on 199 race victories, each of the team's four drivers wants to be the one that delivers No. 200 to car owner Rick Hendrick.
Kahne has as good a chance as any of the four, and one thing working in his favor is that he's been able to bring longtime crew chief Kenny Francis along with him to Hendrick.
For his part, Francis is cautiously optimistic.
"I feel like we'll be OK," said Francis. "We've just got to get our feet wet, get going, run a few races and see where we're at and what we've got to work on. Every place has a little different weaknesses and strengths and we're looking forward to get going."
Francis said the bar is set high.
"We always have high expectations for ourselves," said Francis. "We want to go out and run good and win races. We want to challenge. We want to look good. We want to run up front. We want to contend. We want to win some races."
Team owner Rick Hendrick has high expectations, too, as do the other three Hendrick drivers.
"The respect that these guys have and we all have for Kasey as a driver and Kenny as a crew chief," Hendrick said. "... They (Kahne and Francis) have plugged in here. We knew that they would help us. They would give us some fresh ideas, and they could take our baseline and what we had and go with it. So I'm really excited. They fit in like a glove."
And after years with teams in turmoil, Kahne said there's still a bit of shock and awe in witnessing the scope of Hendrick Motorsports, which builds cars for Stewart-Haas Racing and James Finch's Phoenix Racing, as well as the four Hendrick teams.
"Well, Hendrick is still pretty fresh to me, so I haven't seen everything there for sure and haven't been in the middle of too many things," Kahne said. "But the biggest impression is probably just the amount of cars and the amount of work that they've got going on, whether it's for Hendrick Motorsports or for Stewart-Haas or for Finch. I mean, there's a lot going on there, and it's just a really impressive place to see how many people are just putting their heads together and trying to figure out how to go as fast as we can."
Now, it's just a question of getting it done.
"It's been everything that I expected up to this point," Kahne said of his move to Hendrick Motorsports. "I still am pretty fresh with the whole deal, so I think it only gets better from here."
Tom Jensen is the Editor in Chief of SPEED.com, Senior NASCAR Editor at RACER and a contributing Editor for TruckSeries.com. You can follow him online at twitter.com/tomjensen100.