CUP: Is Ford Ready To Win Title?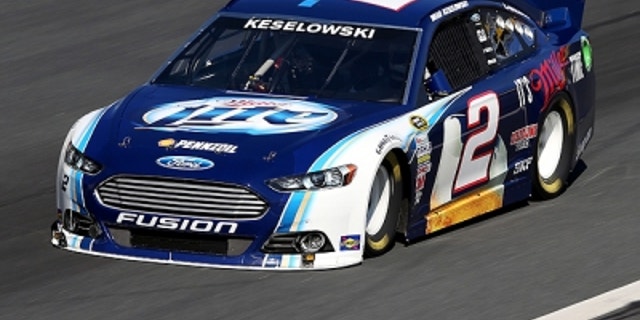 Despite recent Daytona 500 victories and All-Star race wins and Nationwide Series titles and high moments of other designs, Ford's Sprint Cup teams have to look all the way back to 2004 to find a jewel – the Blue Oval's last Cup championship.
Kurt Busch last won the crown for Ford before his relationship with team owner Jack Roush turned extremely sour and they parted ways. In 2005, Tony Stewart began a seven-year run of titles for Chevrolet, with Jimmie Johnson picking up the torch and keeping it for five of those years before Stewart scored again in 2011.
Then, strangely enough, Dodge stepped forward last year in its lame-duck season to win the title with Brad Keselowski.
Ford came excruciatingly close to taking the championship two years ago as Carl Edwards tied Stewart atop the points, only to lose the title via tiebreaker (number of race wins).
Now Ford is circling the wagons, bringing in the championship power of Penske Racing and Keselowski and trying to re-energize its teams for a solid title run.
"Obviously, we haven't done a good-enough job to win the championship," said Robbie Reiser, newly promoted to vice president of competition at Roush Fenway Racing. "We've been there. Two years ago, we lost it because we didn't win enough races. We've been very competitive. We just have to step up our game to win the championship.
"It's not like we haven't been competitive or been there. The thing we have to do is raise the level of our game to beat the guys who have been beating us. That's the way sports works.
"The technical side of this thing is getting tougher. We've reorganized a lot of what we do engineering-wise. We've looked at our weaknesses and strengths and tried to straighten that out and try to make things better."
The championship is "top of the mind" for Roush Yates Engine president Doug Yates, whose group supplies engines for all Ford teams.
"2004 was the first year we put all our engine companies together," Yates said. "I think what has to happen for us is we have to have a more complete program. We excel at some tracks and don't at others.
"When it comes to the Chase, the two or three tracks we struggle at really hurt us. We have to get better at the Martinsvilles and Phoenixes and Loudons. Those tracks are a shortcoming for us."
Ford Racing director Jamie Allison said his group is ready for a solid run at the title.
"If you look at each year and dissect it, I feel our team always is consistently there, but in order to win the championship you have to have so many things go the right way for you," he said. "With the addition of another championship-caliber team (Penske), we now have spread the opportunities for that to happen.
"I just like our chances now that we have a multiplicity of championship caliber owners, teams and drivers."
Ford team owner Richard Petty said the Blue Oval has been a victim of the numbers game.
"The basic deal is that they've had more Chevrolets than we've had Fords," he said. "And Chevrolet has more backing, maybe not from the factory but from sponsors. There are three or four pretty good Chevrolet teams and a couple of good Ford teams.
"You've got to figure the championship part of it with the Hendrick crowd. They're way bigger than any other teams. And you have to have the organization, but you have to have the money behind it. We can be the best organization in the world, but if we don't have the money it doesn't work."
Mike Hembree is NASCAR Editor for SPEED.com and has been covering motorsports for 31 years. He is a six-time winner of the National Motorsports Press Association Writer of the Year Award.