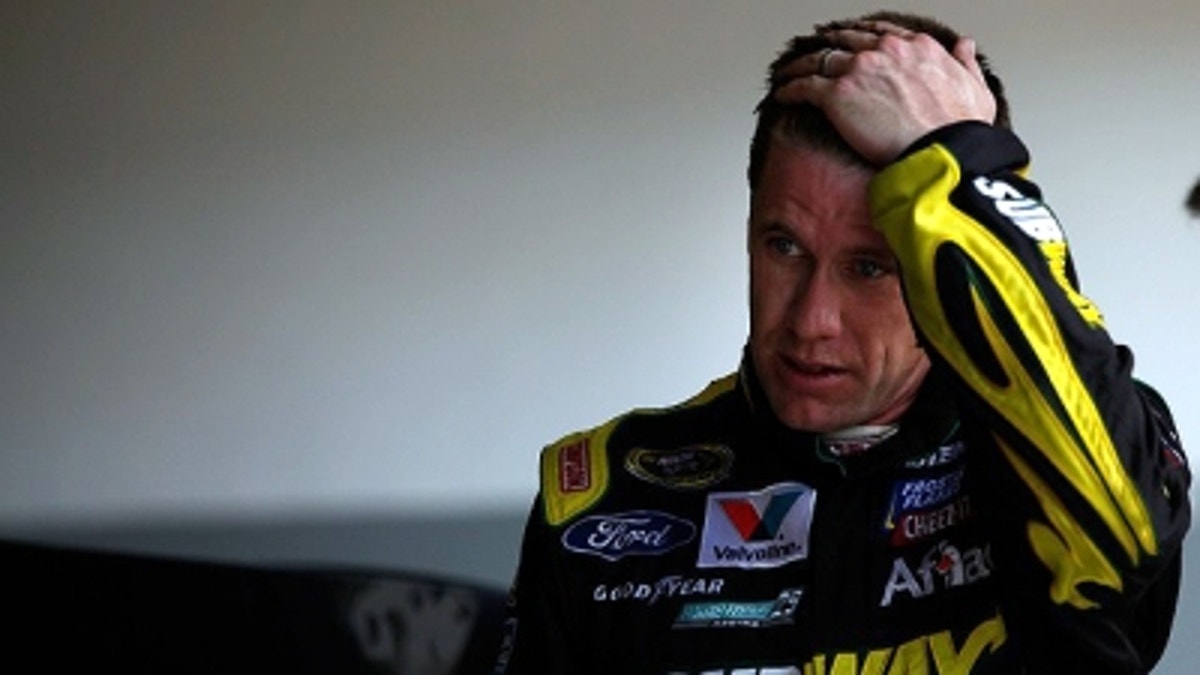 The window, Carl Edwards said, is closing.
And his fingers might be in it.
Edwards, whose season continues to be one of mystery, is dancing precariously on the edge of missing the Chase for the Sprint Cup despite engaging in one of the most exciting runs toward a championship in a lost cause last year against Tony Stewart.
Entering Saturday night's Coke Zero 400 at Daytona International Speedway, Edwards sits 11th in Sprint Cup points, one spot (and 34 points) from the last Chase qualifying position. And, since Edwards is winless, he currently is a very poor candidate for a wild-card position.
With nine races remaining to the Chase cutoff, Edwards said it's go time. He finished 20th last week at Kentucky Speedway, got rid of some frustration on the team radio and had a meeting of team members after the race to address continuing difficulties.
"We have to minimize our mistakes," Edwards said. "I think you guys saw how frustrated I was and how frustrated our whole team was after last week, and the week before running about 20th the last two weeks from little mistakes that are not really the norm for us, so we've got to do better than that. We know that."
The bottom line now, Edwards said, is that he basically is in a Chase competition of his own over the next several weeks.
"We had kind of a hastily organized meeting after the race the other night, and basically it boils down to this – our luck has been so bad this year that we can't make any other mistakes," he said. "We have to go forward assuming that the things that could go wrong are going to go wrong, so we need to go out and minimize the mistakes around the things that we can control.
"It's like my dad told me at the beginning of my career. Something broke on the car one night, and he said, 'Listen, there are a thousand things that have to go right in a race, and if any one of those things go wrong, your race is over, so the very least you can do is control the ones you can control and not make mistakes in those areas.'
"That's what we have to do right now. We all understand that. Bob (crew chief Bob Osborne) and I have talked about it. We have to go the extra mile to make sure all of our bases are covered because there's just no room for any more error the next nine races. We have to be on it. This to us is almost as if we're going to race for the championship for the next nine races. We've got to think that way and remember and respect the fact that we're not in that Chase right now. We're outside of it. We've got to go get it."
Edwards still can qualify for the Chase by racing into the top 10, although he admitted it's going to be a tough haul.
"I think that's realistic," he said. "That window is closing, though. If we don't make up some ground here in the next three or four weeks, it becomes a different story. The best way we can do it is to obviously go win races, but I think in the next nine races we could make up 50 or 60 points, but that would be the best case.
"We know how to do that. We've had runs like that where we just knocked off five or six or eight top-fives in a row, and we can do it, but we've got to step it up."
Mike Hembree is NASCAR Editor for SPEED.com and has been covering motorsports for 30 years. He is a six-time winner of the National Motorsports Press Association Writer of the Year Award.