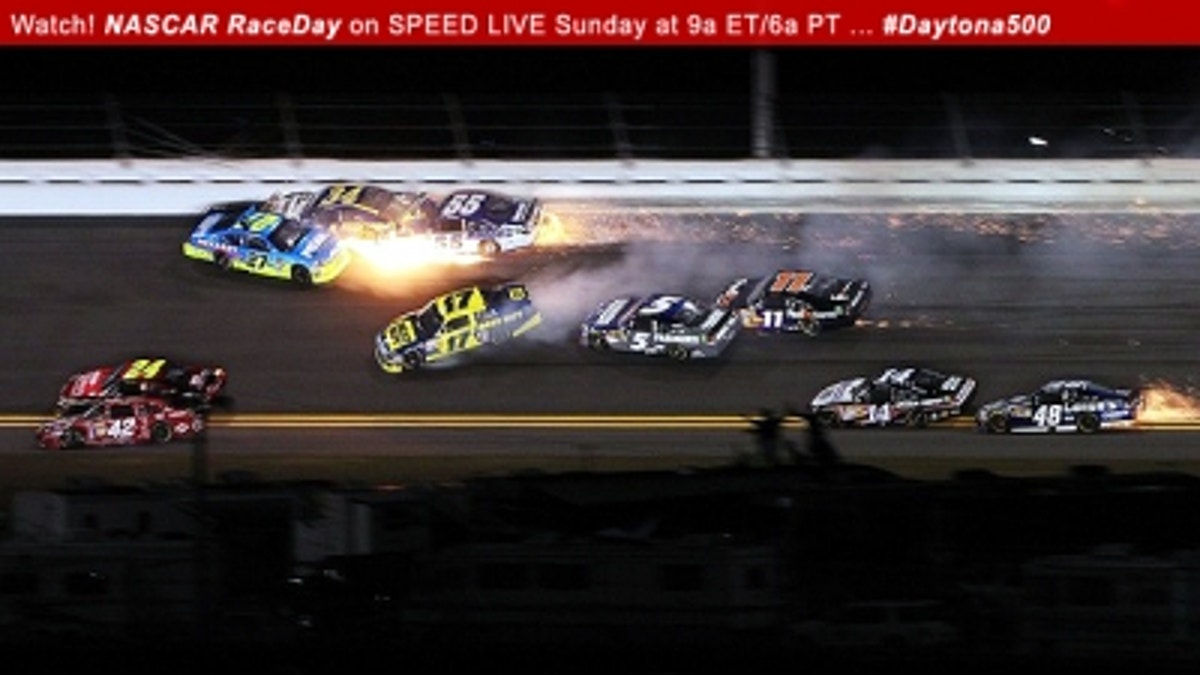 The numbers so far during the NASCAR portion of Daytona Speedweeks are staggering.
• Budweiser Shootout — 75 laps, 21 cars involved in accidents.
• Gatorade Duel No. 1 — 60 laps, seven cars wrecked.
• NextEra Energy Resources 250 NASCAR Camping World Truck Series Race — 109 laps, 28 trucks wrecked.
Add it all up and there have been 56 vehicles wrecked in 304 laps run in the four NASCAR Speedweeks races contested to date — and that doesn't include several incidents during the various practice sessions. Only in Duel No. 2, which went green the entire distance, was carnage avoided.
Kyle Busch, who won the Bud Shootout a week ago, did so after making two amazing saves after getting completely sideways from contact from other cars.
"It's a tense pack. It's not like 2000 to 2005 pack where you couldn't really bump each other, you couldn't really get to each other, you were racing around and made holes whenever you could make holes, whatever," Busch said. "It was intense. Guys pushing all the time, them pushing on you, pushing five rows deep, everybody squirrelly, the back end of the cars being real light."
The NASCAR Camping World Truck Series race was even worse.
"Daytona in the Truck Series has a lot of incidents. Always has, always will," said Johnny Sauter, who was one of the unlucky racers in Friday night's rugby scrum of a race.
"Every time there are a lot of trucks at the end, it's going to be madness and sure enough it was," said Parker Kligerman, another victim in the truck race.
So far at Daytona, drivers have hit everything but the lottery and the pace car, and with 120 laps scheduled for today's NASCAR Nationwide Series race and 200 more for the Daytona 500, the potential for more twisted sheetmetal remains exceedingly high.
Danica Patrick, who will start today's Nationwide race from the pole, found out just how dicey things could be during Sprint Cup practice on Thursday, when she was the third car in a chain reaction crash that shot her car hard into the backstretch wall.
"Do I like crashing? Of course not," said Patrick. "I don't think anybody likes crashing, but it's part of the business and it's part of big pack racing like this. So many more cars in a close quarter and while the accident started on the outside, you don't even have to take part in it, you just have to be there. As the first car hits the second car, as the second car hits the third car and then, you know, I was the third car, sometimes there is just nothing you can do."
"It was a scary wreck," said four-time NASCAR Sprint Cup champion Jeff Gordon of Patrick's wreck. "When I saw her car heading to the wall at that angle, I was really nervous. But I was very impressed with the way the SAFER barrier worked; (and) the car, the seat, the HANS (device). To see her be able to walk away from it the way she did, I was very happy to see."
As for 2007 Daytona 500 winner Kevin Harvick, he's hoping drivers don't get irrationally exuberant.
"You see a lot of strange things happen, and the race is much like the week," said Harvick. "You can get excited. You can get caught up in somebody else's mess. You can cause a mess. Those high emotions tend to make things happen. I think being here for awhile, you have to learn to keep those emotions as low as possible until the end, so you can keep yourself around and be there when it counts. It seems like when they drop the green flag, we all think it counts right off the bat, and it just causes some crazy situations."
Then again, crashing is a risk drivers take.
"We are not average people," said Patrick. "We are not average to drivers on the road. We race, I'm not saying we crash for a living, but it is part of racing for a living."
Tom Jensen is the Editor in Chief of SPEED.com, Senior NASCAR Editor at RACER and a contributing Editor for TruckSeries.com. You can follow him online at twitter.com/tomjensen100.