CUP: Can Keselowski Stay Hot?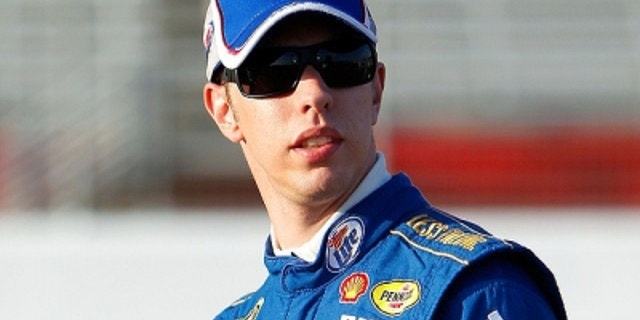 After Sunday's stunning victory at Chicagoland Speedway, you can pretty much figure that Brad Keselowski's days of sneaking up on the NASCAR Sprint Cup field are over and done.
Jimmie Johnson dominated the GEICO 400 in the car he had won with at Dover and Indianapolis, but Keselowski passed him on pit road during the final pit stop and pulled away in the closing laps to draw first blood in the Chase for the Sprint Cup.
In the process, Keselowski also became the points leader for the first time and five-time series champion Johnson had to be wondering just what had happened to him.
But in NASCAR racing, you're only as good — or as bad — as your last race, and there's no guarantee that success carries over from week to week. In fact, in six of the first eight years of the Chase, the driver who won the opening race failed to go on to win the championship, something Keselowski is trying to keep in context.
One could easily argue that the deeper the Chase gets, the harder the work becomes.
"The points lead is nice. It means we won the first race in a 10-race playoff format. But that's really about all," said Keselowski. "I refuse to let it sink in because there is so much work left to be done. We need to keep our eyes looking forward."
So now, Chicago is officially in the rearview mirror and it's off to Loudon, N.H., for Sunday's Sylvania 500 at New Hampshire Motor Speedway.
In six prior starts at the 1.058-mile NHMS oval, Keselowski has one pole, two top fives and a best finish of second.
"It's always a lot of fun when we go up to Loudon to race," Keselowski said. "The fans really love what we do and they show it by filling the stands. It's one of those tracks we can go to and almost guarantee that it will be sold out. The racing that we put on at New Hampshire sometimes gets a bad rap, but I think it has produced some of the most exciting finishes over the last few years. It's a one-mile track, but it races like a short track."
Never one to be afraid to mix it up, Keselowski said he likes the physical nature of the tight, short oval.
"There is a lot of beating and banging going on and the fans love to watch it unfold," said Keselowski, who finished fifth here earlier this year. "Loudon has been an underrated track for us over the last couple of years. I think we can run well there again and keep the points lead."
Crew chief Paul Wolfe said the track presents some specific challenges.
"Loudon is a unique racetrack," Wolfe said. "It has aspects of both Richmond and Phoenix all rolled into one. We work really hard to get the car to turn in the center (of the corners) and maintain forward drive for late into a run. It's a very flat layout, which presents a lot of different challenges. With no banking to catch the car, it can be very hard on brakes because the straightaways are long and you can build up a lot of speed before you get to the corner. It is so hard to pass, you really need the complete package to win there – good brakes, handling and pit stops."
Keselowski said he's ready.
"I'm going to focus on the next nine races, and I know everyone on the Miller Lite Dodge team is going to do the same," he said. "It would be a disservice to Sunday's win if we allow our focus to get away from tomorrow's workload."
Tom Jensen is the Editor in Chief of SPEED.com, Senior NASCAR Editor at RACER and a contributing Editor for TruckSeries.com. You can follow him online at twitter.com/tomjensen100.