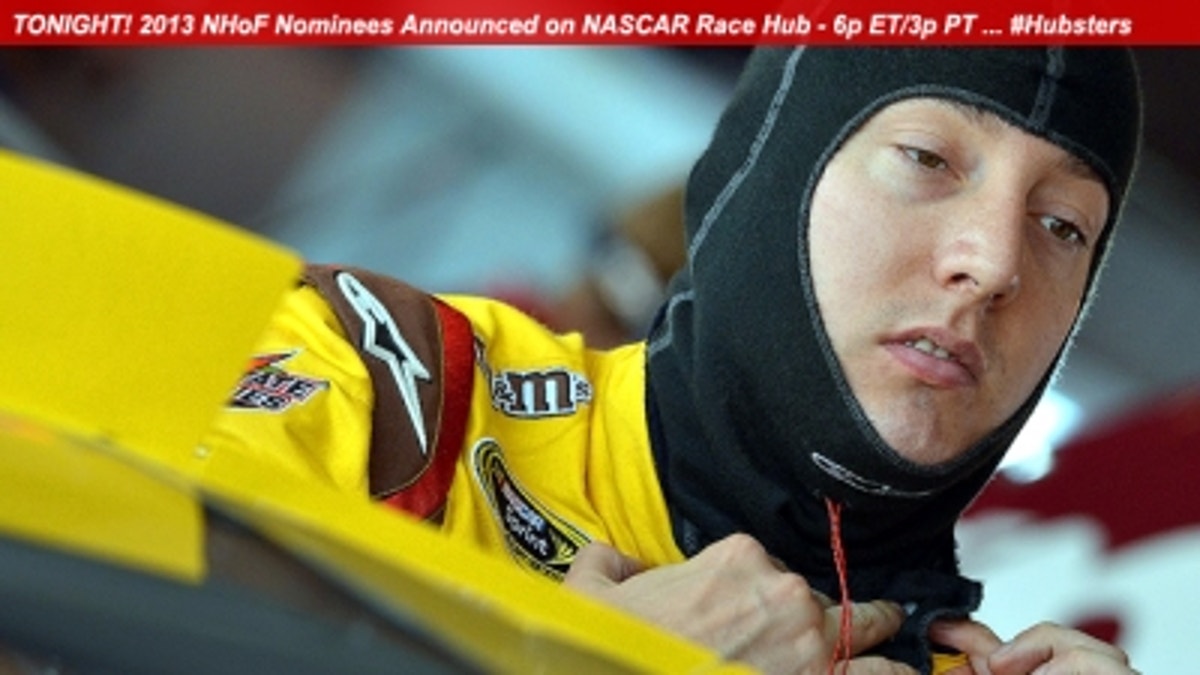 Kyle Busch has a number of reasons for going the extra mile to notch a victory in Saturday night's Samsung Mobile 500 at Texas Motor Speedway.
Six races into the Sprint Cup season, Busch has no victories. In fact, he has only two top-10 finishes.
Despite Nationwide and Truck success there, Busch has never won a Sprint Cup race at TMS.
And Busch carries sponsorship Saturday night from Interstate Batteries and its chairman Norm Miller, a Texan who was a sponsor when team owner Joe Gibbs started his NASCAR team 26 years ago. Interstate Batteries is based in Dallas, so a win by Busch would be of particular note for Miller.
TMS, a tricky track in the best of times, has been almost-feast and famine for Busch since he ran his first Cup race there in 2005. His finishes bounce from good to bad – 40th, fourth, 37th, third, 32nd, sixth.
"I had some wild races there early on in my career, and it wasn't one of my favorite places, for whatever reason," Busch said. "Things have gone well recently. Obviously, the Nationwide Series wins the last several years and getting the win in the Truck Series the last couple of years have been real confidence-boosters there.
"I've sort of learned how to drive it a little bit better, and I know what I need in my race car to make it easier. The cars that JGR has given me since I joined the team have also been a confidence-booster there. I can't seem to get that win in Cup that's eluded me, even though we've been close. So, hopefully, that's something we can change this weekend.
"It would mean a lot to see Norm's face in victory lane if we could pull it off. It meant a lot to get him to victory lane in the Truck Series there, but to win a Sprint Cup race there for him would be a huge deal."
Busch said TMS was a struggle for him from his first laps there in a Cup car.
"Texas was really hard for me at the beginning with the Cup cars, for some reason," he said. "I took to it right off the bat in the Nationwide stuff. We've kind of correlated some of that information back and forth and, having the cars from Jason Ratcliff (former Nationwide Series crew chief and current crew chief of the No. 20 Sprint Cup team for JGR) and from Dave Rogers (Busch's Sprint Cup crew chief) being as good as they've been, we've been really fast there.
"And now that Jason is on the Cup side with Joey (Logano), I'm hoping they can bring back a little of that magic that helped us win five in a row there in the Nationwide car. It's a fun place. It's really challenging because of the flatness of the corners, getting into the corners, and then they're so banked through the turns and then the exits of the corners, they kind of fall off real quickly. That was always really weird for me to try to figure out because the lateral grip seems to go away so fast on the exit of the turns. You kind of want to be straight by that point.
"It's an interesting facility. Texas, Charlotte and Atlanta all might look exactly the same, but they drive nothing alike. It keeps you on your toes."
Mike Hembree is NASCAR Editor for SPEED.com and has been covering motorsports for 30 years. He is a six-time winner of the National Motorsports Press Association Writer of the Year Award.