CUP 10 NASCAR Topics To Watch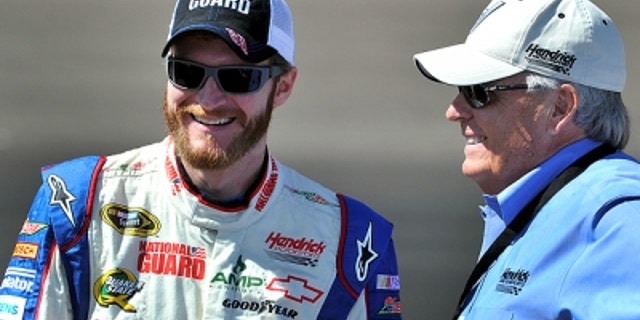 Bristol, we have a problem.
What happened to the days when the most coveted ticket in NASCAR was a seat in Thunder Valley?
If the half-empty concrete coliseum did not offer visual evidence to the shrinking support of Bristol Motor Speedway, certainly the ability to drive straight out of the racetrack did.
Before the race, fans offered rumblings of a revolt. Concerns ranged from changes in the racetrack (the addition of variable banking) to the economy.
First, from a fiscal standpoint, the average fan is unable to spend $300 per night on a hotel room ($325 per night for the August race). While there are still affordable tickets, the money saved to watch the race will be spent on getting to the track, whether it's for $4 a gallon in gas or for lodging and camping.
In 2007, Bristol repaved the track's surface and scrapped the 36-degree banking on the half-mile to levels which progressively rose from 24 to 30 degrees. This year's addition of a harder compound tire resulted in longer green-flag runs on a track where it was already difficult to pass. For the fans that live for "rubbing or wrecking is racing" style of motorsports, then Bristol is now dead to them.
From my seat in the press box, the racing was compelling, but the storylines were better.
Here are 10 topics to keep an eye on:
1. Bad Brad
It's no fluke. Brad Keselowski has shown his versatility on a variety of tracks from Talladega to Bristol (twice), as well as Kansas and Pocono in between. Don't forget that the third-generation racer also finished second at Watkins Glen last August — which came during a string of five races following the vicious Road Atlanta testing wreck when his worst finish was sixth at Atlanta Motor Speedway. If @keselowski's fancy footwork wasn't enough, he's let his fingers do the tweeting while accumulating one-quarter of a million followers — more than @JimmieJohnson, @JeffGordonWeb or @KevinHarvick.
2. The Rise of MWR
Perhaps what is more impressive than all three Michael Waltrip Racing cars finishing in the top five for the first time in a race is all three teams currently sitting among the top 10 in the owner points standings. Yes, it's still early in the season but could anyone have predicted that Martin Truex Jr. would be ahead of Denny Hamlin and Kyle Busch after the first four races? Is the pecking order in the Toyota camp changing?
3. Second Chances
Did Brian Vickers do enough to redeem himself on Sunday? Certainly, Vickers' boorish behavior on and off the track proved detrimental when the driver market opened up last fall. But after earning his first top-five finish at Bristol on Sunday after eight years and 15 starts, perhaps Vickers learned something sitting on the sidelines for the first few races. If not, a little humility would be a good place to start.
4. Got Some Explaining to Do
Dale Earnhardt Jr. accepted responsibility for wrecking his Hendrick Motorsports teammate Jeff Gordon on Sunday. Although both drivers chalked the incident up to "one of those racin' deals," Earnhardt knows "damage control" is in his future. It's been a difficult road for the four-time champion who is currently 23rd in points. From his Twitter account @JeffGordonWeb tweeted: "Unfortunate what happened today. Big hit in points & missed opp for a strong finish. Doesn't help when its contact with teammate."
5. The Decision
Speaking of Hendrick Motorsports, the National Stock Car Commission will hear the No. 48 team's appeal regarding penalties for illegal C-posts for the final time on Tuesday with Chief Appellate Officer and former GM executive John Middlebrook making the call. It's really sad that crew chief Chad Knaus' handywork has overshadowed the accomplishments of HMS this season . . . oh, wait a minute . . .
6. Still Speaking of Hendrick
Dale Earnhardt Jr. remains the only Hendrick driver in the top 10 in the points standings, at sixth. If Johnson had the 25 points levied against him following the Daytona 500 penalty, he would currently be 12th in the standings. Johnson, the five-time champion, has rallied with two top five's and three top-10 finishes in the interim. And with five wins at Fontana, his hometown track, expect J.J. to be stout again. However, Gordon and Kasey Kahne's bad luck is just brutal. Before the season began, Kahne was pegged as a championship contender. Now he's 34th in the points standings — 100-points or two full races behind points leader Greg Biffle.
7. Turning the Tide
Earnhardt Ganassi Racing's Jamie McMurray and Juan Pablo Montoya's finishes of seventh and eighth, respectively, were the organization's first pair of top-10 finishes in one race since Martinsville last spring. Unlike MWR, which experienced a stark overhaul in the last half season, EGR's success has been a slower road mired with bad luck. The good news? Montoya has not hit another jet dryer in the last three weeks.
And McMurray's misfortunes have not been of his making either. He was collected in a wreck at Daytona in the closing laps and experienced an engine failure the next week at Phoenix. His first top 10 of the season elevated McMurray seven positions in the owners points to 19th. Montoya rose six spots to 18th.
8. Fueling the Funk
How refreshing was it not to discuss electronic fuel injection in the outcome of Sunday's Bristol race? Don't worry. Fuel will be a topic of conversation this weekend at Auto Club Speedway. Two-mile tracks traditionally come down to fuel mileage and this weekend's decision will likely fall into the same category.
9. Continuing to Impress
Richard Childress Racing and Roush Fenway Racing, two organizations which downsized in the offseason, are now enjoying solid placement in the points standings. All six teams are nestled in the top 15 with Greg Biffle, Kevin Harvick and Matt Kenseth topping the chart. Harvick particularly salvaged a solid 11th-place comeback after he was collected in the Kahne incident.
Jeff Burton ran among the top five most of the day before finishing sixth and Paul Menard posted his third top 10 of the season under the direction of crew chief Slugger Labbe.
10. Parity Among the Ranks
Each manufacturer has been victorious in the first four races of the season. Certainly, NASCAR inspectors have been busy this season ensuring that the cars are all equal, which has been apparent during the weekly inspection exercises that have seemed to take longer than usual. Entering Auto Club Speedway, the victories have been pretty evenly split between Chevrolet (11) and Ford (10) with Kahne collecting a lone win for Dodge in 2006. Kahne could certainly use a bump this weekend.
And we all have faith in his crew chief Kenny Francis. However, with Toyota Racing Development just down the road in Costa Mesa, could this be the week that a Camry finally breaks through at the 2-mile track? Kyle Busch and Mark Martin have both won at Fontana in the past. Clint Bowyer has been close and hasn't finished worse than ninth in the last four races. With Toyota's latest success, this is the car maker's best shot yet.