Crushing Loss Perhaps Means End of the Road for Jorge Posada, A Revered Yankee Hero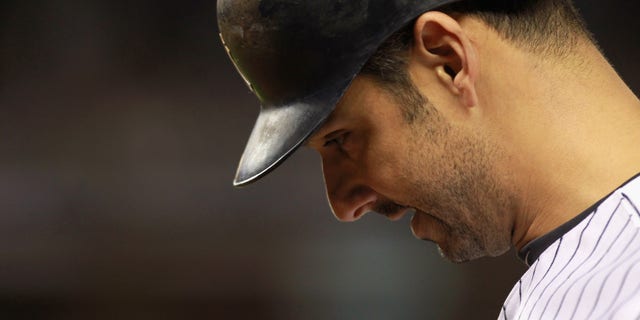 In the end, this wasn't the way Jorge Posada wanted to go out as a New York Yankee in what could have been his final game in the pinstriped uniform.
An emotional Posada wiped his eyes and politely stepped away after talking to the press for almost four minutes after the Detroit Tigers eliminated the Bronx Bombers from the postseason with a 3-2 victory Thursday night.
If it was his last night in the Bronx, Posada went out in style, going 2-for-4. He nearly got a third hit when he just missed out on an infield single in his last at bat.
It may have been the last time Héctor Lavoe's "El Dia de Mi Suerte" blasted from the stadium speakers as he walked to the plate. It may have been the last time Posada was serenaded with the traditional 'Hip Hip Jor-ge!' chant that was carried over from the old house across the street.
"They've been awesome," Posada said of the fans that had his back while the veteran went through some tough times earlier this season.
"The fans have been unbelievable to this team and to me," added the 40-year-old Puerto Rican.
Right after a reporter asked if he had taken the loss harder than prior ones, Posada became emotional, saying that he was "sorry" and making a left turn as media members tried to squeeze a few more words out of him. Posada was perhaps walking away from his locker one last time – the one that stands a few feet away from his longtime teammate and close friend, Derek Jeter.
"Jorge's like a brother to me," the Yankee captain said from his clubhouse chair.
"I don't know what the future holds," he continued. "It's not something to talk about because our job is to try to win this year but, yeah, we have grown up together."
After 16 seasons as the team's starting catcher, Posada was given designated hitter duties this year. Told that he could no longer be a catcher, he struggled in his new role.
"It's like being out of your house," Posada confessed to Fox News Latino earlier this season.
He hit just .132 in April and didn't fare any better in May. And there was the night with the Boston Red Sox in town and a national audience watching when Joe Girardi penciled Posada into the ninth spot in the lineup.
He turned the switch on in June and hit at a .382 clip with three homers and 11 RBIs before struggling again in July and August. By the time the Red Sox visited New York again, Girardi informed him that he was no longer the starting DH.
Yet somehow Posada battled and was fortunate to get in the lineup frequently, due mostly to rainouts. He rounded into shape and found himself as the team's DH in the postseason, starting in all five games against the Tigers.
He managed to be one of the most consistent hitters on yet another disappointing October team, surprising many with his .429 average (6 for 14) and a .579 on base percentage.
Posada now has played 1,829 games in the regular season to go with 275 career homers, 1,664 hits and a .273 batting average. He showed that he could still hit in the end, but whether he returns to the Yankees for an 18th season remains to be seen.
Alex Rodríguez showed this year that he may no longer be the picture of health that he has been throughout his career. He and Jeter will need their rest and the DH spot in the lineup will most likely be used to give them some extra days of rest.
And, of course, there is Jesús Montero, who clearly demonstrated that he belongs with the big league club but who isn't necessarily viewed strong enough defensively to be the full-time starting catcher.
These realities make the chances of Posada wearing the pinstripes come February 2012 quite slim.
But count All-Star second baseman Robinson Canó as one who would like to see his friend and teammate return.
Canó said he could not imagine Posada being on another team except the Yankees. Posada was one of the players who Canó says he felt closest to and that he considered him family.
"That's something that's not in my hands. I will leave that up to the front office. But I will say he did a great job," Cano told Fox News Latino. "You know he was benched for a long time and at the end he did his job. And in the playoffs he did his job.
"I'd like to have him, why not. A tremendous person," Cano added. "A tremendous human being. He's helped me out a lot in my career. Those are people that you always want around you...a very humble person and a good person."
There is no doubt that Posada, like many Yankee fans, hopes to hear that Héctor Lavoe song a few more times as he strides to the plate in a Yankee uniform. For one more season, at least.
Adry Torres, who has covered MLB, NFL, NBA and NCAA basketball games and related events, is a regular contributor to Fox News Latino. He can be reached at elpiloto137@gmail.com or follow him on Twitter: @adrytorresnyc.
Follow us on twitter.com/foxnewslatino
Like us at facebook.com/foxnewslatino