Crash ignites 200 gallons of jet fuel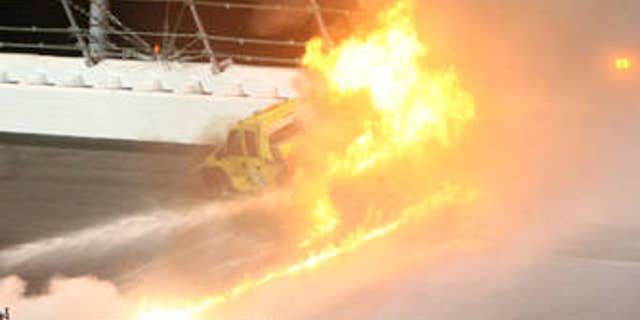 DAYTONA BEACH, Fla. – A bizarre chain of events occurred at Daytona International Speedway when Juan Pablo Montoya slid into the back of a jet dryer in Turn 3 and ignited a fire fueled by 200 gallons of jet fuel.
Moments before the crash, Montoya radioed to his crew that he had a vibration. He was running 30th at the time of the accident.
The Daytona 500 was immediately red-flagged on Lap 160, with Dave Blaney leading the race.
Montoya got out unharmed. The driver of the jet dryer had to be helped out of his truck.
"I left the pits and felt a really weird vibration, and I came back in and checked the rear end and said it was OK," Montoya said. "I got into the backstraight, and we were are going fourth gear but wasn't going that fast. Every time I got on the gas I could feel the rear squeezing. When I was telling the spotter to have a look how the rear was moving the car just turned right."
While Montoya was "full on the brakes" when the crash occured he couldn't avoid impact.
"Oh yeah, it burned the helmet and everything," Montoya said. "It's not where you want to finish the Daytona 500. Everybody on the Target team, with this great Chevy car, did an amazing job today. We didn't bump anybody, nobody bumped us, and we only had 40 laps to go. I thought we had a great car. I thought we were in the right place. Everything was working well and go through that, it sucks."
Montoya scratched the top of his foot as it slipped onto the clutch. The jet dryer driver Duane Barnes was taken to Halifax Medical Center for evaluation.
The Daytona 500 has been marred by weather delays and an early crash.
Danica Patrick's much-anticpated debut was interrupted on Lap 2, when Elliott Sadler's Chevrolet hit Johnson's Chevy from behind on the front stretch just as they had completed the second lap of the 200-lap event. Patrick dove low, made contact with David Ragan, and both of them hit Johnson's hobbled car before careening into the infield as the field scattered.
Patrick sat in her car while the crew worked furiously on the front end and left side.
Johnson emerged from the speedway's infield care center disappointed and a bit disheartened.
"It's really, really hard to start the season this way ... two-and-a-half miles of green flag racing," Johnson said.
This was the third crash that Patrick has been caught up in during Speedweeks.