Craig Sager says he once talked Dennis Rodman out of suicide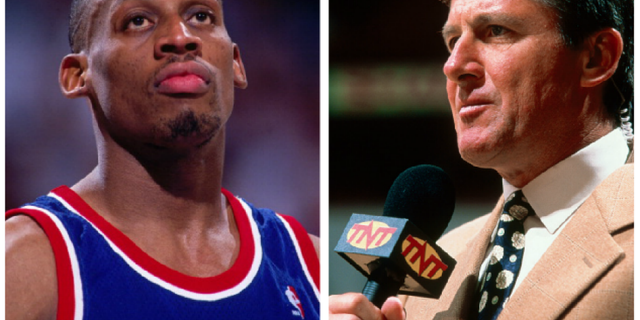 NEWYou can now listen to Fox News articles!
TNT sideline reporter Craig Sager's courageous battle against cancer has inspired a myriad of people inside and outside of the game of basketball.
At one time widely considered a regular guy sporting colorful suits as a gimmick, we're learning more and more about the person Craig Sager as he wills his way through brutal treatments with a smile on his face.

The 64-year-old covers the May 2 issue of Sports Illustrated (in a teal-colored suit, of course) in which he shares another story about a time when another NBA icon was in peril. From Lee Jenkins' story on Sager:

Sager is not the guy who provides dissertations on pick-and-roll defense. He is the guy who once slept next to the stall of Seattle Slew the night before the horse won the Triple Crown, who bailed Morganna the Kissing Bandit out of jail, who surprised Shaquille O'Neal by boat at his Isleworth home. An interview with Sager should really be conducted at the dog track, where he used to own greyhounds, or a Hooters, where servers clad in Sager Orange bring him Bud Light and buffalo shrimp. He should be perched on a barstool next to his wife, Stacy -- a former Bulls dancer 21 years his junior -- €"regaling strangers with a story about Dennis Rodman, who went AWOL from the Pistons in 1993 and planned to commit suicide, until Sager tracked down the Worm on the second floor of a Detroit strip club. "The Landing Strip," Sager recalls. "He had the gun. He was going to do it. I told him how stupid that would be."
Pretty scary stuff from Sager, who apparently recognized earlier than most that Rodman wasn't merely an eccentric.

"People who say this is Dennis being Dennis are wrong," Sager said in 1999, per The Sporting News. "Dennis has some major problems. He's not a stable person."
Jenkins' entire piece is well worth a read.