CR7's performance takes shine away from Barca's huge win at Atletico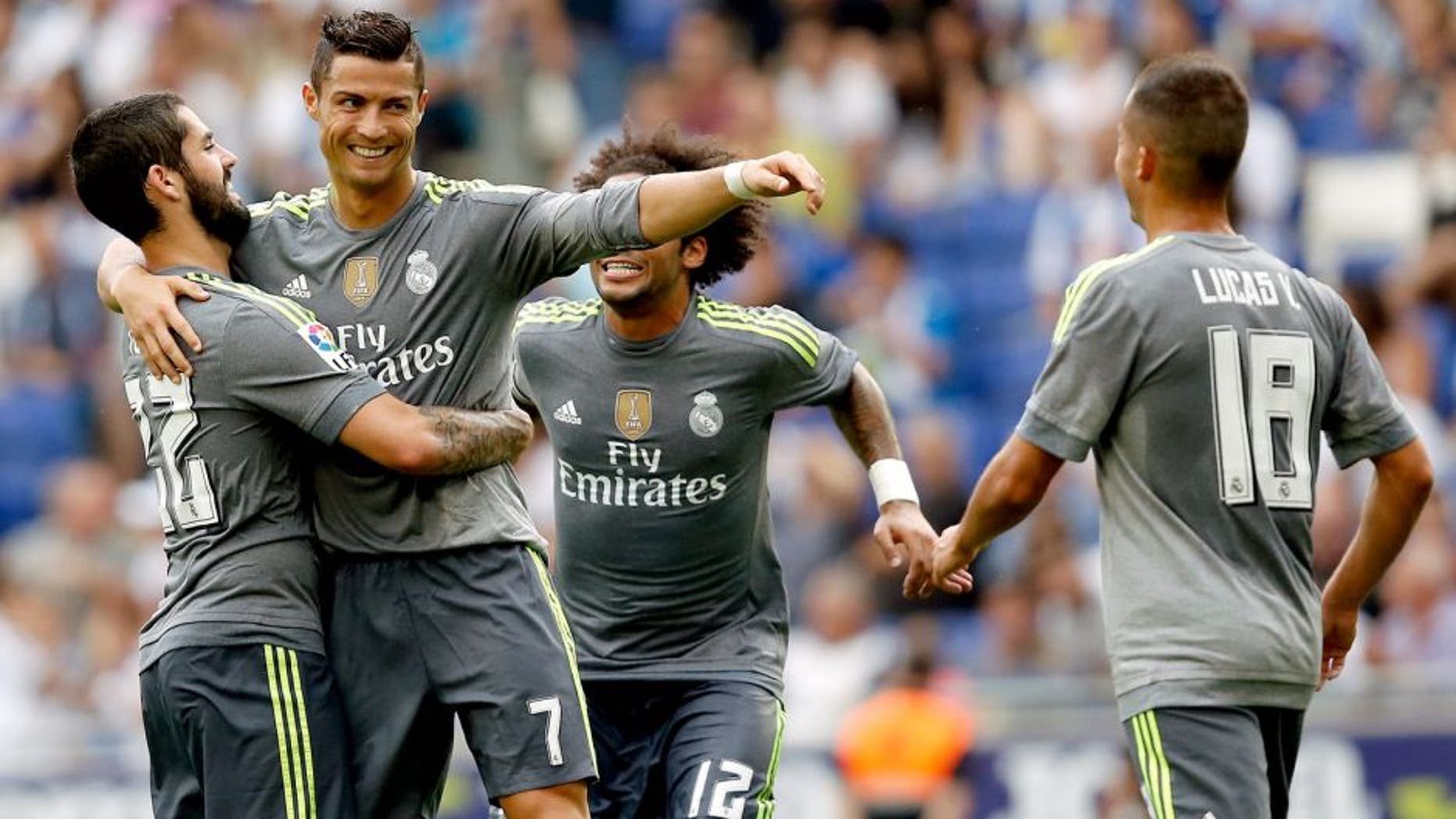 MADRID --
What constitutes a so-called "goal drought?"
You can define these things by firm, established criteria, it seemed over the last three weeks, because nobody in the Spanish media was in any doubt that Cristiano Ronaldo was suffering from such a "drought." He hadn't scored a competitive club goal since May. We were now in mid-September. No matter that his drought included three hat-tricks in his previous six La Liga matches going into Saturday's trip with Real Madrid visiting Espanyol.
That already sounds like the perfect remedy you might need to jump-start Ronaldo's quiet season. Nine minutes from the end of Madrid's third match of Ronaldo's seventh season in La Liga, the so-called "drought" turned into something quite different, something whose depth you might measure in fathoms or label an ocean. Madrid won 6-0 at Espanyol; Ronaldo scored five of them. The match was only 20 minutes old when he overtook Raul as Madrid's all-time most prolific goalscorer in La Liga matches, with his third of the afternoon. By the time he had his fifth, he had reached 230 career goals just in league matches for the club.
And here's the most surreal comparison between Ronaldo and Raul: The latter racked up his impressive total 228 Liga goals in 550 games. The Portuguese phenomenon was playing just his 203rd La Liga match against Espanyol. Nor are these two men distanced by epochs in the sport's history. Raul was still Madrid captain when Ronaldo joined the club in 2009. Ronaldo has played out his Madrid career under the same rules as Raul, with some of the same colleagues, and against many of the same defenders and goalkeepers.
Fact is, Ronaldo has set almost unique standards for goal-scoring in the modern era. Only one attacking player is able to match those standards: Barcelona's Lionel Messi. Which explains why Ronaldo's so-called "droughts"' are not judged on the same terms as anybody else's barren spells without a goal. True, he had gone two whole La Liga matches, a full 180 minutes on the pitch, without a goal so far this season, and had failed to score for Portugal during last week's international break. So, judge him on this season ahead of Saturday's tidal wave and, yes, that goalless stretch of four competitive fixtures without a goal was an unusual dry spell.
Poor Espanyol. The goals arrived in a gushing torrent, the first after barely seven minutes, Ronaldo with the sort of precise, cool, angled finish that betrayed no symptoms at all of a crisis of confidence. His second came from a penalty, after the excellent Gareth Bale had been brought down. Bale crossed to provide Ronaldo's third. Bale and Ronaldo combined to set up Karim Benzema for 4-0; a neat Bale and Isco exchange set up Ronaldo's fourth. Bale was also involved in the move that led to his fifth, and indeed, Ronaldo's 14th goal in his last seven La Liga matches. This was only ever a "drought" because Ronaldo's nine goals in his last four matches of 2014-15 were scored before the summer.
Those nine goals had been packaged into his 29th, 39th and 31st hat-tricks for Madrid. Against Espanyol, Ronaldo recorded his 32nd long before halftime. His head coach, Rafa Benitez, tried to spread praise for another emphatic Madrid win -- they had beaten Real Betis 5-0 in their previous outing -- around the team but dutifully rolled out a red carpet for Ronaldo. "You can only praise all the goals and Cristiano Ronaldo's five," said Benitez. "He has a place in history. The numbers speak for themselves. I hope he keeps adding to his goal-scoring account."
Neither Benitez, nor anybody else, was using the word "drought" by then. Indeed, if anybody really wanted to know what a proper goal-drought feels like for a striker, Ronaldo would not be the man to ask. Better to try asking one of the great modern strikers who properly knows what it is to go from feeling like goals are an instinctive right to wondering if it might be months before the next opportunity comes knocking. There are fewer better experts on those highs and lows than Atletico Madrid's Fernando Torres.
Torres, like Ronaldo, scored his first goal of the La Liga season on Saturday. His was first of Atletico Madrid's home game with Barcelona. Unlike for Ronaldo, every goal is a blessing for the 31-year-old Spain international. This was a reminder that, after his hurtful years of decline at Chelsea, then his barren six months at AC Milan in 2014, he is now appreciated at the club where he first made his name as an expert finisher. Torres, surprisingly selected to start against Barcelona, put Atletico 1-0 up. He was thrilled that the goal looked like the type he used to score readily as a younger, faster man. The former Liverpool ace had just enough pace to beat the nearest defender, enough cool to finish well.
Alas for Torres, the goal was worth no points. Neymar, with a direct free-kick and then Messi, a second-half substitute because he was being rested following international week, gave Barca a deserved 2-1 victory. Barcelona now have maximum points, and go above Real Madrid in the table. And their winning goal means Messi's so-called goal-drought is over too. He now has his first goal of the La Liga season. That's just four behind Ronaldo.