Coyotes restructure front office with resignations of LeBlanc and Drummond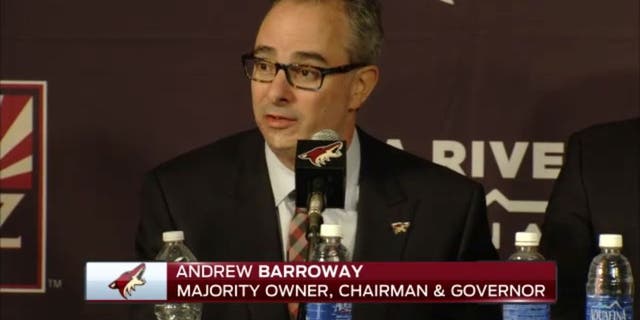 NEWYou can now listen to Fox News articles!
GLENDALE, Ariz. -- After buying out his minority owners earlier this week, Arizona Coyotes owner Andrew Barroway has embarked on restructuring the team's front office.
President and Chief Executive Officer Anthony LeBlanc and president of hockey operations Gary Drummond stepped down from their duties on Friday, with general counsel Ahron Cohen named as the new Chief Operating Officer.
The Coyotes will search for a new chief executive officer.
Arizona also announced that Cohen and general manager John Chayka will serve as alternate governors who will report directly to Barroway.
LeBlanc and Drummond were part of IceArizona, which purchased the Coyotes from the NHL in 2013.
In a statement released by the team, Barroway thanked LeBlanc and Drummond for what he called "invaluable service to the team."
"For years, Anthony has been the front office face of our franchise, and we sincerely appreciate all of his hard work and commitment to the Club," Barroway said. "Anthony and Gary deserve a lot of credit for stabilizing the franchise. They did great things for hockey in Arizona and helped grow the game in the Valley. They have the lasting gratitude of every Coyotes fan, and I want to wish them both the best of luck in the future."