Cowboys rookies Dak Prescott and Ezekiel Elliott 'do everything together'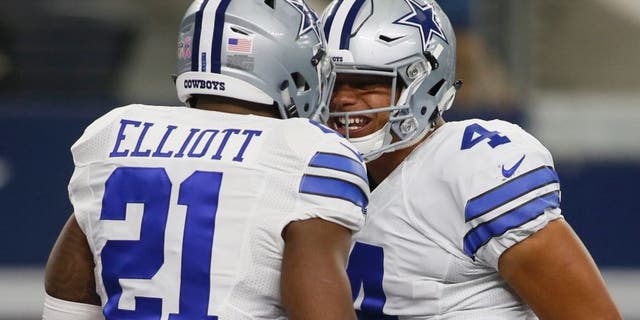 Without Tony Romo, the Dallas Cowboys have emerged as Super Bowl contenders behind rookies Dak Prescott and Ezekiel Elliott. The dynamic duo has already become one of the best first-year tandems in NFL history, finding their jerseys in the Hall of Fame after just five weeks.
Their chemistry has been very apparent on the field, but they're also good friends away from the gridiron. Elliott and Prescott are roommates at the team hotels before game days and spend plenty of time together when they're not gashing defenses for the Cowboys.
"They do everything together. They're always together," running back Alfred Morris said, via the Dallas Morning News. "It's good. They work really well together and communicate well together and have chemistry on the field. It's definitely helping them out."
Morris, who previously played for the Redskins, compared his relationship with Robert Griffin III to Prescott and Elliott's bond. Needless to say, it wasn't nearly the same, and while they were successful on the field for a short period of time, their friendship wasn't as strong.
"We formed a bond on the field, but we didn't do much off the field," Morris said of Griffin. "He was in a different situation than I was. He was on the verge of getting married. It was different. Off the field, I wasn't trying to be the third wheel."
Sometimes, chemistry between two players gets overlooked. That hasn't been the case in Dallas for the better part of the last decade given the unquestioned bond Tony Romo, Jason Witten and Dez Bryant share.
That's similar to the one Elliott and Prescott share, especially with both guys being rookies.
"We're guys that have been hanging out as soon as we got drafted, from the time we showed up for rookie minicamp," Prescott said. "He's like a brother. We hang out often off the field and a lot in the locker room."
In addition to preparing for upcoming games, Prescott indulges in "America's Got Talent."
"He studies a lot of film. He watches a lot of America's Got Talent," Elliott said. "He sits around with his headphones on his phone."
In addition to ribbing Prescott for watching non-sports television, Elliott jokes about his quarterback's hairline -- an issue Zeke certainly doesn't have.
"Zeke has a ton of jokes on Dak's hairline," wide receiver Luck Whitehead said. "It's back and forth. It's definitely a great relationship."
Elliott and Prescott are undoubtedly the future of this franchise, even if Romo does get his job back in a few weeks. For years to come, it will be Zeke and Dak leading Dallas' offense.