Conor McGregor predicts he will make far more than $75 million for Floyd Mayweather fight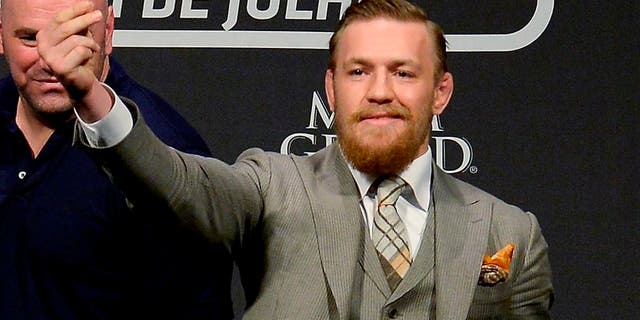 NEWYou can now listen to Fox News articles!
Conor McGregor will always be "The Notorious" but he may soon have to add another nickname to his repertoire the money man.
On Wednesday, UFC president Dana White told "The Herd" that he would expect the current lightweight champion to pocket around $75 million for his proposed super fight against Floyd Mayweather.
While negotiations are still ongoing, both McGregor and Mayweather would stand to make a ton of cash for the fight that would pit the biggest superstar from mixed martial arts against arguably one of the greatest boxers of all time.
White's figures definitely sound like reason enough for McGregor to accept a boxing match against Mayweather while having no prior professional experience in the sport.
But according to McGregor, the $75 million amount that White floated might actually be on the low end of what he expects to make for stepping into the ring with Mayweather later this year.
"How's that $75 million make your stomach feel?" McGregor wrote on Instagram. "It's actually $100 plus million if we go by the non-conservative numbers the fight will actually do and that's not including my endorsements and business ventures.
"28 years of age. Fresh [expletive]. Doubt me now."
White also stated this week that he expects to finalize the deal with McGregor for his side regarding the fight and then he'll be sitting down with Mayweather's team to hopefully hammer out the remaining details.
Judging by White's estimates, McGregor is on board with what the UFC president is proposing, although clearly he believes he'll generate even more money for the fight with Mayweather.
Current rumors have McGregor and Mayweather meeting in September, but that's all assuming the two sides can come to an agreement ahead of that proposed date.
McGregor is still awaiting the birth of his first child due in late April or early May and then he's expected to meet with White in New York to try and put a stamp on this matchup with Mayweather for later this year.