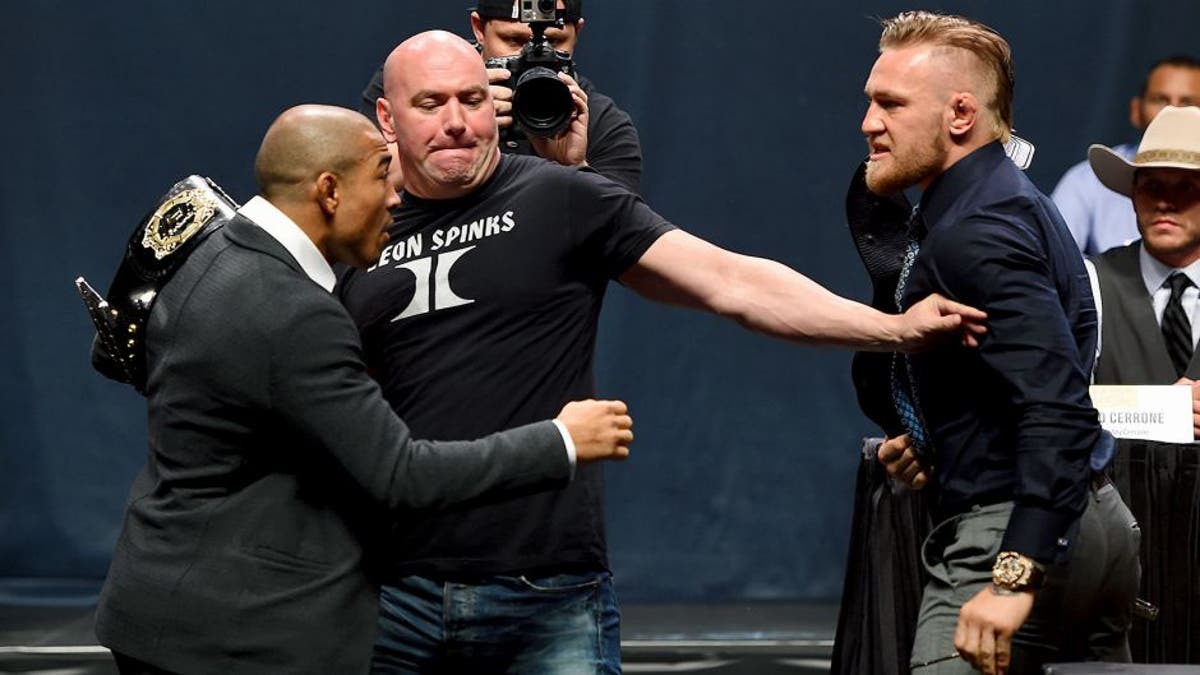 UFC featherweight champion Jose Aldo and interim champion Conor McGregor nearly came to blows on Friday during their latest staredown that ended with security dragging the two fighters apart after a press conference in Las Vegas.
Aldo and McGregor attended as part of the UFC "GO BIG" event that celebrated the remaining fight cards taking place in 2015 with UFC 194 as one of the crown jewels of the bunch.
McGregor took aim at just about everybody on the dais at one point or another, but Aldo still took the brunt of his verbal punishment until he was forced to leave due to a wedding he was attending back home in Brazil.
The question that started the back-and-forth between the two champions was about the encounter Aldo and McGregor had at "The Ultimate Fighter" gym during the last day of filming just days ago.
McGregor stated again on Friday that rather than loom large and try to intimidate Aldo, he opted for a friendlier approach in an attempt to coax the long-reigning champion into showing up for their scheduled date in December after pulling out of their last fight due to injury.
"The first thing I said to him was, 'Wow, I didn't think I'd see you again.' I was actually happy to see him. I shook his hand, I embraced him, I gave him a little cuddle, I told him, 'Everything's going to be A-OK. It will be over before you know it. Just please show up Dec. 12,'" McGregor said.
"I don't want to scare him anymore. He's petrified. He went running before so I'm going to take the opposite approach. Cuddle him, look after him, whisper sweet nothings, tell him, 'It's going to be all right, it will be over quick,' and hopefully get him into that Octagon on Dec. 12 and then end his career."
Through his translator, Aldo fired back and promised that nothing McGregor has said ever really got to him and that hasn't changed through two promotional tours to hype their fight at UFC 194 in Las Vegas.
"He was really surprised when he saw me there," Aldo said. "I think he's a clown. He likes to talk a lot and he likes to make people laugh, but that's about it. I'm really sorry that I couldn't fight him the last time and when the time comes to fight him now, I'm going to kick his ass."
A few questions later, Aldo took aim at McGregor's fight at UFC 189 against Chad Mendes, who was the replacement in the interim title bout after the Brazilian was forced to withdraw two weeks out from the event.
"Chad was kicking his ass. Has he heard about jiu-jitsu? Does he know what wrestling is? Chad took that fight on two weeks notice. He looked like a turtle," Aldo said.
Needless to say, McGregor responded in kind by telling Aldo that he's never been the same since his last fight with Mendes and things are only going to get worse for him when they finally meet at UFC 194.
"When you fought Chad, he rearranged your face. You haven't looked right since. After that five-round Mendes fight, which arguably could have went to him, you looked like you had a stroke. The left side of your face is drooping," McGregor shouted.
"I'm worried about you. I'm honestly worried. I love you. I love you like my b**ch!"
With Aldo forced to exit the press conference early, UFC president Dana White squared the two fighters off in front of the podium and it didn't take long for things to go south. Aldo pushed his forehead forward into McGregor and the Irish featherweight responded in kind. Seconds later, the two fighters were just about to throw punches.
Security intervened before another press conference fight took place like the one in 2014 between Jon Jones and Daniel Cormier.
Following the face-off, McGregor grabbed the microphone again and blasted Aldo for exiting the press conference early, which he said is just another sign that the featherweight champion wants nothing to do with this fight.
"He doesn't want to be here. He's not going to be there Dec. 12 like he was not there July 11," McGregor said. "I'll tell everyone up here from 145 (pounds) right up to 170, prepare for this fight because I don't think he's showing up. It's the opportunity of a lifetime, so get ready and don't use Chad's excuse of camps and all this bulls--t.
"Stay ready because he's gone running."
McGregor finished his rant with a reminder to Aldo and everyone else in attendance that for all his outlandish comments and loud statements since he arrived in the UFC, there hasn't been a prediction he's made that hasn't come true.
Words are weapons and McGregor uses them better than most, but he's not afraid to back the up in the Octagon.
"People are always saying about the talk and I talk and I talk and I talk, but guess f**king what?" McGregor shouted. "I back it up -- I back it up!"