Column: Champions League a true test of quality for Barcelona, Bayern and Man United this year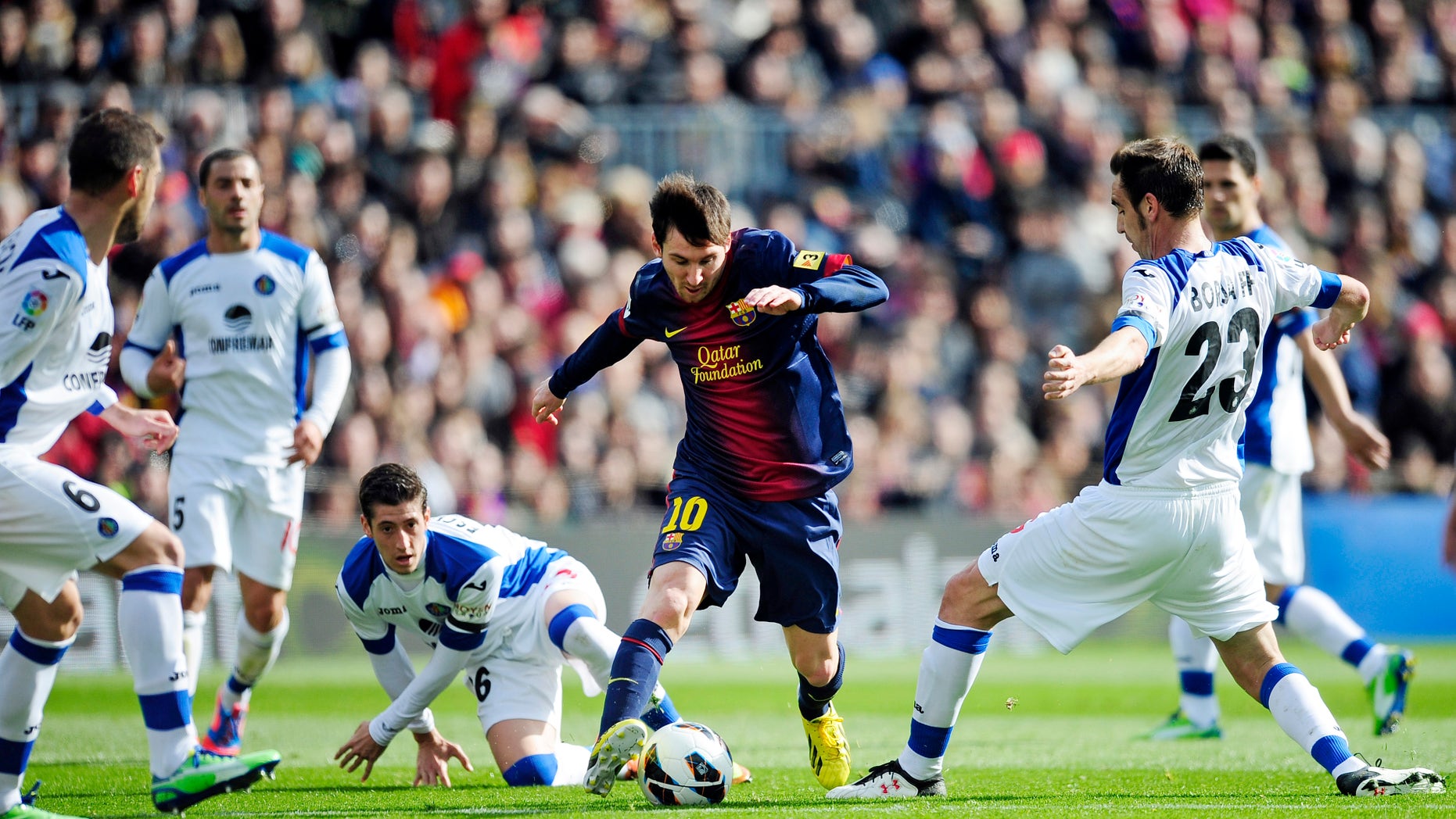 Barcelona, Manchester United and Bayern Munich are devaluing their own success by making it look too easy.
Although it is still winter in Europe, they are already 99 percent certain of winning their leagues in Spain, England and Germany. Their leads are so large — 15 points for Bayern, 12 for both United and Barcelona — that it would be truly stunning if they collapsed in the months ahead and failed to lift their domestic trophies.
Impressive, but not very illuminating.
The downside of such dominance is that it hasn't told us as much as we would like about how good Barcelona, United and Bayern actually are this season. Truly exceptional? Or made to look that way by domestic rivals performing worse than expected?
Which is why their progress in the knockout stages of the Champions League, starting with United's match Wednesday at Real Madrid, will be particularly interesting this year. Flunk this European test and it might be said that United, Barcelona and Bayern's 2013 teams didn't rank among their greatest, even if they win their domestic leagues by a country mile.
That said, Barcelona this season looks as awesome as its team that won the Champions League in 2011, when it gave a football lesson to United in the Wembley final. Lionel Messi is even more impressive than he was then, proving that he can perfect perfection. With two additional years in their 30-plus-year-old legs, you would give United defenders Rio Ferdinand and Patrice Evra even less chance now of thwarting Messi should their paths cross again in Europe in the months ahead.
The effort of wresting away the Spanish league from Barcelona in 2012 seems to have exhausted Madrid. Two months ago, Madrid coach Jose Mourinho was already conceding that his team had fallen too far behind its historic rival to defend the Spanish title in 2013. That lack of sustained pressure from Madrid has made Barcelona's near-flawless season — 20 wins in 23 league games; 62 points from a possible 69 — seem a little less astounding than it is.
If Messi and friends want to be described again as the best club team in football history, as they were by some in 2011, they need to win this year in Europe, because running away with a lopsided Spanish league title won't, by itself, be enough. Anything less than a place in the Wembley final on May 25 would be a failure for a team that, in Messi, has arguably the best footballer ever. Barcelona's round-of-16 opponent in the Champions League is AC Milan.
In Germany, Bayern's defensive statistics in the Bundesliga almost defy belief. In 21 games, it has conceded just seven goals, better than any team in Europe's top leagues and considerably better than Barcelona or United. The only team to beat Bayern in league play, Bayer Leverkusen, is also the only team to have scored more than one goal against its miserly defense, getting two in Munich in October.
But, again, because Bayern has so monopolized its league, European competition could be a truer test of Franck Ribery and his teammates. Certainly, it's the only way to measure their determination to avenge 2012, when Chelsea pickpocketed them in the final — at home in Munich, no less. Bayern plays Arsenal in the round of 16.
Of the three, the current United team most needs a European stamp of approval to prove its worth. Buying Robin van Persie from Arsenal last summer was great business for United. He and Wayne Rooney look like they have played together for years, not months. Madrid has to stick a wrench in the United's attacking partnership to reach the Champions League quarterfinals. United manager Alex Ferguson must blunt the goal-scoring menace from Cristiano Ronaldo, his former protege. Those and other plot-lines make this a cerebral match-up.
At the end of the season, it will almost certainly be United parading through Manchester with the Premier League trophy. If United's winning margin is as big or bigger than now, its achievement almost certainly won't seem as impressive as it actually is. That will be because of the sneaking suspicion that Manchester City made it too easy for United and surrendered the title it won last year without enough of a fight.
Ferguson's teams, sometimes unfairly, also suffer in comparison with each other. The list of illustrious names at United who made history with Ferguson and before is so long that newer players need to do something special to make their own big mark.
Something like being the team that stopped Madrid from winning a 10th European crown. Or that won United its fourth. There'd be no better proof of quality.
___
John Leicester is an international sports columnist for The Associated Press. Write to him at jleicester(at)ap.org or follow him at http://twitter.com/johnleicester