Cocky Giants fan brings a goat to Game 4 against the Cubs and it backfires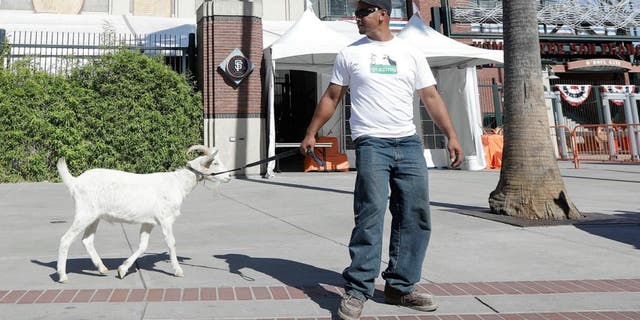 The Chicago Cubs haven't won a World Series in 108 years, and 71 of those years have been played under the cloud of the "Curse of the Billy Goat."
Every baseball fan knows this, which is why entering Game 4 of the NLDS on Tuesday, a San Francisco Giants fan tried to use that dark voodoo against the Cubs.
San Franciso, down 2-1 in the series, was facing a must-win game to force Game 5 on Thursday at Wrigley field, so Rodnel Magat pulled out his best shot to haunt the Cubs: He brought a live goat to AT&T Park for Game 4 to try to keep the curse alive.
Magat's goat is named Spock, and he grazes on hillsides in San Francisco. On Tuesday, he roamed outside the standing hoping to jinx the evening for the Cubs.
Giants reporter Andrew Baggarly caught up with Magat and his goat:
Welp, that backfired.
The Giants took a 5-2 lead into the ninth inning before allowing four runs and losing to the Cubs.