Coach says that Michael Bisping can beat Luke Rockhold at UFC 199, even on short notice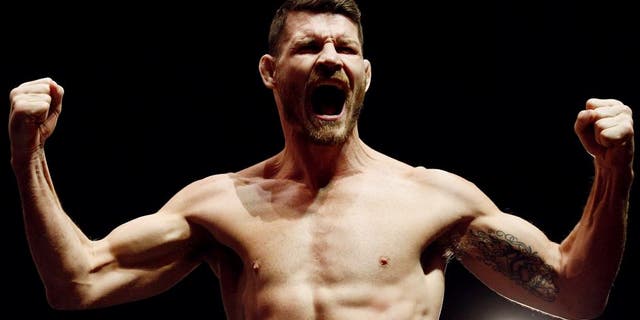 Michael Bisping's coach Jason Parillo hadn't been home for more than a couple of hours after coaching Cris "Cyborg" Justino to victory in Brazil when he got a call from "The Count," who said that he'd gotten the call to fight Luke Rockhold on short notice next month at UFC 199. In fact, Parillo says that Bisping's team always thought there would be a decent chance that someone in the title rematch between Chris Weidman and middleweight champ Luke Rockhold wouldn't make it to fight night.
"When this fight was announced we both had a feeling that one of those guys wouldn't be able to make it to the fight," Parillo told FOX Sports.
"Unfortunately, instead of staying in the gym like he usually does, Mike has been filming a movie. Conditioning is a fear for anybody, any coach, going into a fight on short notice, but we feel like it is our best shot to get a shot. There are a lot of different match-ups that could happen before us, for that middleweight belt, so [expletive] it, let's do it."
Fighting for a world title on just two weeks' notice is not ideal for anyone, of course. Parillo takes solace, however, in knowing that his fighter has the heart and mind to gut through tough situations.
"The thing you have to understand about Michael Bisping is that he's got a resting heart rate of 135bpm. He's got a special heart," he explains.
Mike is a lot more relaxed fighter, now. He's improved leaps and bounds in the way he thinks.
"Of course, you also need a mind to keep gutting away, and he's got that, too. You saw it in his win over Anderson in their fight. Mike's face was busted up but he kept fighting his ass off.
"When we start training camps three months before a fight and we spar, do hand exercises, so any of the stuff we do, Mike is performing and throwing just as hard the first day of camp as he is on the last day."
Though Parillo says Bisping told him about the fight only a few hours ago and that they have yet to get into detailed talks regarding tactics and strategy, he's confident that his guy will be ready and able to surprise Rockhold and take home the UFC gold he's long coveted. In the end, their tactics would be the same regardless of how long they had to prepare, and what matters most is that Bisping has confidence that he'll win.
"The gameplan would have been the same if we had a lot of time to fight Rockhold," he says.
"Rockhold is a tough fight for anybody. He's one of the best guys in all divisions. He's talented and a strong guy. But Mike is a lot more relaxed fighter, now. He's improved leaps and bounds in the way he thinks. His mind-body connection is there, now. He's a lot calmer fighter.
"That's what I saw in the first round of his first fight with Rockhold. Rockhold was out there calm as a cucumber, chilling, waiting to do what he wanted to do, and Mike was a little edgy, not firing how he normally does. Then, the poke in the eye comes into play, at least in our minds."
Parillo understands why someone like Ronaldo "Jacare" Souza may not have wanted to fight Rockhold on short notice, since he's likely already in line to challenge for the belt, next, but he sure is proud of Bisping being the gutsy competitor that he is. "He called me and we talked about it. I'm not sure if we were ever going to get the shot. Is Jacare going to get the next fight? Is Weidman back in the picture, after that? Then, there could be a rematch from there. There are a lot of different avenues that we'd have to get around in order to get a world title-shot. So, here's our opportunity. Here's our chance," he explained.
"From a business standpoint, if you were next in line [like Souza], you don't do it. Of course you don't do it. Mike being the fighter he is, he is not going to turn down a fight. He's a fighter. There are a lot of athletes in this game, and a lot of fighters. Mike Bisping is in the category of being both an athlete and a fighter."
The Brit is a fighter with supreme self-belief, as well. He used it to gut through an epic fight with Anderson Silva in February and win a decision, and Parillo knows he can do it, again, June 4 against Rockhold.
"There are ways Mike Bisping wins this fight," he promises.
"Bisping has always believed in himself and he's going out to make this a gun-fight."