Chinese Olympian's world-record swimming performance brings talk of doping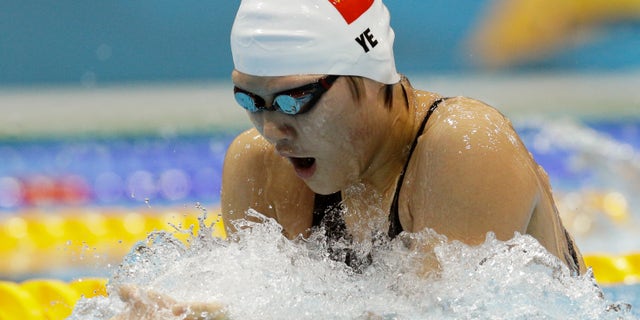 Chinese swimming star Ye Shiwen, 16, smashed the world record in the women's 400 meter individual medley Saturday, with a a final 50 meter split that was faster than that of one of the best U.S. male swimmers, Ryan Lochte, raising suspicions about her speed.
Shiwen denied doping on Monday after questions from reporters on her winning start at the London Olympics, AFP reports.
"There is no problem with doping; the Chinese team has a firm policy, so there is no problem with that," Shiwen said.
Shiwen swam 28.93 seconds in her final 50 meters, and 58.68 seconds in her final 100 meters of the 400 meter individual medley, compared to Lochte's 29.10 seconds in his final 50 meters. In the final 100 meters, Lochte swam 58.65 seconds to Shiwen's 58.68 seconds.
Stephanie Rice, who previously held the women's 400 meter individual medley record, called the race "insane," saying, "I mean, I didn't see it, I was way over and behind, so I didn't really see her coming home, but that split coming home was out of control."
Shiwen took nearly seven seconds off her time from last year's world championships. And in Monday's 200 meter medley heats, she clocked 2 minutes, 8.90 seconds -- the quickest in the world this year, AFP reports.

British media questioned the results, pointing to China's record of state-sponsored doping in the 1980s and 1990s, AFP reports.
"Ye's amazing time for freestyle leg scarcely credible," read a headline in The Times, which noted that the youngster was a former teammate of Chinese swimmer Li Zhesi, who was barred from the Olympics over blood-booster EPO.
"Chinese swimming has such a shameful history of doping that any remarkable achievement by one of its athletes is inevitably met with cynicism," the Daily Telegraph wrote.
The Daily Mail referenced supplements given to China's drug-tainted athletes in the 1990s saying, "A whiff of turtle blood in the water."
The Agence France-Press contributed to this report.