Chiefs' Berry ready to roll less than nine months after cancer diagnosis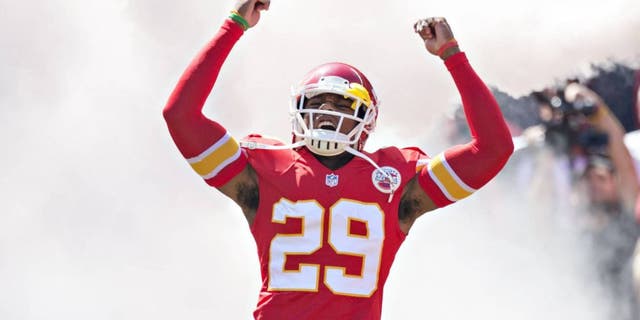 ST. JOSEPH, Mo. -- Kansas City Chiefs safety Eric Berry is ready to step back onto the field for a real game. Well, as real as the preseason gets.
The three-time Pro Bowl selection is expected to play in Saturday night's preseason opener again Arizona, fewer than nine months after being diagnosed with cancer. Berry is expected to play with the first- and second-team defenses in the first half against the Cardinals.
"We're thinking he's going to play, and we'll just see how things go," Chiefs coach Andy Reid said. "He's been going, so I think he's ready to go out there and do his thing."
Many wondered whether Berry would ever play again after he was diagnosed late last season with lymphoma. But after several rounds of chemotherapy, Berry was deemed cancer-free during the summer, and he reported to training camp with rookies and select veterans. He hasn't missed a practice since then, although he was held out of some workouts early on in camp.
The last few days, he has started to resemble the Berry of old. He picked off a pass by quarterback Alex Smith a couple of days ago and has been a handful for the offense in practice.
"I told him I saw too much of him today because he had a couple interceptions out here, from an offensive standpoint," Reid said, joking. "But I'm happy as can be for him. He's like a little kid out here playing. He's having fun, and he's appreciative of everything and everybody that has been with him throughout this whole ordeal. He's loving life right now and it shows on the field, too."
The Chiefs have not made Berry available to the media since the first week of camp, when he discussed his treatment and recovery. But his teammates have marveled not only at the fact that he is back on the field, but that he is already playing at a high level.
"I think it's going to be a very exciting time, not just for him, but for us to have a guy like that back behind you," said All-Pro linebacker Justin Houston, who visited Berry during his treatment in Georgia. "You know he's going to come play hard every play."
Berry has been the starting strong safety the majority of his career, but he was listed as the backup free safety on the initial depth chart released earlier this week. Husain Abdullah and Ron Parker are the starters and Tyvon Branch is the backup strong safety.
The versatile Berry has also been working out as the nickel back, though, and could join the starters on the field against Arizona in that role.
"It runs something through my body to just see him out there running around," Parker said. "It's another energy he brings out there. When I saw him get that pick (this week), it's just a good feeling to see him with his hands on the ball again and back moving around."
Even when he has been safety, Berry's role seems to have changed.
Before his illness, he had morphed into a linebacker-safety hybrid, often lining up near the line of scrimmage to rush the passer or defend the run. Thus far in training camp, Berry has lined up deep in the defensive backfield, helping out primarily with pass coverage.
Then there is the mentorship that he is able to provide to younger players. The Chiefs drafted a pair of defensive backs, including Marcus Peters in the first round. Berry has taken them under his advisement, often huddling with them on the sidelines in practice.
"He's feeling better, I think, every day," defensive coordinator Bob Sutton said. "He's seeing things better. It's slowing down for him. It's strictly football -- this has nothing to do with what he overcame. I think he's happy with that."