Chicharito Returns, Carlos Tevez to Remain with Manchester City, & Pavel Pardo Shows Flashes of Magic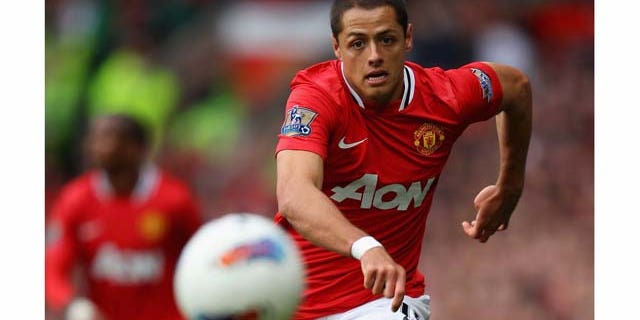 Javier Hernández
Chicharito is back.
Hernández, who missed the last month with a concussion, came on as a substitute in Manchester United's 8-2 rout of Arsenal in the English Premier League on Sunday.
While he did not score, he helped reduce the Gunners to 10 men after Carl Jenkinson collided with him in the 74th minute.
But Hernández should get some more opportunities to play in the coming week for the Mexican National Team in friendlies in Europe. El Tri will play Poland in Warsaw on Sept. 2 and against Chile in Barcelona on Sept. 4.
If he plays, this will be Hernández's first international action since suffering a concussion during a United training session prior to the MLS All-Star game on July 25. He missed El Tri's 1-1 draw with the United States on Aug. 10.
Many of the usual suspects were recalled by Mexico, including goalkeeper Guillermo Ochoa (Ajaccio, France), defenders Rafa Márquez (New York Red Bulls, Major League Soccer), Efraín Juárez (Real Zaragoza, Spain) and Francisco Javier Rodríguez (VfB Stuttgart, Germany) and Carlos Salcido (Tigres, Mexico), midfielders Gerardo Torrado (Cruz Azul, Mexico) and Andrés Guardado (Deportivo Coruña, Spain) and Giovani dos Santos (Tottenham, England) and Pablo Barrera (West Ham United, England).
Comings, Goings and Stayings
With the transfer deadline on Wednesday, clubs signed and were scrambling to add players. Among the more interesting signings:
Sebastián Coates
Uruguayan central defender Sebastian Coates watched Liverpool's 3-1 win over Bolton from the director's box on Saturday as he prepared to finalize a move to the English club. Liverpool is expected to pay Nacional (Uruguay) approximately $11.5 million to sign Coates, who was voted best young player in Copa America.
Fenerbahce (Turkey) said it had reached an agreement to transfer Lugano, the Uruguayan captain, to Paris Saint-Germain (France). PSG has spent more than $116 million to bolster its team in French Ligue 1. Lugano led the Uruguayans to the Copa América title in July and to the World Cup semifinals last year.
Carlos Tévez
The Argentine international striker is expected to remain with Manchester City after a possible transfer to Corinthians (Brazil) fell apart. Tévez and his family returned to Manchester.
"His family is here now," City manager Roberto Mancini said. "Now that his family is here I think that he can stay. Carlos is one of the best players that we have."
Diego Forlán
The Uruguayan standout was held out of Atlético Madrid's scoreless home draw with Osasuna (Spain) in anticipation that he will sign with Inter Milan (Italy).
The Honduran midfielder could be heading for Stoke (England) as Tottenham manager Harry Red Knapp said he has undergone a medical examination at the rival club. Palacios has not play for Tottenham this season.
Franco Di Santo
Argentine striker Franco Di Santo scored once in each half to boost , WiganWigan, to a 2-0 triumph over Queens Park Rangers (England). Di Santo struck in the 41st and 66th minutes.
"Franco has always been influential for the team but for a striker there is nothing better than hitting the back of the net," Wigan manager Roberto Martínez told reporters. "Today, technically his display was superb."
Argentine Javier Pastore set up two goals as Paris Saint-Germain rallied from a one-goal deficit en route to a 3-1 win at Toulouse in French Ligue 1.
Aguero, the son-in-law of Diego Maradona, tallied once in Manchester City's 5-1 trouncing of Tottenham (England).
Diego Maradona
The Argentine great enjoyed a winning start as Al Wasl coach in the United Arab Emirates on Sunday. Mohammed Jamal and Hassan Youset scored in the final five minutes to turn a 1-1 deadlock into a 3-1 victory over Ittihad Kalba.
Mexico
Guillermo Ochoa
As well as he played for Ajaccio (0-2-2) in its first four games of the French Ligue 1 season, Ochoa, a Mexican international, is not miracle worker. He could not stop Auxerre from scoring four times in a 4-1 defeat as Alain Traore had a brace. Ajaccio is 18th out of 20 teams.
Pável Pardo
There's still some magic left in the legs of the 35-year-old former Mexican international midfielder as he set up both goals in the Chicago Fire's 2-0 win over defending MLS Cup champion Colorado Rapids. Pardo assisted on goals by Dominic Oduro (16th minute) and Cory Cibbs (35th minute).
"Pardo is a very good person to play the pivot guy," Chicago interim coach Frank Klopas said. "He's good at connecting the back line and the midfield. He's a very experienced guy, organizes the team very well."
But at halftime, Klopas was forced to replace Pardo with Daniel Paladini at the second of the second half because of a calf strain. Klopas did not want to take any chances because the Fire has a Lamar Hunt/U.S. Open Cup semifinal match against the Richmond Kickers on Tuesday and he needs as many healthy bodies as possible.
"Knowing we have the game on Tuesday, we didn't want to push it," Klopas said. "We'll see tomorrow and evaluate it. He's an important part of our team. He's very experienced and brings different qualities to our team: he's very good with the ball and is able to connect the back line with the midfield. He's a great leader. The guys look at his work ethic and how he goes about training. He's definitely helped us a lot."
Omar Bravo
Another former El Tri international, Bravo tallied the second goal for Sporting Kansas City's in its 3-2 MLS loss to FC Dallas. Bravo's 67th-minute score, his seventh of the season, lifted the hosts to a two-goal advantage before the visitors staged a dramatic late rally by connecting twice in the waning minutes (89th and a minute into stoppage time).
Javier Aguirre
Aguirre, who directed Mexico at the 2002 and 2010 World Cups, took the blame for Real Zaragoza's 6-0 trouncing by Real Madrid. Portuguese international Cristiano Ronaldo led the way with a hat-trick.
"We are in the same league but we had absolutely no chance," Aguirre told reporters. "They beat us in every aspect, and I, as the coach, am responsible. I didn't do my job well."
Alvaro Saborio
The Costa Rican striker scored the lone goal of the match and Real Salt Lake made sure it stood up en route to a 1-0 Major League Soccer win over Chivas USA. Saborio struck in the 11th minute after a mistake by Chivas defender Ante Jazic, called in by the Canadian National Team for its upcoming World Cup qualifying matches.
Jazic attempted to return a ball to defender David Lopes. Lopes, however, was unable to clear it and Saborio scored his seventh MLS goal of the season in 15 matches and 19th career score in 42 Real appearances over two years.
Michael Lewis, who has covered international soccer for three decades, is a frequent contributor to Fox News Latino. He can be reached at SoccerWriter516@aol.com.
Follow us on twitter.com/foxnewslatino
Like us at facebook.com/foxnewslatino