Chase over for champ without win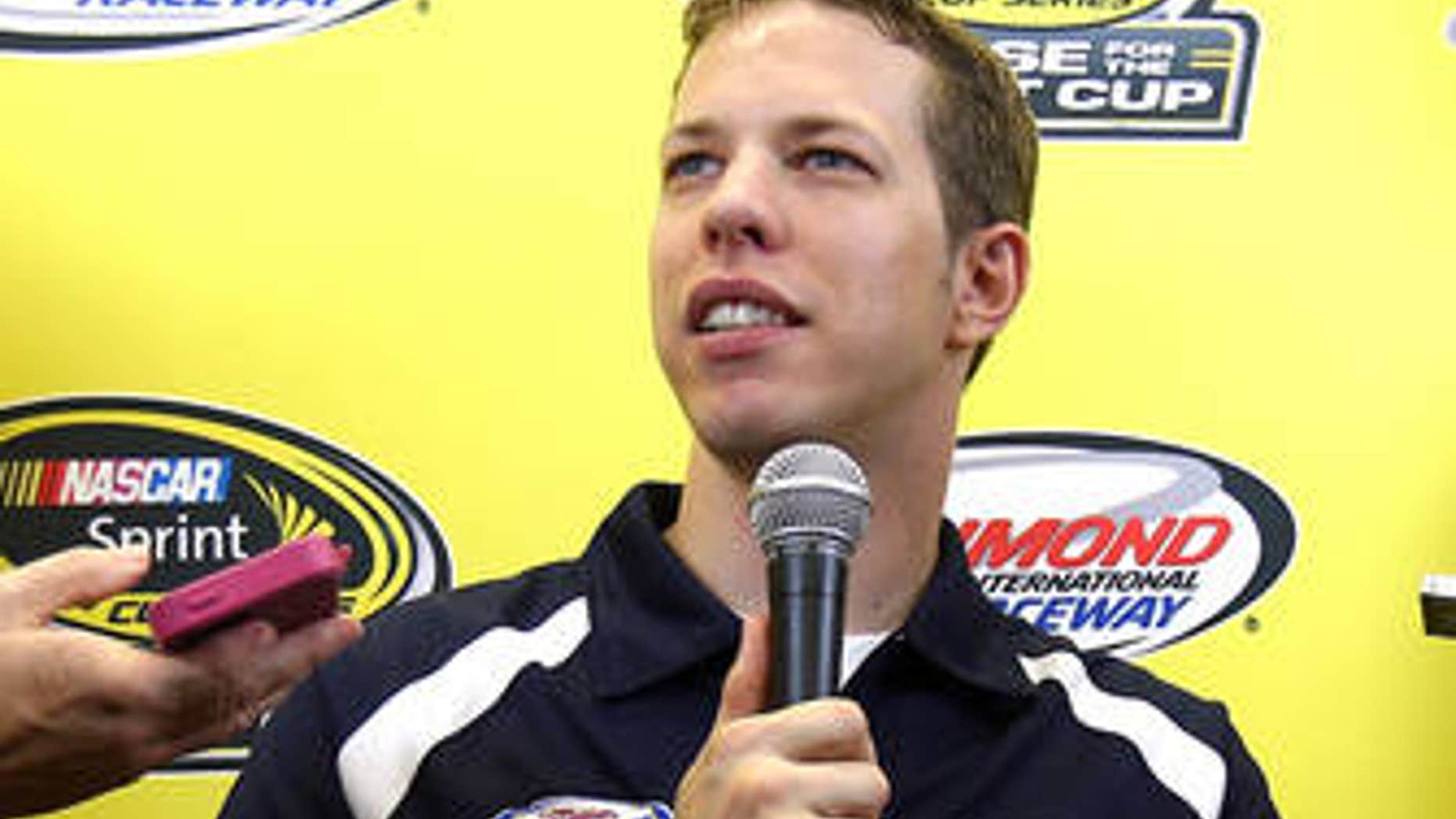 RICHMOND – When Brad Keselowski hoisted his schooner of Miller last November at Miami-Homestead Speedway in celebration of his first Sprint Cup championship, the thought of not being in the Chase to defend his title never crossed his mind.
But 10 months later, with one race to decide the field for the 2013 NASCAR Chase for the Sprint Cup, the current champion is in a must-win position entering Saturday night.
And even that might not be enough for Keselowski to qualify as one of the 12 challengers for NASCAR's top title.
"I feel like we're a great team," Keselowski said. "I feel like in the sports world, especially racing, you can only really control how fast you are and how well you execute. You can't control the luck side. We've had a lot of bad luck. There's been some times where we haven't executed.
"The shortfall of execution hasn't made up for the luck issue. So I know -- and I said this last week at Atlanta -- we could turn a corner tomorrow and win the next five or six races. That's where we're at as a team. Obviously, that hasn't happened; it hasn't clicked that way. That doesn't mean we're not capable of it. What's happened to us this year could, quite honestly, happen to any team."
Keselowski started the season with four top-five finishes and was back on top of the standings after Bristol in March. But after a rash of mediocre runs, a points penalty for illegal suspension parts and "bad luck" -- including engine failure last week -- Keselowski is a season-low 15th in the standings, 28 points outside of the Chase. And without a win in the first 25 races, the 29-year-old Penske Racing driver finds himself in a nearly impossible situation.
"As far as Texas and whatnot, I haven't honestly put that much thought into the effect of that on our season," Keselowski said. "I do know we've left a lot more on the table than 25 points, which is what we lost there. We left a lot on the table this year. It wouldn't necessarily be fair to blame every shortfall on that one.
To clinch a Chase berth, Keselowski must win and outscore Martin Truex Jr. by 13 points or Ryan Newman by eight to be in contention for a wild-card position. If one of the winless drivers in the top 10 such as Kurt Busch drops out or Kasey Kahne, who has two wins, vaults back into the Chase Zone, Keselowski would just have to win and out-run either Truex or Newman or any drivers with one win who fall out of the top 10 for the second wild-card spot.
If it comes down to the final lap and Keselowski can see Truex or Newman or Busch through his windshield, would he consider moving any of the drivers to earn the final spot in the Chase? For Keselowski, that will depend on each "situation" and how he's feeling at the moment. When he was faced with the choice of dumping Kyle Busch for the victory at Watkins Glen last month, Keselowski didn't press the issue.
"There's always different scenarios," Keselowski said. "That's a question that's asked without any variables, is completely hypothetical. There's always a situation that dictates a different response. An example of that be would, if I was leading the race, the guy behind me hit me to take the lead, one lap, I'm back to his bumper, hell, yeah, I'm going to drive through his (expletive) ass, OK? That's the reality.
"Now, if you're in a scenario where we were with Kyle, then not so much. There's so many different scenarios, I don't feel it's fair to answer that question. I don't know all the variables."
Despite all the possible strategies entering Richmond, Keselowski expects the Chase to be decided on the final pit stop -- how well the pit crew executes, whether the driver "gets the right lane on the restart" and how willing he is "to gouge in front of you."
Still, if Keselowski fails to make the Chase field after the dust settles at Richmond, he'll be the first defending champ to do so since Tony Stewart missed the playoffs in 2006. Certainly, missing the Chase would be "a disappointment" to Keselowski but regardless of what happens, he's not giving up without a fight.
"I'd be ashamed if we didn't run well," Keselowski said. "That's what I would be ashamed of. And we're not running badly. I think the scenario that Tony had that year just shows how easy it is to miss a Chase, because these are the best drivers in the world. They're elite drivers, elite teams. There are scenarios that are just, quite frankly, outside of your control. You combine those with one or two small mistakes, and it all stacks up really quickly.
"I have a long list of things that I know we could have done better this year that we haven't. We have to hit them and be better. Whether I make the Chase or we miss the Chase, I still plan on going out and trying to win the next 10 races. I think that we can have a shot at doing that."