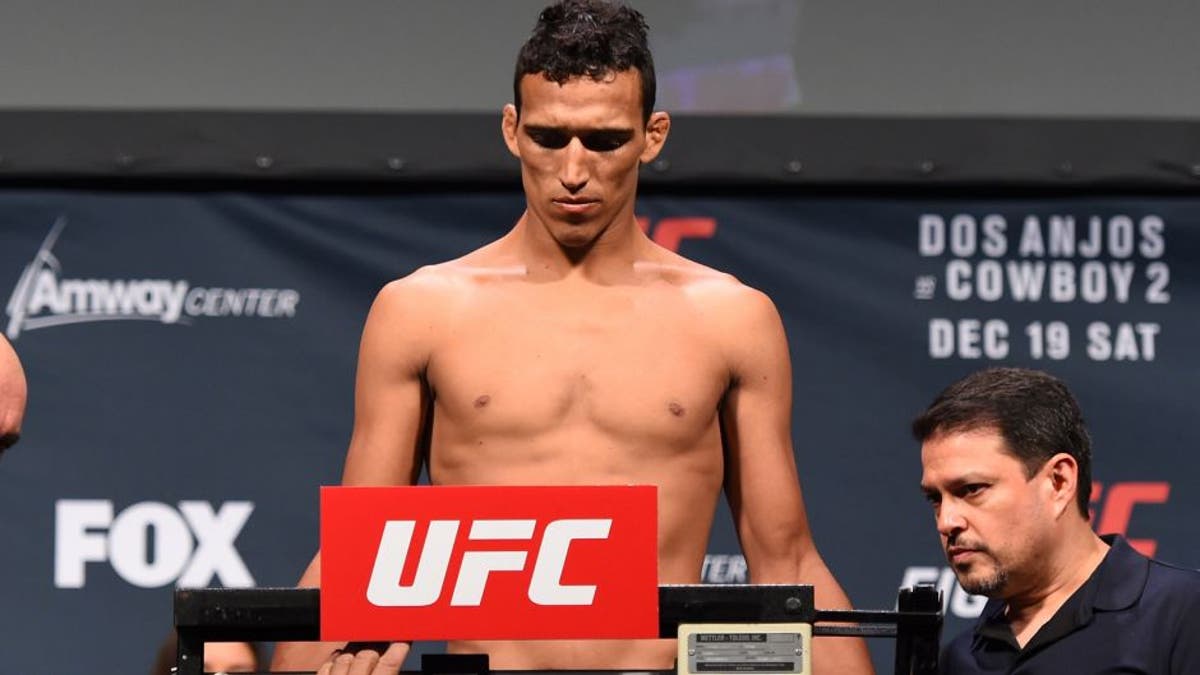 Charles Oliveira accepted a short notice fight against Ricardo Lamas for this weekend's UFC Fight Night card in Mexico City, but he's going to pay for it.
The Brazilian featherweight stepped onto the scale on Friday for the early weigh-ins ahead of his fight and missed weight by a whopping nine pounds.
Oliveira tipped the scale at 155 pounds with the featherweight limit at 146 pounds for a non-title bout.
UFC officials confirmed to FOX Sports that Oliveira will be fined 30-percent of his purse for the infraction and he's only allowed to gain another 10 pounds between now and the fight on Saturday night.
That means Oliveira can only weigh 165 pounds at most when he steps into the Octagon for the featherweight showdown with Lamas. For his part, Lamas came in at 146 pounds.
This is the fifth time Oliveira has missed weight in his UFC career while fighting as a featherweight -- on one occasion he came in at 150 pounds for a fight with Nik Lentz and was later pulled from the card due to illness from the weight cut.
Former lightweight champion Rafael dos Anjos came in at 156 pounds for his main event fight against Tony Ferguson. This is the first time since 2014 that dos Anjos was given the one pound allowance for the lightweight division after three consecutive title fights that required him to hit 155 pounds on the nose.
Ferguson came in at 154 pounds to make the main event with dos Anjos official.
Felipe Arantes was the only other fighter to miss weight on Friday as he came in at 138 pounds for his bantamweight fight with Erik Perez -- two pounds over the allotted limit for the division.
Arantes will be fined 20-percent of his purse for the infraction.
Here are the full weigh-in results for UFC Fight Night: dos Anjos vs. Ferguson from Mexico City (h/T: MMAJunkie.com)
MAIN CARD (FS1 10 p.m. ET)
Rafael dos Anjos (156) vs. Tony Ferguson (154)
Marcin Held (156) vs. Diego Sanchez (156)
Ricardo Lamas (146) vs. Charles Oliveira (155)*
Martin Bravo (155) vs. Claudio Puelles (156)
Beneil Dariush (156) vs. Rashid Magomedov (156)
Heather Jo Clark (116) vs. Alexa Grasso (116)
PRELIMS ON FS1 (8 p.m. ET)
Felipe Arantes (138)** vs. Erik Perez (136)
Marco Beltran (139) vs. Joe Soto (140)
Max Griffin (171) vs. Erick Montano (170)
Henry Briones (136) vs. Douglas Silva de Andrade (133)
EARLY PRELIMS (UFC Fight Pass at 6:30 p.m. ET)
Sam Alvey (186) vs. Alex Nicholson (186)
Marco Polo Reyes (155) vs. Jason Novelli (156)
Chris Avila (146) vs. Enrique Barzola (146)
*Oliveira will be fined 30-percent of his purse and only allowed to gain 10 pounds for his fight with Ricardo Lamas
** Felipe Arantes will be fined 20-percent of his purse for missing weight.