CFB on FS1 Q&A: UW's Sean Parker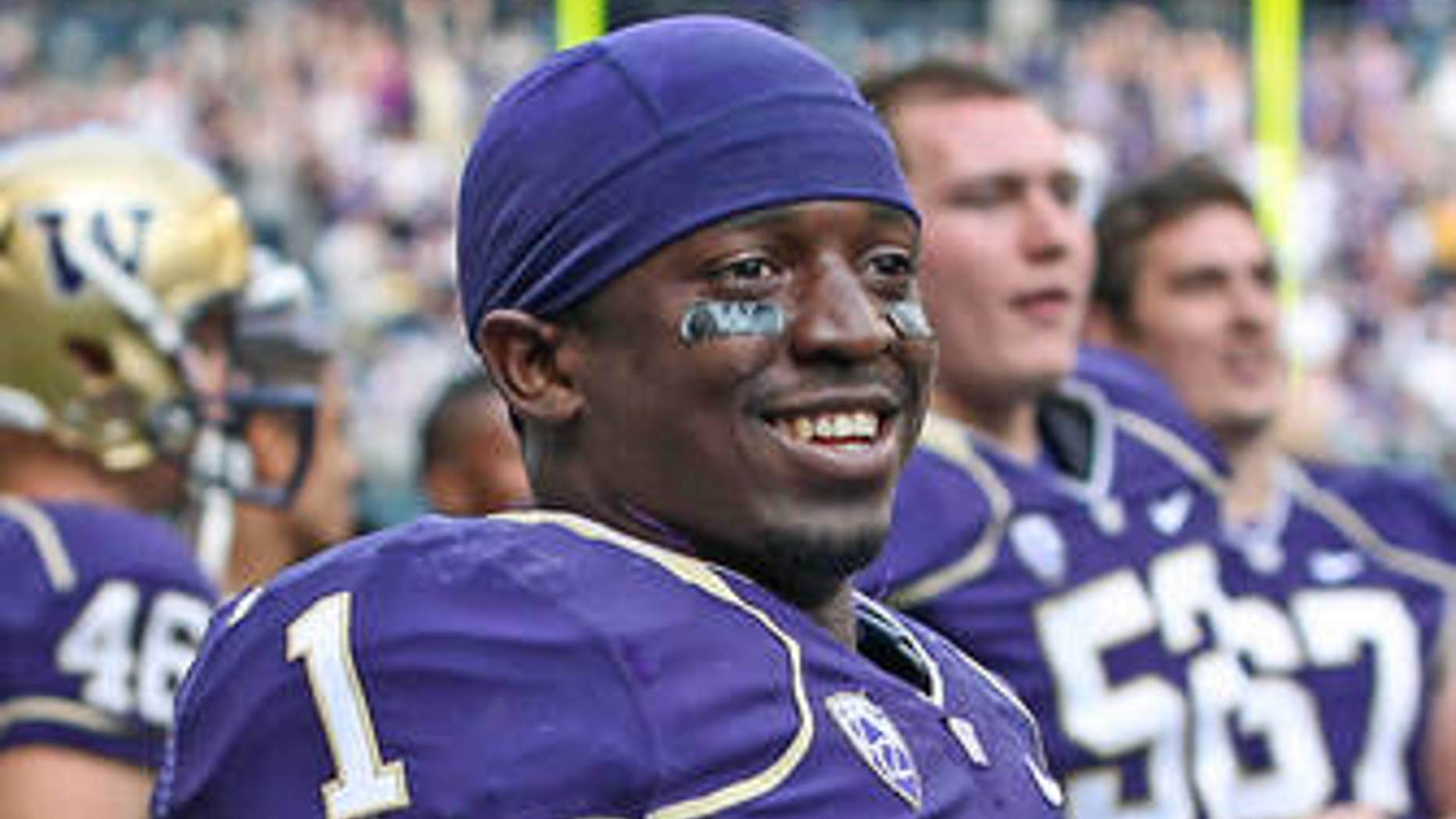 In the best game of Week 7, No. 2 Oregon goes to Seattle to take on No. 16 Washington (4 p.m. ET, FOX Sports 1).
Coy Wire caught up with Washington defensive back Sean Parker to talk about the Husky defense, Oregon, the Pac-12 race and more.
Wire: Justin Wilcox has done a great job with the UW defense. What has he done specifically to make you guys so much better?
Parker: He has all the schemes for everybody we play. Whoever we are playing, he has the right plan. He knows how to put us into a game plan that won't allow the other team to get cheap, easy plays on us. He has adjustments for any offense we play. Down to every little detail, he knows how to put us in a position to win. At halftime, he has all the answers. He will tell us everything he's seen that has hurt us and he'll tell us how to correct it.
You guys played an outstanding game against Stanford, but special teams and penalties hurt you. How are you and the guys feeling after that tough loss last week?
All of us were hurting out there. We thought that game was ours all the way. It slipped out of our hands and it hurt us. It hurt me bad. My stomach hurt. Special teams hurt us. We played a hell of a game. I don't think we could've played any better in terms of effort. It's motivating us even more for this week against Oregon.
The SEC is considered the best conference in America. Do you agree with that?
I'm always going to pull for the Pac-12. I feel like we have the best athletes in the country. They (SEC) have big guys that make plays. But a lot of the SEC teams are in the top-10, so you gotta give it to them.
How close is the Pac-12?
I feel like we are jumping in the rankings and getting a little more respect. But it's not going to just be given to us. We have to go earn it.
You look like a different guy out there this year and have improved your game even more. What's different this year?
I feel faster. I feel that I can do a lot more with my instincts. I'm able to trust what I see more than I have in the past. I really watch film a lot. I've learned what to look for, and I trust what I see on the field. When I'm on the field and I see what I've seen on film, I go get it.
It seems like coach Wilcox is dialing up more pressures and your corners are doing an outstanding job in handling the man-to-man situations that come with a pressure defense. Tell me about cornerback play for the Huskies this year.
They're doing awesome. They work hard every day on their technique. They ask a lot of questions in meetings. They're very fast too. Greg Ducre -- we call him lightning. He runs a 4.2 40-yard dash. We just have some really good athletes at corner right now.
Did you guys go back through last year's Oregon game and see anything that needs to be better this weekend?
They hurt us by not letting us get lined up, causing miscues and poor tackling. Overall our tempo was poor. But now we feel like we have the athletes to match up and we can run. We're in good condition. We need to use hand signals because it's going to be LOUD.
What is the No. 1 thing to prepare for with Oregon offense?
Tackle. We have to try to stay on them, keep a hands distance away and make sure we don't give them a two-way go. In tackling, eat up the ground and take a side away from of them.
Anything else?
We got a ton of athletes on offense that move fast. We're consistently running and working out to be able to run all day. I think we can go with them, but we have to be ready before they are and get lined up faster than them. We gotta get lined up. We'll go a lot of right-side/left-side because of their tempo
How tough will it be to go from Stanford's pro-style offense to Oregon's fast paced up-tempo style?
It's been difficult through practice seeing different looks, but our offense has been doing a great job of showing their looks. All this week we've been meeting early with coach Heyward, our DB coach, and he's relaying what coach Wilcox has been seeing on film and how he wants us to play our technique.
Are there any specific players or positions for Oregon that you guys have to be aware of most?
The running backs. De'Anthony Thomas is a homerun hitter who makes plays. I got a lot of respect for him. Their backs make plays and break tackles. We're more worried about getting lined up and tackling.
Has your coach Wilcox said or done anything that has impacted you or stuck with you?
Coach Wilcox taught me something through this little slide show called "the anxiety curve." It shows you that, in football, you can feel different things. High anxiety is at the top of the curve and at the bottom is "composed" and "relaxed." If you're playing at the top of the curve, you're too worried. I looked at it, and on the side it listed the areas of concentration. It just really hit me. The line right in the middle of the curve is where the best players are and where we need to be. It made me think. It was a message about the game and how to level yourself to play well.
When you have a goal to achieve, do you do anything unique to achieve it?
I just take a little time to myself and talk to myself. I just sit quietly and remind myself what I want to do. Visualization is big for me.
Who are your inspirations on the field?
Ed Reed and Sean Taylor. Taylor for his physicality, because he was always trying to make a statement. Reed is a hawk back there. Whatever you are thinking about doing on offense, he already knows about it. He's always making plays. He's a ball hawk.
How about inspirations off the field? Is there anything that someone told you or taught you that has impacted your life?
I just refuse to be like most people I've seen. I refuse to put myself through tough times. I have people to take care of so I have to be mature and handle my business. My mom, especially, has been taking care of me all my life. She struggles sometimes, and I hate to see that. It makes me mad when I see it. She taught me how to drive, how to cook a little breakfast, how to do things for myself and not rely on people. She taught me how to be a man. I have an older brother, Alex Lewis, who I grew up watching play, and he was actually my coach when I played. He and my cousin, Keith Forge, I always wanted to be like them.
RAPID FIRE
What is your favorite word?
Relentless.
What is your least favorite word?
Mediocre.
What sound or noise do you love?
Three horns at practice. That means it's over.
What sound or noise do you hate?
Bird calls. Any sort of squeaking noise. I hate that.
What is your power animal?
Cheetah.
If coach Sark said you could play another position for the rest year and be really good at it, what position would you most like to play?
Running back.
If Hollywood made a movie about your life, who would you like to see play the lead role?
Chris Tucker.
If you could be a superhero, what would you want your one superpower to be?
Teleportation.
If you could trade places with any other person for a week, famous or not, living or not, real or fictional, with whom would it be?
Bill Gates.
Three words to describe yourself?
Just do it.