Cassel breaks foot, rookie Bridgewater steady in relief, but Vikings fall to Saints 20-9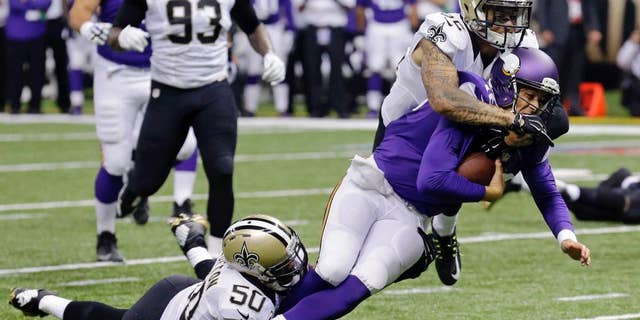 NEW ORLEANS – The Minnesota Vikings are still searching for a running game in the absence of Adrian Peterson, and now will have to hope rookie Teddy Bridgewater can carry their passing offense.
Starting quarterback Matt Cassel fractured several bones in his left foot during a scramble in the second quarter, and the Vikings could not overcome an early 13-0 deficit behind Bridgewater, losing 20-9 to the New Orleans Saints on Sunday.
The loss capped a week of distractions as Minnesota first announced that Peterson would play after he missed last Sunday's 30-7 loss to New England, then later changed course and said the star running back would leave the team indefinitely to deal with child-abuse allegations.
His replacement, former undrafted free agent Matt Asiata, finished with 12 carries for 35 yards, and the Vikings rushed for only 59 yards.
Bridgewater, a first-round pick from Louisville, completed 12 of 20 for 150 yards while leading two scoring drives that both ended with field goals.
The Vikings planned to let him learn behind Cassel this year, but that option vanished after Cassel was brought down hard on a 5-yard scramble early in the second quarter.
"We can't worry about what we don't have," Minnesota coach Mike Zimmer said. "We have to worry about what we do have and how we go forward. No one is going to feel sorry for us. No one is going to cry about we don't have this guy or that guy."
Minnesota still made it close against New Orleans, which has won 18 in a row at the Superdome under coach Sean Payton.
After giving up touchdowns on New Orleans' first two drives, the Vikings were as close as 13-9 on Blair Walsh's 40-yard field goal early in the second half, but an unnecessary roughness penalty on what should have been a drive-stalling sack helped New Orleans pull away again.
Captain Munnerlyn got to quarterback Drew Brees first and was called for a personal foul when he slammed the star quarterback to the turf while safety Robert Blanton piled on.
"It was very frustrating because I feel like it changed the game for my teammates," Munnerlyn said. "I pride myself on not making crazy plays, and I felt like that cost us the game. I wasn't thinking about a flag at all. I never heard a whistle, so I was just finishing the play."
Soon after, Brees found rookie Brandin Cooks on a screen for a 19-yard gain to the Minnesota 18, and then hit Marques Colston, who surged through Blanton's tackle attempt to make it a two-score game again.
Brees went 27 of 35 for 293 yards and two touchdowns.
"That was straight Hulk Hogan, 1985, WrestleMania suplex," Brees said of Munnerlyn's throw-down. "Hey, it got us 15 yards, got us another set of downs and obviously ended up helping us."
Until then, the Vikings had held the Saints scoreless on four consecutive drives, but Bridgewater could not take advantage by getting a touchdown. He tripped over tackle Matt Kalil's feet as he tried to scramble on his first possession, forcing Minnesota to settle for a 30-yard field goal. He missed Asiata on a third-down pass before the Vikings' last field goal.
"I think I did pretty good for the most part, but I missed a couple of easy throws," Bridgewater said.
The Saints entered the game looking about as competitive as a winless team could be, having held leads in the final 10 seconds of regulation in each of their first two games before losing by a field goal or less.
It looked as if they would have a much easier time against the Vikings early. But Minnesota hung around, unlike against New England last week, when the Patriots scored the final 30 points.
"I told them if we get punched in the mouth this week, we are going to punch them back," Zimmer said. "We saw improvement today."
They could not generate enough offense, though, getting outgained 396-247. Zimmer refused to speculate on when or if Peterson would return, but the Vikings know their road is much more difficult without him.
"It's tough," Munnerlyn said. "It's Adrian Peterson, and he's a Hall of Fame running back. But I always believe in next man up. People get hurt all the time, and I'm just taking it like he's injured. We'll let the legal process play out and go from there."
NOTES: Minnesota came out of the game with other injuries in addition to Cassel's. Zimmer said guard Brandon Fusco hurt his foot, cornerback Josh Robinson pulled his hamstring and linebacker Chad Greenway re-injured his ribs.