Carmelo Anthony Helps Knicks End Spurs 7-Game Winning Streak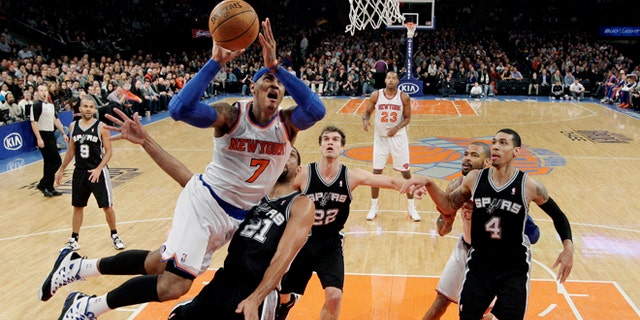 New York – The New York Knicks snapped the San Antonio Spurs' seven-game winning streak with a 100-83 victory Thursday night when Carmelo Anthony put up 23 points and J.R. Smith kept up his surge with 20.
Steve Novak added 15 points and Tyson Chandler had 10 points and 14 rebounds to help the Knicks bounce back from consecutive losses by dominating the final period against the Spurs, who may have run out of gas in their second game in two nights.
Tim Duncan and Tony Parker each had just 11 points for the Spurs, who lost Stephen Jackson to an unusual injury, then lost what had been the NBA's longest winning streak.
Jackson played just three minutes off the bench before spraining his right ankle when he took a shot then fell back into a waitress working the sideline in front of Mayor Michael Bloomberg.
Smith, who had scored 25 points in his last four games as a reserve, highlighted his outing with an acrobatic dunk in the fourth quarter that brought fans to their feet. The pass came from reserve point guard Pablo Prigioni, who had one of his most complete games since coming to the NBA at age 35, finishing with six points and nine assists.
The Knicks put away what had been a close game for three quarters, scoring the first 10 points of the fourth to take a 17-point lead. The Spurs, playing for the fourth time in five nights, went with reserves from there and never put much of a dent in it.
San Antonio, which averaged 111.7 points on 53.4 per cent shooting during its winning streak and rang up 117 points on Wednesday in Milwaukee, shot just 36 per cent. Gary Neal led the Spurs with 12 points.
Spurs coach Gregg Popovich praised the Knicks' defence before the game, though it had slipped during their stretch of three losses in four games. Looking for a fix, coach Mike Woodson gave Marcus Camby a start at forward in hopes of ending the Knicks' slow starts, and they allowed just 19 points in the first quarter.
Amare Stoudemire had 10 points on 4-of-10 shooting in his second game of the season after knee surgery. He seemed more aggressive than in his debut Tuesday but is clearly without his typical explosiveness, having a number of shots blocked when he tried to power his way inside.
Leading 67-60 after three, the Knicks opened the fourth with a 10-0 run that made it 77-60 on Novak's 3-pointer with 10:24 remaining. New York poured it on from there, the lead growing to 20 when Smith caught a lob from Prigioni around his waist while in the air and slammed it home. Novak followed with another 3-pointer on the next possession to make it 95-72.
Jackson entered the game just 13 seconds in, but his night was over late in the period after his bizarre injury. Jackson launched a 3-pointer from the corner with 3:23 left, stepping backward out of bounds after the miss and falling onto the waitress. He limped back onto the court as the Knicks played with a 5-on-4 advantage that led to Anthony's 3-pointer. The Spurs then took a timeout and Jackson limped off toward the locker rooms.
It was unclear if the waitress was serving Bloomberg, who was seen eating a box of popcorn shortly after.
Woodson said before the game he thought the Spurs were the best team in basketball right now, though Popovich dismissed that as gamesmanship he learned from Larry Brown. San Antonio sure didn't look its best while losing for the first time since a 112-106 setback at Denver on Dec. 18 and getting held well below its NBA-best 105.9 points per game.
Notes: The Spurs hadn't played here since January 2011, so this was their first time back in Madison Square Garden since renovations began. Popovich jokingly yelled at Parker for not knowing how to get from the locker room to the court before the game. ... Manu Ginobili, Prigioni's teammate with Argentina's national team, was held to eight points on 2-of-10 shooting.
Based on reporting by the Associated Press.
Follow us on twitter.com/foxnewslatino
Like us at facebook.com/foxnewslatino