Carmelo Anthony And The New York Knicks Fall To Indiana Pacers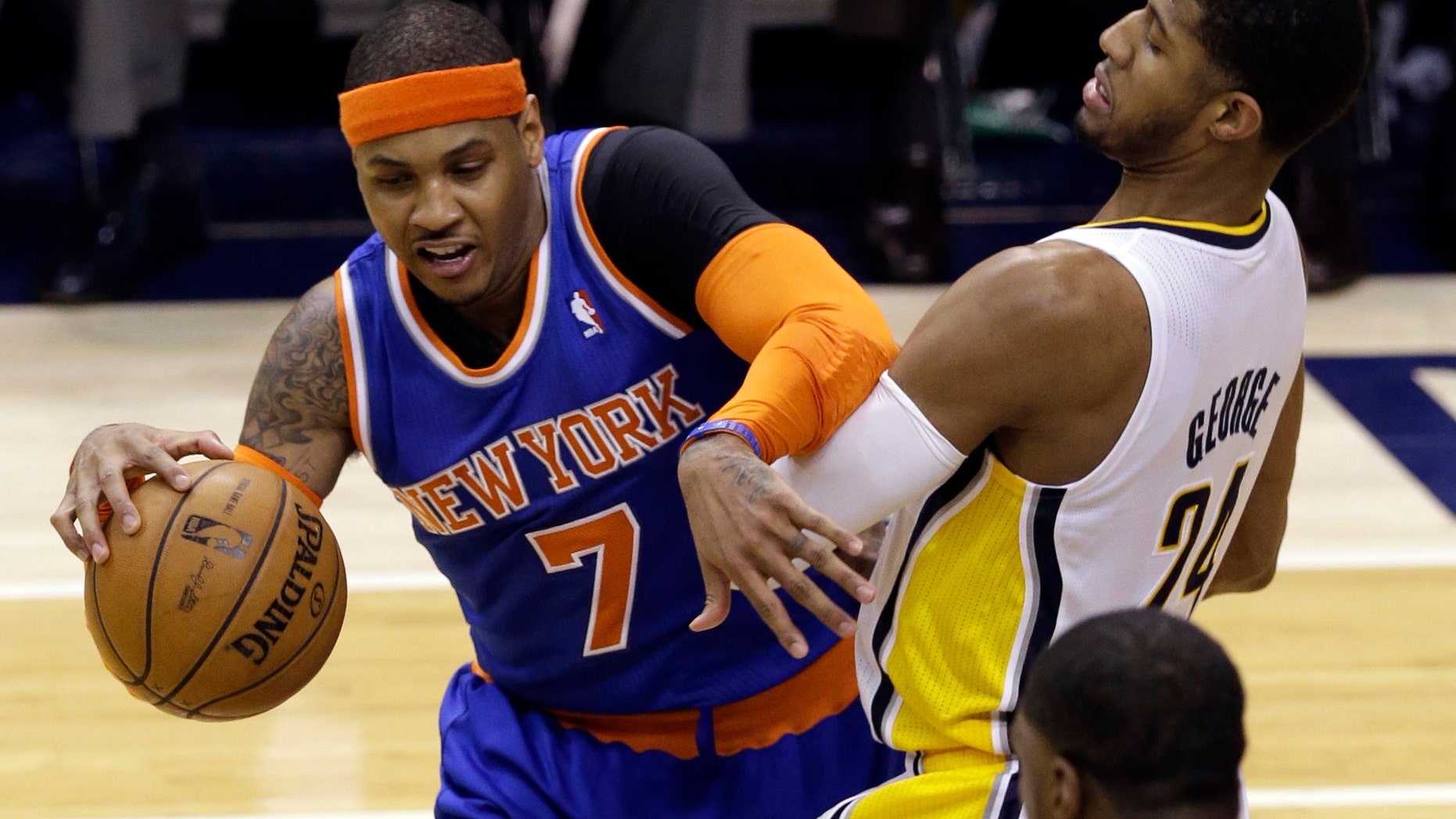 The Indiana Pacers did not let an embarrassing 26-point loss to the New York Knicks in Game 2 distract them.
Instead, Roy Hibbert, Paul George and Indiana showed what it can do when it plays its game.
Hibbert finished with 24 points and 12 rebounds, while George nearly came up with another postseason triple double, leading the Pacers to a crucial 82-71 Game 3 victory and a 2-1 lead in the best-of-seven Eastern Conference semifinals.
"That's how we play Pacers basketball," George said. "We just locked in, and it was just helping one another on the defensive end."
Coach Frank Vogel's bunch followed the same game plan it has all season -- locking down defensively, winning the rebounding battle and protecting its home court.
Check, check and check.
Indiana limited the Knicks to 35.2 percent shooting from the floor, allowed just three 3-pointers and forced 15 turnovers. And, of course, the league's No. 1 rebounding team dominated the glass again, finishing with a 53-40 rebounding edge and a 20-10 edge in second-chance points.
It was enough to allow the Pacers to overcome a 28 for 80 shooting performance that included a season-high 33 3-point attempts.
"They outrebounded us, they won the hustle today, the little things," Carmelo Anthony said. "It all came down to us not scoring the basketball. ... We can't beat anyone scoring 71 points."
It's the same formula Indiana won Game 1, and now, if Indiana wins a fifth straight home playoff game Tuesday night, it will head back to Madison Square Garden with a commanding lead over a longtime rival.
How did the Pacers do it again? They relied on scoring balance and in-your-face defense.
HIbbert kept loose balls alive in his best playoff performance of this postseason. Vogel called it his best playoff game ever.
George struggled to score, finishing with 14 points, but he also finished had eight rebounds and eight assists and caused plenty of consternation for Anthony and others on defense.
David West got off to a slow start but finished with 11 points and 12 rebounds and George Hill knocked down five 3s and he finished with 17 points.
"We didn't change much in terms of our physicality," West said. "I just thought we were a little bit more precise defensively in terms of our communication and we shored some things up. We didn't allow them to get some of the things they got in the second game in New York."
The Knicks had only one player in double figures. Carmelo Anthony scored 21, but the NBA scoring champion went j6 of 16 from the field, managed only two points and no baskets in the fourth quarter and finished well below his playoff scoring average of 29.3.
He was hardly alone.
Smith gave it a go although his shooting woes continued. He went 4 of 12, scored nine points and walked directly to locker room when he was replaced midway through the fourth quarter. A few minutes later, he came back into the game and is now just 11 of 42 from the field in the series.
Stoudemire looked rusty in his return, making just 3 of 8 eight shots -- one a dunk, another on a buzzer-beating 3-pointer to end the third quarter -- and finished with seven points and two rebounds.
The Knicks led once in the game, for just 76 seconds, and barely escaped the ignominy of setting a franchise playoff record for fewest points in a game. The all-time low is 67. New York didn't hit 68 until Kenyon Martin's dunk with 1:39 to play.
"Offensively, we just didn't have anything," coach Mike Woodson said. "I thought defensively, we hung in there and did what we had had to do, but we just didn't have any offensive pop and we have to figure that out."
And fast or the second-seeded Knicks will spend the rest of this series playing catch-up.
New York had a chance midway through the third quarter when it closed the deficit to 44-41. But instead of faltering, as the Pacers did in Game 2, they thrived on New York's miscues.
When Tyson Chandler was called for his third foul, he lost his cool and was whistled for a technical foul. That allowed the Pacers to score three points on the possession. West followed that with a 19-foot jumper and after Chandler went 1-of-2 from the free throw line, Indiana seized control with a 9-0 run that made it 58-44.
Stoudemire's buzzer-beater to end the quarter got the Knicks within 62-51 and New York eventually got as close as 65-57 with 9:10 left. But Indiana answered with seven straight points and never let the Knicks challenge again.
"Our guys usually do what you emphasize," Vogel said. "We don't want to do it at the expense of giving up things up at the rim. But we were able to guard the paint and the 3-point line, and that's the goal."
Based on reporting by The Associated Press.
Follow us on twitter.com/foxnewslatino
Like us at facebook.com/foxnewslatino