New York Knicks' Carmelo Anthony Plans To Keep Attacking Pacers In Game 3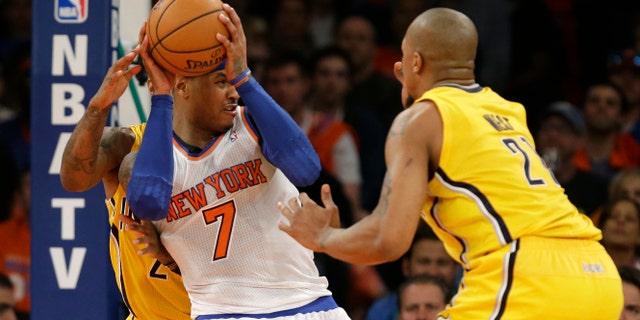 Carmelo Anthony can't stop, won't stop Friday night.
Anthony believes he can solve any defense and rarely gives credit when he doesn't. His response after a poor night is always some variation of the same quote: "I just missed shots I normally make."
So no matter how he played in New York during the first two games, he was bringing the same attacking mentality to Indiana for Game 3 of the Eastern Conference semifinals on Saturday.
"I always say I can't stop doing that," he said. "I can't stop attacking. I can't stop being aggressive out there on the basketball court."
The matchup between the NBA's leading scorer and perhaps its best defense is all even after two games. The Pacers limited Anthony to 10-of-28 shooting in a 102-95 Game 1 victory, but he bounced back with 32 points while going 13 for 26 in New York's 105-79 rout on Tuesday.
Anthony scored 16 during the Knicks' 30-2 second-half storm, hitting both of his 3-pointers in the fourth quarter after misfiring almost all postseason from beyond the arc. Even though he always remains confident, seeing the ball start to go in could have lasting effects for Anthony and the Knicks.
"When you make shots, when shots go in, it eases up everything," he said. "I mean it takes a lot of stress off all the situations out there on the basketball court. It's when you don't make shots, when you're trying to figure out what you're going to do next, 'Should I take this shot?' Is the next one going to go in?' you start thinking. But when shots is falling, the game is much easier for myself, for everybody else out there on the court."
Indiana gave up 90.7 points per game during the regular, second-lowest in the league, and allowed league-lows of 42 percent shooting from the field and 32.7 percent from 3-point range. Yet for as sturdy as they are on the defensive end, the Pacers know a player like Anthony can still make them look bad.
"I felt like we made it as difficult as we could, but that's why he's an elite player," All-Star Paul George said of Indiana's Game 2 performance. "He has the ability to make contested shots."
Indiana's schemes worked perfectly in the opener. With Anthony struggling to hit from the perimeter and trying to compensate by driving to the basket, the Pacers were often able to funnel him toward 7-foot-2 center Roy Hibbert, who blocked five shots and frustrated Anthony countless other times by going straight up to defend without committing a foul.
In Game 2, Anthony found his mid-range jumper going, something that could be available again without a Pacers adjustment.
"I think he's going to get great looks by the way they're playing him and just keeping Hibbert at the rim," Knicks center Tyson Chandler said. "He's going to get that free throw line jump shot throughout the series."
Anthony was far from the Pacers' only problem in Game 2. They didn't bring the same effort to the boards as they did while holding a 44-30 rebounding advantage in Game 1, getting outrebounded 37-35. That became compounded when they coughed up 21 turnovers that led to 32 points.
The Knicks turned all that into 89 shot attempts. The bigger Pacers managed just 66.
"You're not going to win any games when you give the other team 23 more shots then you get," Pacers coach Frank Vogel said.
Anthony can't do it alone, of course, especially against a defense at the Pacers' level. The Knicks won Tuesday because they moved the ball better and faster than they did on Saturday, getting double-figure efforts from Iman Shumpert, Raymond Felton and Pablo Prigioni in overcoming another lost night from Sixth Man of the Year J.R. Smith, who is shooting 7 of 30 in the series.
Anthony said he was more patient coming off pick-and-rolls, but it's easier for him to move the ball willingly when the teammates who end up with it are making shots. When they don't, he has to show he's committed to playing within the offense instead of looking for isolation opportunities to do it alone.
Either way, he insists he won't put added pressure on himself.
"I don't play with pressure," he said. "I can't do it. No way I can perform under pressure. I won't allow myself to do that mentally, to go out there and play under pressure. As far as shots and things like that go, you make some, you miss some. As a team we have to keep taking those shots, we have to keep being aggressive. I'm not concerned about my shot. I'm not concerned about that."
The lengthy break gives both teams time to make changes and corrections. Anthony could get some scoring help if Amare Stoudemire has no setbacks after practicing Thursday and Friday, allowing him to return from right knee surgery Saturday.
Though their final 15 minutes of basketball in New York were embarrassing, it was a successful two games for the Pacers, who snatched away the home-court advantage. They beat the Knicks twice at home during the regular season, including a 34-point rout in February, and will reach the Eastern Conference finals if they can do it three more times.
"It's 1-1," George said. "They could've won by 50. We still feel comfortable."
Based on reporting by The Associated Press.
Follow us on twitter.com/foxnewslatino
Like us at facebook.com/foxnewslatino