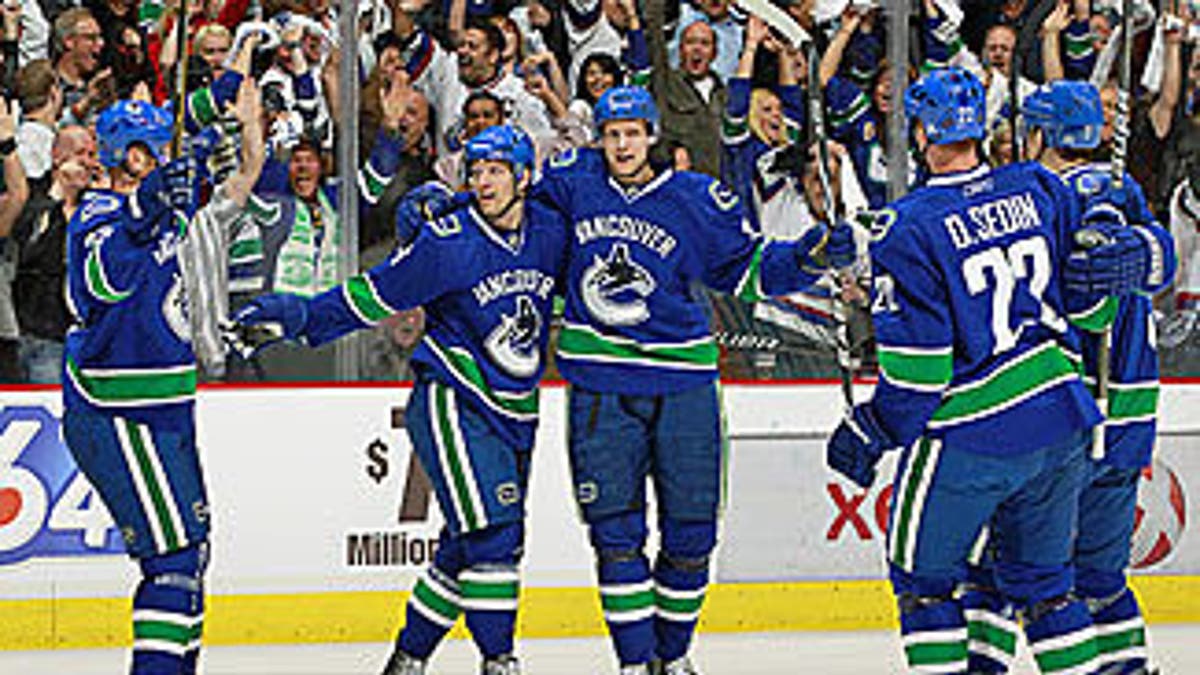 VANCOUVER -- The third time was a charm for the Vancouver Canucks as Friday night's 4-3 win against the Chicago Blackhawks was the first time Vancouver managed to take a 2-0 series lead after two previous unsuccessful attempts.
In the 2009 Western Conference semifinals, the Canucks opened the series with a 5-3 win only to lose Game 2 by a 6-3 score on home ice. Then last year in the Western Conference semifinals, Vancouver opened with a 5-1 win in Chicago with the Blackhawks, evening the series with a 4-2 win two nights later.
"It was nice to go up 2-0, but more so to not have to face the questions and the doubt from media and the fans," Canucks captain Henrik Sedin admitted Saturday morning. "Now we're in the position we want to be in. We know we still have to win two games. It's going to be a battle."
At one point in Friday night's win, the Canucks had a 2-0 lead. They had a similar lead in Game 2 against Chicago last season as well, only to see that lead fade away.
"It was good, but the next one is even more important," said Ryan Kesler. "You got to stay focused and not get too confident. We're not at all (too confident), we're a group that's focused and we're going to focus on the next one."
Part of the Canucks' success in the early going has been their ability to shutdown the Blackhawks' big guns -- Jonathan Toews, Patrick Kane, Patrick Sharp and Marian Hossa. The foursome has combined for one assist and a minus-6 rating through two games.
Toews had 12 points by himself in last year's six-game series.
Chicago's top defense pairing of Duncan Keith and Brent Seabrook has also struggled in the series. They're a combined minus-4 in two games thus far.
"We get to go home, we get the change the momentum with home ice advantage, playing in front of our fans and get some enthusiasm that way," said Blackhawks coach Joel Quenneville. "Certainly (Game 2) was a chance to get even and we didn't do it, so we got to go home and look to get the next game."
Chicago had to fight to earn their eighth and final playoff spot down the stretch and it appears the playoff race took its toll on the defending Stanley Cup champions.
"Well you're right when you say they have played a lot of hockey, in a lot of important games," said Vancouver coach Alain Vigneault. "They had five huge games in their last eight days with a lot of traveling, they traveled here, just played two, physical, intense playoff games, got to go back to Chicago so it is probably challenging to some extent."
Additionally, the Blackhawks power play has struggled in the series, going 0-for-5 in the two games. Chicago is just 1-for-20 in its last seven contests.
Vancouver isn't worried about line matching with the Blackhawks big guns as the series moves to Chicago for Game 3 on Sunday. Chicago will of course have the last change being the home team.
"We're going to let them do what they do and we're going to focus on what we do," said Vigneault. "What we've tried to do so far is have two duos of defensemen and two lines because their shifts are a little bit longer than ours to go up against their top players and we're going to continue to do that."
Vancouver has had its share of success at the United Centre this season holding Chicago to just one regulation goal while picking up three of a possible four points during the regular season.
"(Vancouver) is a good team, they had a good year and there's a lot of reasons why they finished first," Quenneville said. "I don't think we've played our best yet and we're going to have to play our best."