Canucks focus on changes for Game 6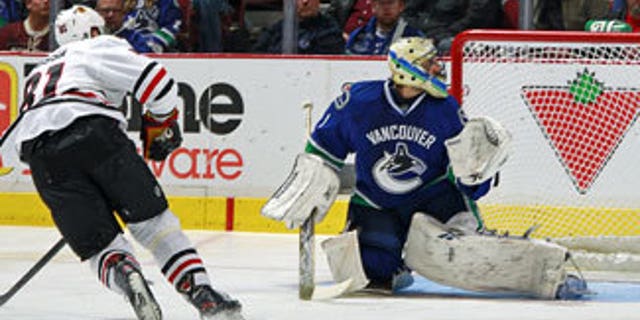 VANCOUVER, B.C. -- Through the first five games of their Western Conference Quarterfinal series with the Chicago Blackhawks, the Vancouver Canucks' message was to "take it one game at a time." As the team headed for Chicago on Friday morning, the focus shifted to making changes ahead of Game 6 at the United Center.
"We've got a couple ideas here on what we need to do, what we need to do better," coach Alain Vigneault said. "Obviously I'm not going to share that with you, but there are a few points that we need to put in place. I'm confident in this group, I'm confident in their ability.
"They've always responded well, and we're going to try and respond well on Sunday."
Despite Vigneault's unwillingness to discuss his team's changes heading into Sunday's game, anyone who's followed the team knows gap control is one of the big issues that needs to be addressed. Vigneault talked about it before Game 5, did so again after Game 5 -- and will undoubtedly be talking about it with his team prior to Game 6.
A perfect example of the team's lack of gap control came on the opening goal of Game 5 when Marian Hossa was allowed to walk into the slot and beat Roberto Luongo for his first of the playoffs.
"It's something that we need to be a little better at," defenseman Dan Hamhuis said. "They're a team that's really good on the rush so if we can take some time away from them it'll be better for us. We need to be better as a five-man unit everywhere on the ice.
"It helps gap control, it helps transition and it helps fore-checking."
After being outscored 9-5 and falling 3-0 in the series, the Blackhawks made changes to their game. As a result, the defending Stanley Cup Champions trail just 3-2 in the series after outscoring the Presidents' Trophy winners 12-2 in Games 4 and 5. The Canucks are now 3-8 since their 2003 matchup against Minnesota when playing a game in which they could close out an opponent.
Many believe the Blackhawks now have all the momentum as the series heads to Game 6 -- but not Luongo.
"I think (momentum) is overrated. When it was 3-0 everybody said we had momentum and they came out and took it to us," he said. "At the end of the day it's about us playing our game and making sure we're ready right off the hop and playing hard."
Canucks President and General Manager Mike Gillis offered his two cents before boarding the team's charter at Vancouver International Airport.
"Our best players haven't been our best players the last couple games," Gillis said. "I'm very confident in them, I've been confident all year in them and I'm confident that they're going to step up here and be our best players."
Gillis also insisted he's not worried about his seating arrangement at the United Center for Sunday after hearing it from the Blackhawks fans on Tuesday night.
"I'll deal with that when we get there, it's not an issue for me," he said. "Their fans are passionate and our fans are passionate. There's a lot of competition out on the ice and people get excited about it. That's fine with me."
The Canucks brass was moved to a different location for Game 4 as a result of the game being broadcast on three separate television networks (Versus, Comcast and CBC).
Vancouver inserted center Cody Hodgson and defenseman Aaron Rome for Game 5 in place of Victor Oreskovich and Keith Ballard. Vigneault wouldn't tip his hand as to whether there'd be more lineup changes in Game 6, but one thing he's been sure about is his goaltender.
"Roberto is the guy, he's our goaltender," he said. "He's been there in great times for us and we expect him to play real well."