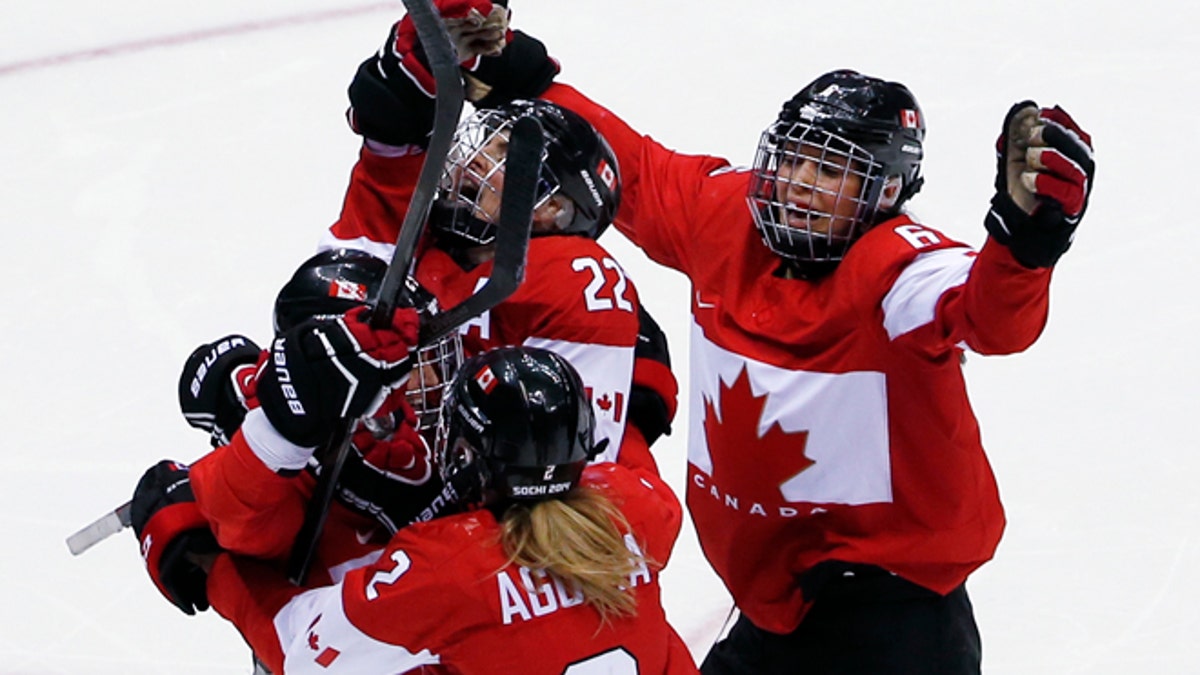 SOCHI, Russia – Marie-Philip Poulin scored twice for the second straight Olympic gold medal game and Canada beat the United States 3-2 in overtime on Thursday for its fourth consecutive title.
Canada trailed 2-0 before Brianne Jenner and Poulin scored in the final 3:26 of regulation, and Poulin had the game-winner with a power play goal at 8:10 of overtime.
Shannon Szabados made 27 saves for Canada, which has won 20 straight in the Winter Games since the Nagano final in 1998. That was the only gold medal for the United States, which has lost in the Olympic final to Canada three times since then.
Jesse Vetter made 28 saves for the Americans. Meghan Duggan and Alex Carpenter scored for the U.S.
Switzerland beat Sweden for the bronze medal earlier Thursday.
Vetter, the loser in the Vancouver final, had a shutout until Jenner's seemingly harmless shot deflected off a defender's knee and into the net. With the goalie pulled for an extra skater, U.S. forward Kelli Stack sent the puck the length of the ice before it clanged off the post and landed harmlessly in front of the goal.
It was still a one-goal game, but not for long.
With Szabados still off, Poulin scored just 54.6 seconds before the end of regulation.
After six tense minutes of overtime, the U.S. picked up a power play when Catherine Ward was sent off for cross-checking. But five seconds later, Jocelyne Lamoureux was called for slashing for swiping at the goalie's pads after a save. And during a bad player change by the Americans, five-time Olympian Hayley Wickenheiser got free on a breakaway before she was bumped from behind by Hilary Knight and sent sprawling.
It could have been called a penalty shot. It could have been no call.
But Knight was sent to the penalty box for cross-checking. With the 4-on-3 advantage, the Canadians worked the puck around and over to Poulin, who knocked it into the open net and set off the celebration on the bench and among the Maple Leaf-waving fans.