Campaign urges Mexican soccer fans to not yell homophobic chants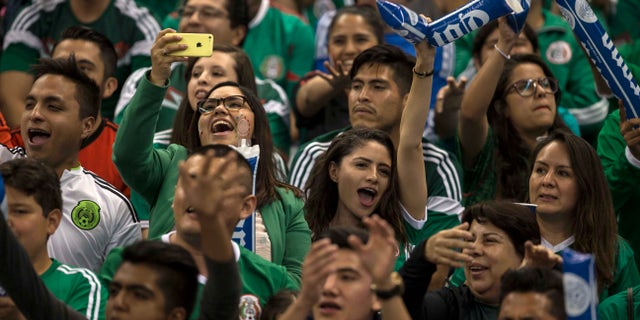 NEWYou can now listen to Fox News articles!
MEXICO CITY (AP) – The Mexican Soccer Federation launched a campaign Tuesday urging fans to refrain from anti-gay chants that drew fines from FIFA earlier this year.
It may be a tough fight, judging by the plea's failure to deter fans at a Mexican national team game Tuesday night.
Called "Embraced by Soccer," the campaign consists of a couple of 30-second videos in which popular stars including forward Javier "Chicharito" Hernández, captain and defender Rafael Márquez and midfielder Andrés Guardado ask fans not to engage in discriminatory behavior.
Announced hours before Mexico hosted Canada in a 2018 World Cup qualifier for the CONCACAF region, the campaign didn't stop fans at the capital's Azteca Stadium from making the chants during the nighttime match won 2-0 by the home team. The message was played for the crowd before the game and at halftime.
In a statement, the soccer federation said the videos aim to discourage "a practice that is contrary to respect and the dignity of people."
"For us, as a federation, this is a chant that we do not like. We have recognized that some people have interpreted it as a homophobic exclamation," Guillermo Cantú, the federation's secretary-general, said later.
"We do not believe that the fans mean it in that way — they come to have fun and nothing more," he added. "Nevertheless, we do think there are better ways of expressing enthusiasm and even messing with the opponent to put pressure on him."
Fans in Mexico are known for yelling a gay slur during kicks by opposing goalkeepers, something that gained global attention during the 2014 World Cup and prompted a FIFA disciplinary probe.
Back then the world soccer body opted not to penalize the federation, saying the shouts were "not considered an insult in this specific context."
But this January, FIFA levied $20,000 fines on the soccer federations of Mexico, Argentina, Peru and Uruguay for what it called "insulting and discriminatory" chants. Chile was hit with a $70,000 penalty.
Mexico's fine involved a match in November when the slur was directed at El Salvador's goalkeeper.
The chants originated among fans of the Chivas club of Guadalajara and grew in popularity after a 2004 match between the Mexican and U.S. national teams that was played in the same city.
The Mexican Soccer Federation said the ad campaign will be continuing but did not give details about any other actions it might take.
"We will keep working," Cantú said. "You will have more positive news in the future."