Calipari, Saban have more than fat contract extensions in common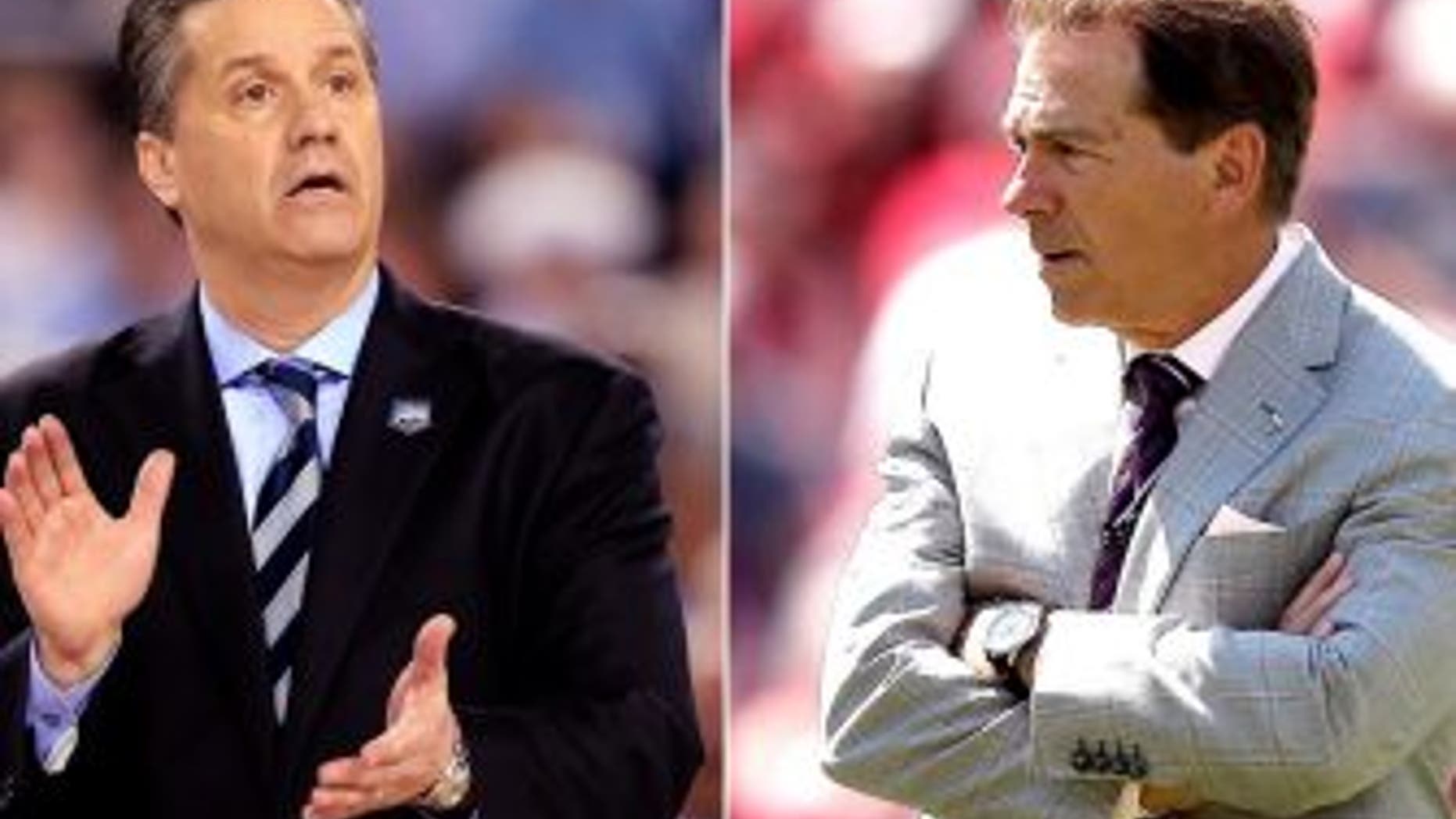 Among the many truths behind John Calipari's seven-year, $52.5 million contract extension at Kentucky announced on Thursday – that Coach Cal will now be the second-highest-paid coach in the sport behind Coach K, that a Kentucky basketball program which foundered before Cal arrived will stay among the nation's best for the foreseeable future, that this spring's rumors of Calipari returning to the NBA was merely noise – is this more interesting fact:
John Calipari has become the Nick Saban of college basketball.
Think about it: These are two men who are as loved by their own adoring fan bases as they are loathed by their critics. Two men we assumed were being tempted by the siren songs of supposedly greener pastures – Cal to the NBA, Saban to Texas – but instead stayed put. Two men who understand that there's no currency quite like being seen as saviors for once-proud institutions now returned to their former glories.
We all thought Calipari and Saban were always scheming for the next step up their career ladders. In truth, each of them realized no job could be better than the one they currently hold.
They're both men whose motives are often unfairly doubted – perhaps our biggest punching bags for a sporting public sick of the obvious hypocrisy of big-money, high-stakes college sports where athletes are ostensibly amateurs and students – yet who both realized they shouldn't mess with the very, very good things they already have going.
"I've said over and over that I have the best job in the country," Calipari tweeted after the contract was announced Thursday. "W/ continued support from our administration & the greatest, craziest fans in college bball, we've accomplished a lot in our 5 quick years … but we still have lofty goals for the future."
It's as jarring to think where Kentucky basketball was five years ago, before Coach Cal came on board, as it is to think where Alabama football was seven years ago, before Coach Saban came on board.
Before Cal, Kentucky suffered through the indignities of the short-lived Billy Gillispie Era, which included a season in which the Wildcats suffered their second-most losses in the program's history, a missed NCAA tournament for the first time in 18 years, and a restless fan base that wondered what was happening to Adolf Rupp's legacy.
Before Saban, Alabama suffered through the indignities of the short-lived Mike Shula Era, which included one 4-9 season, a rather large NCAA violation and a restless fan base that wondered what was happening to Bear Bryant's legacy.
Now, each man has his iconic program back at the top of his sport.
I never quite believed those rumors that Coach Cal was going to be the next Los Angeles Lakers head coach. It didn't feel right – not now, when the Wildcats were rolling and the Lakers were a disaster, and perhaps not ever. Even after I spoke with a source close to Calipari about how he yearned to someday take a high-profile NBA job like the ones the Lakers and New York Knicks have open, it never felt right to me. Not necessarily that he wouldn't take the job, but that it wouldn't be the right call.
The way he's going in Lexington, why leave? In five seasons he's won a national championship, taken his team to three Final Fours and four Elite Eights, and sent 17 players to the NBA, not including two likely lottery picks later this month.
It's appropriate – fate, perhaps – that the same week Alabama's compensation committee agreed on the contract that'll keep Saban in Tuscaloosa through 2022 with an NCAA-best $6.5 million base salary, Kentucky gave Calipari an extension that'll keep him in Lexington until 2021 with a base salary that's slightly more than Saban's.
At this point, the two men's careers feel inextricably intertwined. Each has turned his respective program into the measuring stick in his sport. Each is making big bucks, sure, but is also chasing something far greater and more lasting: a legacy to be known as one of the greatest ever. Saban is already there; by the time all is said and done, Cal might get there, too.
Heck, by the time Calipari's contract runs out, the University of Kentucky might have renamed Rupp Arena the Calipari Center.
At the very least, Coach Cal will surely have his own statue in Lexington.
Just like his contemporary has in Tuscaloosa.
Follow Reid Forgrave on Twitter @reidforgrave or email him at ReidForgrave@gmail.com.