Bruins' Julien, Patriots' Belichick talk coaching, share skate on Gillette ice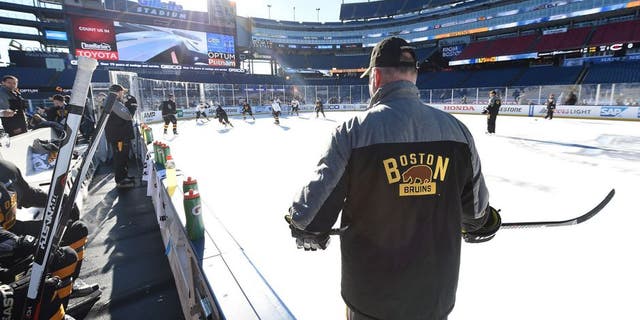 FOXBORO, Ma -- The NHL Winter Classic provides plenty of unique photo opportunities, and one of the best came before the Boston Bruins' practice came Thursday when Bruins coach Claude Julien took a spin on the ice at Gillette Stadium with New England Patriots coach Bill Belichick.
The coaches spent time together Wednesday when Julien attended Patriots practice, and after Belichick asked Julien a few questions about the Gillette ice, Julien offered to let him skate before Boston's practice Thursday.
The adventure was not all smooth sailing. The Bruins only had stiff skates to lend to Belichick, and the equipment took its toll when Belichick fell at one point during the skate.
"He's played hockey before, and I told him before I went out there, I said, 'Those skates are going to be a lot stiffer than what you're used to,'" Julien said. "So it was just about getting used to it. From what I saw from him, to be honest, was the second he put his skates on to how he finished, he improved quite a bit.
"I wish my players could improve that quickly."
The coaches do not often get a chance to get together during their respective seasons, so Julien said they enjoyed the opportunity this week to spend time discussing coaching styles and preparation.
"It's always great to catch up with Bill," Julien said. "I was fortunate enough to be a guest of his yesterday at his practice, and we walked through it, and it was nice to see him work with his team. I've admired him for a long time for how he handles his team, how he coaches, how prepared he is.
"We play different sports, but as coaches, I think there's a lot of things we can learn from each other and admire from each other, and that's the one thing I have learned from Bill is his preparation is second to none."
With their morning skate over, the coaches headed in different directions. For Belichick and the Patriots, it's on to Miami, where the Patriots will play their final regular-season game against the Miami Dolphins. The Bruins will keep watch over Gillette Stadium while they're gone, as Boston will face the Montreal Canadiens in the Winter Classic on New Year's Day.