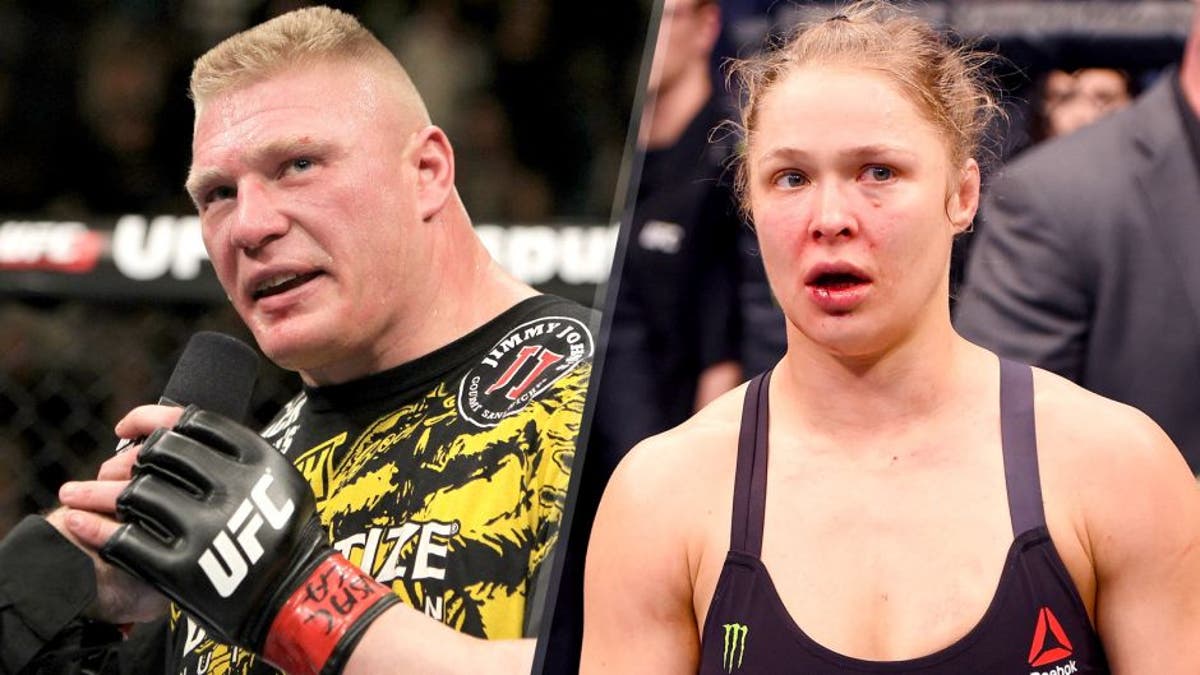 Brock Lesnar can understand what Ronda Rousey is going through right now after reaching the top of the sport only to come crashing back down to Earth again following a devastating loss.
For Lesnar, it was reaching the pinnacle of the heavyweight division by becoming champion and even battling back from a crippling bout of diverticulitis to get back into the Octagon again and defend his title. His run ended one fight later in a lopsided loss to Cain Velasquez and he was never able to regain that status as Lesnar's biggest fight ended up against his own body that just couldn't recover from the internal disease.
So he knows better than most what Rousey is going through, but her admission on Tuesday that she actually contemplated suicide in the moments following her loss to Holly Holm at UFC 193 told Lesnar something very important about the former women's bantamweight champion.
"I'm a big fan of Ronda's and have been since the beginning," Lesnar said while speaking to "SportsCenter" on Tuesday night. "One thing that I learned and she should have learned a long time ago was that you have to learn how to lose before you can actually win."
Rousey's admission wasn't easy on the former champion while she stated that no one knew about that lowly moment in the Octagon except for her current boyfriend, Travis Browne, who stood by her side the entire time and helped pick her back up again.
Lesnar says he understands how she's feeling but the key to competition is a delicate balance between knowing how to win and accepting how to lose as well. It took him quite some time to find a way to do both, but eventually Lesnar figured it out and that made him an even better champion in the end.
"That was one thing my coach taught me at a very young age because I was a bad loser whenever I'd get beat," Lesnar said.
"You've got to be able to get back on the horse and this life is very precious and very short. One fight isn't going to make or break her career. She's just got to get back on the horse again and figure it out and she will."
As far as the future goes, Rousey is currently on hiatus from fighting while she focuses on a career outside the Octagon.
She recently landed the cover of the Sports Illustrated swimsuit issue after hosting "Saturday Night Live" a few weeks back. Rousey also is preparing for a pair of movie roles -- in the upcoming "Road House" remake as well as "Mile 22" with Mark Wahlberg.
There have even been rumors that Rousey might pop up for another appearance at WWE WrestleMania this year after she made a surprise debut in the professional wrestling ring a year ago.
All those extracurricular activities are great, but Lesnar says if Rousey truly wants to be the best fighter in the world, some of those distractions need to fade into the background or at least make a decision on what's most important and focus on that.
"When you're a top athlete, and even people in the movie industry, people that are great at one thing -- their work ethic is there," Lesnar said. "I had no idea I was going to become UFC heavyweight champion of the world, but that was a goal of mine. As I stepped into the Octagon and faced a number of different foes, I knew that I could be. You just work hard at it. If it's in your heart and your mind and you work at it and want to do it and believe in yourself, things can happen.
"She can do whatever she wants to do and I think she's proven that. I think she's got a lot on her plate. You can't be a fighter and be in 10 movies a year. She's going to have to step back and find out what Ronda wants to do moving forward."