Brief respite gives Alejandro Bedoya space to flourish with Nantes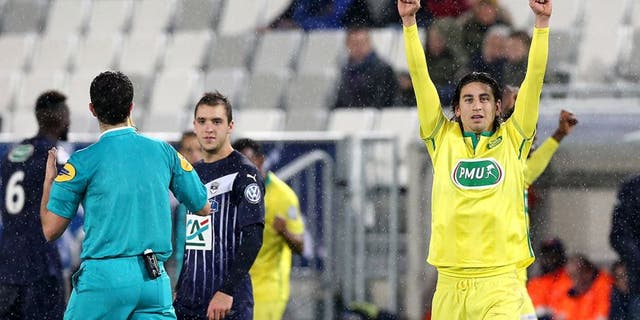 Six quiet days around Christmas provided Alejandro Bedoya with a desperately needed chance to take stock.
The United States midfielder spent the final few months of last year fighting his body and struggling to reach his best form. One thing piled up after the other: the fatigue from playing three years without a summer break, the knee injury at the end of the previous season that curtailed his CONCACAF Gold Cup contributions, the illness that kept him out of the CONCACAF Cup against Mexico and robbed him of a couple of months with Nantes. All of those frustrations and knocks exacted a toll and limited him. Even when he found precious daylight between setbacks, he lacked the spark required to make it worthwhile.
As Bedoya worked his way back toward full fitness in November and December, he knew he needed an opportunity to step away from everything and reset before the second half of the Ligue 1 season. The brief respite offered him a chance to establish the framework for one of the best periods of his career.
"I needed the winter break to really just take six days off where I didn't do anything," Bedoya told FOX Soccer this week by phone from France. "That was the deal. I played the last game before Christmas break against Lorient and I did well in that game. Mentally and physically, I just needed a break where I could just think things through. My body needed it. I just reset my focus and my mind and everything."
Like Bedoya, Nantes needed a chance to evaluate their situation honestly and tailor a response accordingly. The significant turnover during the summer -- including the departures of influential figures Papy Djilobodji, Georges-Kévin N'Koudou and Jordan Vertout -- prompted manager Michel der Zakarian to tinker tactically for most of the first half of the season. The results reflected the turnover and underscored the difficulty of establishing that common ground.
The modest upturn before the break -- a run of five straight draws in league play prior to the holiday -- supplied the inspiration for the club, while Bedoya used that effective performance against Lorient on Dec. 19 as his springboard into that time away from the game.
The 28-year-old midfielder said he invested in himself -- he altered his diet a bit and studied how to succeed mentally and physically -- and watched the dividends pile up. He threw himself back into two-a-day training with Nantes that next week. He and his teammates bore down during those sessions (the most intense during a winter break since he joined the club, Bedoya said) and laid the foundation for a rampant start to the second half of the season.
"We're playing well, we're finally connecting," Bedoya said. "We're understanding each other's roles and how each other likes to play. We're playing some good soccer now. It's nice to be a part of it."
Bedoya is a key figure in Nantes' renaissance (10 matches unbeaten to start the year in all competitions) and the subsequent rise up the table. His sterling start to 2016 includes a place in the starting XI for league matches for the past six league matches, a return to his usual fitness levels (the GPS readings taken by the club during matches and the string of 90-minute displays reflect those strides) and a particularly productive spell in the attacking third (four goals and two assists in his past seven matches in all competitions). In addition to his exploits in the league, he produced extra-time winners against Mantes 78 and Bordeaux to propel Nantes into the quarterfinals of the Coupe de France.
"With all of the work we've done, everybody's focused, everybody's on the same page," Bedoya said. "We've gotten some good results. I've been fortunate to come off the bench and help us advance [in the cup]. It's given us a whole another edge, a group spirit. It's nice to see the camaraderie. Everybody's pumped for each other."
Bedoya hopes to use his recent club exploits to fuel his international ambitions once more. He remains an integral piece for U.S. coach Jurgen Klinsmann in midfield, even after he missed the first two World Cup qualifiers against St. Vincent and the Grenadines and Trinidad & Tobago as he recovered from illness. He grasps the importance of the upcoming obligations -- the qualifiers against Guatemala next month, plus the upcoming Copa América Centenario -- as he prepares for his likely return to the scene.
"I was obviously pissed, annoyed, frustrated that I missed the first two qualifiers due to sickness," Bedoya said. "I was out for a month and a half. Now I'm looking forward -- hopefully if I get selected -- to being a part of it. We all know 2015 wasn't the best year. We want to put that behind us. Now we want 2016 to be a totally different type of year for us. With Copa America, it's going to be a huge tournament, a fantastic tournament with big players and big players. It's something we want to look forward to, but we want to take care of business in March against Guatemala to set the tone for the summer."
The importance of having Bedoya back in the fold isn't lost on Klinsmann, either. Klinsmann and the U.S. Soccer technical staffers touch base every so often as they check up on players. Klinsmann also praised Bedoya and Fabian Johnson as potential "difference-makers" given their recent performances in an interview with ussoccer.com this week.
"By having Alejandro delivering, being consistent and not having any injury problems right, this is big for us," Klinsmann told ussoccer.com. "We're keeping our fingers crossed that he stays healthy and keeps that run going."
Similar sentiments apply for Nantes as the chase for a European place continues. Nantes entered the season with their sights set on a top-10 finish, but the 2-1 victory over Lorient last weekend pushed them into sixth place (39 points). The congestion in Ligue 1 is acute this season -- third-place Nice (40 points) are nine points clear of 15th-place Guingamp (31 points) -- and the muddled state of affairs rewards teams capable of cobbling together a series of results.
Nantes certainly fall into that category at the moment. They are punching above their weight in terms of their results since returning to Ligue 1 in 2013 (two lower mid-table finishes) and their spending power (the 2015/16 budget of $42.2 million ranks 11th in Ligue 1, according to Le Parisien). It is down to this group to maintain this good form through an unexpected weekend off and stay on track for a return to European football at the end of the campaign.
"We just have to keep working hard, but, at the same time, we have to be ambitious," Bedoya said. "I'm as ambitious of a person as you're going to meet. If we can finish in the top five, that'd be a fantastic achievement for the club."
No matter how it all unfolds, that precious period right around Christmas looms as the line of demarcation for a season previously trundling along. It turns out that respite -- and that chance to reset -- gave Bedoya and Nantes the distance required to set things on the right course as this potentially vital year continues.